Mouse Histology and Phenotyping Laboratory
Mission
The mission of the Northwestern University Mouse Histology & Phenotyping Laboratory (MHPL) is to assist investigators with tissue histopathology for experimental animal research. The laboratory provides comprehensive histology services for all rodent species (i.e., mouse, rat, etc.) which includes phenotyping consultation of organs and tissues, dissection and tissue processing, and one-on-one consultation with investigators. The lab generates unstained paraffin and frozen sections for investigators to be used for special staining and immunohistochemistry (IHC). Pathologist consultation is also available to help researchers develop strategies maximize the value of their tissue-based experiments. In addition, the laboratory provides opportunities for researchers to learn histology techniques and phenotyping analysis.
Services Offered
Dissection and tissue collection
Consultation with Animal Pathologist
Tissue Clearing
Histopathology (slide interpretation)
Photo documentation of histopathology
Training in necropsy techniques including perfusion of mice and special tissue dissection
Assistance with development of animal pathology protocols
Immunohistochemistry (IHC) – Using tyramide signal amplification (TSA) and ABC methods (automated), with DAB chromogenic substrate.
Immunofluorescence (IF)- Single and multiple staining
TUNEL assay
Freezing and embedding of tissues for histology
Frozen sections
Paraffin block processing and Paraffin sections
Hematoxylin and Eosin staining of sections
Specialized histochemical staining of sections (e.g. Trichrome, PAS, Luxol fast blue, Cresyl violet, and many other stains)
Members of the Lurie Comprehensive Cancer Center who require additional guidance with their projects have priority access to one-on-one consultation with Dr. Craig Horbinski, a board-certified anatomic pathologist and neuropathologist who specializes in cancer research, including animal models of cancer. Specific time for such consultations is reserved every Friday between 10-12 am in Dr. Horbinski's office, Tarry 2-705. Appointments at other times are also available; please contact Dr. Horbinski directly at 312-503-6127 or by email at craig.horbinski@northwestern.edu.
Acknowledgement
All manuscripts and grants presenting work supported by this core should include the following acknowledgement:
"Histology services were provided by the Northwestern University Mouse Histology and Phenotyping Laboratory which is supported by NCI P30-CA060553 awarded to the Robert H Lurie Comprehensive Cancer Center."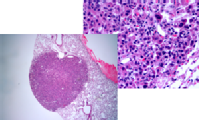 Hours of Operation:
Mon-Fri 8:00am-4:00pm
Contact
General Contact  
(312) 503-2679 (Histology)
(312) 503-2695 (Phenotype & IHC)
(312) 503-2369 (FAX)
Katherine A. Gruner  
Operations Manager
(312) 503-2695
Craig Horbinski, MD, PhD  
Director
---
Location
Olson Pavilion 8-333
710 North Fairbanks Court
Chicago, IL 60611