High Throughput Analysis Laboratory
Mission
The NU-HTA provides researchers with equipment, advanced technology, and expertise for the development and execution of chemical screening for drug/biomarker discovery and high throughput (HTP) biological analysis.
Equipment Available
The NU-HTA features state-of-the-art laboratory automation equipment, including instruments for automated liquid handling and plate detection. All instruments are accessible to trained users on a 24/7 basis.
Services Offered
NU-HTA provides researchers access to cutting edge technology for large scale screening and drug discovery.  Levels of service include the full range from walk-up instrument use to fully supported projects.
The HTA provides the following general services:
Perform drug discovery or biological screening
Assist users in developing novel automated methods
Provide access to robotic liquid handling and detection equipment
Provide grant preparation assistance for HTP projects
Help develop HTS ready assays to screen at local or national screening centers
Provide in-house chemical and biological libraries
Assays performed include but are not limited to:
High content imaging analysis and screening
Cell-based assays

Promoter/reporter assays (GFP, Luciferase)
Cell proliferation, viability, cytotoxicity
Ion channel and GPCR

Enzymatic assays
Protein binding assays

Fluorescence polarization (FP)
Fluorescence based thermal shift (FTS)
AlphaScreen/AlphaLISA
Epic label free

HTP molecular biology protocols

 qPCR reactions in 384 well format

Large scale or complex liquid handling

Crystallography tray preparation
Tube to plate reformatting

Automated SPE sample prep
Available compound libraries:
NU-HTA manages small molecule compound libraries available for use as a screening resource.
ChemBridge DIVERSet-CL (50,000)
ChemDiv Kinase Inhibitor Set (20,000)
FDA approved collection (1400)
Clinical Collection (1800)
Spectrum Collection (2700)
NCI/DTP Open Chemical Repository (3200)
Acknowledgements
All manuscripts and grants presenting work supported by this core should include the following acknowledgement:
"This work was supported by the NorthwesternUniversity High Throughput Analysis Laboratory."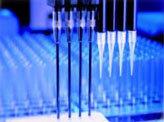 Contacts
Chi-Hao Luan, PhD  
Director
(847) 491-5643
Sara Fernandez Dunne, MS  
Research Technologist II
General Contact
Tel: (847) 491-5960
Fax: (847) 467-1380
---
Location
Hogan 4-140
2205 Tech Dr
Evanston, IL 60208