Robert H. Lurie Comprehensive Cancer Center Flow Cytometry Core Facility
Mission
The Robert H. Lurie Comprehensive Cancer Center Flow Cytometry Core Facility provides comprehensive flow cytometry and cell sorting services for investigators of the Cancer Center as well as other faculty of Feinberg School of Medicine, Northwestern University, and their affiliated institutions. Through 3 cell sorters and 6 benchtop analyzers with 16+ color capabilities,the facility provides access to complex instrumentation and flow cytometry services on both Chicago and Evanston campus, for both experienced investigators and those with limited or no experience in flow cytometry. Services provided by the facility personnel extend from consultation on experimental design, sample acquisition/analysis, formal and informal cytometry education and training, as well as instrument operation and set-up for cell-sorting and multi-laser experiments. The staff maintains a close working relationship with investigators to define their projects in the early stages of development to make optimal and efficient use of flow cytometry. This combination of instrument sophistication and staff experience enable the implementation of most flow cytometric assays. A partial list of assays offered by the facility is provided below.  The Core Facility also has an active program of assay development guided by the interests of the investigators. Thus, the Flow Cytometry Core Facility serves as a focus for individuals interested in cellular based measurements and cellular heterogeneity in disease. 
Services Offered
DNA content/cell cycle measurement, including the simultaneous measurement of multiple fluorescent probes if required
Immunofluorescence analyses: Up to twelve-color detection for a number of applications including characterization of plasma membrane antigens/receptors, cytoplasmic proteins, and nuclear antigens
Characterization of cell populations based on scattered light intensity measurements, and autofluorescence
Cell sorting including viable, sterile cell sorting and spot blot analyses
Intracellular calcium flux
A range of apoptosis assays including Annexin V, TUNEL, mitochondrial membrane potential, and measurement of proteins involved in apoptosis regulation such as multiple members of the BCL-2 family of proteins, CD95 and caspase protein levels/activity
Fluorescence Resonance Energy Transfer (FRET)
Nanoparticle characterization
Bivariate and univariate chromosome analysis
Receptor-ligand interactions
Cell proliferation studies including BrdU incorporation and CFSE tracking
Viability assays (membrane exclusion and metabolic viability)
Various function assays including oxidative metabolism, neutrophil function (oxidative burst, phagocytosis), cytoplasmic pH, membrane potential
Kinetic analyses
Signal transduction pathway analyses (simultaneous assessment of multiple intracellular phosphorylated epitopes combined in complex multi-color assays)
Sample preparation and staining
Full service Consultation and training
Acknowledgements
All manuscripts and grants presenting work supported by this core should include the following acknowledgement:
"This work was supported by the Northwestern University RHLCCC Flow Cytometry Facility and a Cancer Center Support Grant (NCI CA060553)."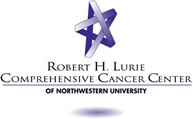 Contacts
Charles Goolsby, PhD  
Director
(312) 906-6948
Suchitra Swaminathan, PhD  
Manager
(312) 908-1294
---
Locations
Downtown Campus
Olson Bldg Rm 8-505
(312) 908-1294
Evanston Campus
Technological Institute (Tech) Rm E253
(847) 467-0021