The Chicago Cardiac Arrest Resuscitation Education Service (CCARES) is a new community outreach organization started by two Northwestern EM faculty members. Dr. George Chiampas and Dr. Amer Aldeen founded CCARES with the simple mission to "increase the survival of sudden cardiac arrest victims in Chicago." CCARES partners with City agencies, communities, schools, and businesses to educate and raise awareness of the importance of bystander CPR and AED use. In 2011, Illinois Governor Pat Quinn joined members of CCARES and the Northwestern Medicine community to commemorate the signing of the Illinois Good Samaritan Act. The law makes it easier for bystanders to provide lifesaving CPR to victims of sudden cardiac arrest outside the hospital setting and marks an important step in support of hands-only CPR.
Visit the CCARES website to learn more and to watch interviews and hands-only CPR training videos.
CCARES Partner Organizations
The CCARES hands-only CPR initiative is supported by:
American Heart Association
American Red Cross
Bank of America
Chicago EMS Consortium
Chicago Fire Department
Chicago Medical Society
Chicago Police Department
Illinois State Medical Society
Northwestern University
US Department of Health and Human Services, Region V
CCARES In The News
September 2014: CCARES will be at the Chicago Marathon Expo, October 10-11, 2014. Visit the Northwestern Medicine booth to learn how to save a life using hands only CPR. You can fine more information here in the CCARES flyer.
December 2012: Metra Rail, the Chicago area commuter train line, announced its partnership with CCARES and Northwestern Medicine to install automatic external defibrillators in about 300 rail cars.  This move garnered national attention and Dr. Amer Aldeen was quoted extensively. 
February 2012: Jerling Junior High School in Orland Park, IL, hosted an assembly for its 450 seventh- and eighth-grade students to raise awareness of CPR and other lifesaving techniques. CCARES was on hand to demonstrate hands-only CPR.
March 2011: A hands-only CPR resolution was passed in the City Hall Police and Fire Hearing. The resolution aims to educate Chicago first responders and the general public about hands-only CPR.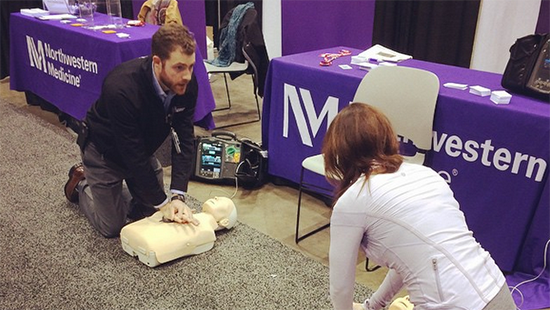 Training Videos
Watch the Hands-Only CPR and AED training video designed for middle school students.