Vice Chair's Message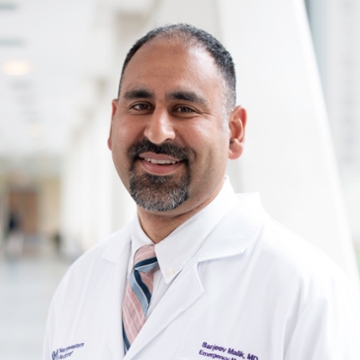 The Northwestern Emergency Medicine clinical operations team has diverse interests and expertise, working with interdisciplinary teams at the department, hospital, and health system levels to enhance the care delivery model. Much of the department's clinical operations focus has been to address the challenges of ED overcrowding. A few topics of interest include redesigned patient intake models and vertical care areas, clinical care protocols to reduce admissions, ED-based telemedicine, predictive analytics, and patient communication with the use of enhanced technology.
Our team also works very closely with our research and education teams to ensure alignment of our research and clinical identities. Examples include a nationally leading geriatric emergency department program that has achieved Level 1 geriatric accreditation as well as the implementation of adapted clinical practices to combat the opioid epidemic. Administrative faculty have also partnered with the Northwestern McCormick School of Engineering to implement predictive analytic tools to predict crowding and proactively manage wait times.
Under the leadership of our Chair, Dr. James Adams, Northwestern Medicine's operations team has taken a special interest in professional leadership development, including the offering of formal training programs. Northwestern EM physicians are heavily involved in leadership throughout the health system as well as nationally. In the last 10 years, our administrative faculty have served in various high profile leadership roles including Health System Chief Medical Officer, Associate Chief Medical Officer, Chief of the Medical Staff, SAEM President, Health System, or Facility Medical Directors as well as chairs of various hospital-based committees. Through a partnership with the Northwestern University Kellogg School of Management, the department offers advanced MBA training to faculty, administrative fellows and resident physicians. Several proud NUEM alumni of our residency training program have gone on to successful careers in leadership including Chief Medical Officer positions for private companies as well as Medical Director roles.
On this website you can learn about our interests and current projects. If you have any questions, please contact me.