Director's Message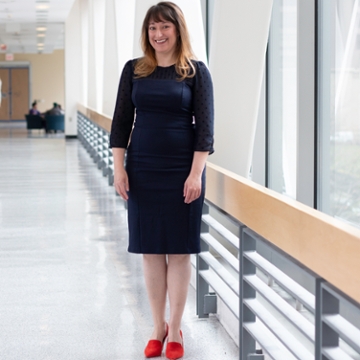 The Northwestern University Emergency Medicine (NUEM) Residency takes great pride in both our tradition of leadership and cutting-edge care for acutely ill or injured patients in Chicago. Our program has a rich history, having graduated the first NUEM resident in 1973 from a program started at our former community affiliate, Evanston Hospital. In June of 2022, we celebrated this legacy as one of the oldest programs in the country by graduating our 48th class.
Our clinical curriculum is deliberately designed to create graduates with advanced skills in lifesaving procedures, critical care, trauma and complex pediatric illness. NUEM residents learn together with dedicated educators to become outstanding EM clinicians while caring for diverse patient populations at unique training sites throughout the Chicago area. The emergency departments (ED) of Northwestern Memorial Hospital (NMH) and Ann & Robert H. Lurie Children's Hospital of Chicago are both Level 1 Trauma Centers, with a combined annual ED census of over 150,000 patients. The two hospitals are located within three city blocks on the downtown Chicago campus of Northwestern University in the city's dynamic Streeterville neighborhood. The high-volume, high-complexity ED populations at these two quaternary care centers provide a centralized training experience for our residents — 39 of the 48 months of training occur within these neighboring hospitals.
Training also includes three months at Methodist Hospital ED (Northlake Campus) in Gary, Indiana, three months at Northwestern Lake Forest Hospital ED in Lake Forest, Illinois, two months at the Trauma Unit of Stroger Hospital of Cook County and one month at the Toxikon Consortium/Illinois Poison Center at Stroger Hospital. All clinical rotations outside the ED occur in high-acuity areas — our program does not require any rotations on general hospital wards. EM residents spend a total of eight-and-a-half rotations in an ICU setting spread across our four-year curriculum. Our residents provide senior coverage as admitting team leaders for two months in the NMH Medical ICU and one month at the Stroger Trauma Unit/Trauma ICU. EM residents also receive training in both adult and pediatric anesthesia, orthopedics, sports medicine, OB/GYN and Emergency Ultrasound (EUS). Three elective months are offered. All graduates meet the EUS credentialing exam and didactic recommendations of the American College of Emergency Physicians. 
The home of NUEM is the ED at NMH, which is consistently the leading hospital in the state as ranked by U.S. World and News Report. Our NMH ED provides an environment for our residents to be continuously challenged by complex patients in a supportive environment. All residents care for sick patients; there is no separation of acuity assignments between junior and senior residents.
Interns and PGY2 residents care for patients of any complexity level and perform all needed procedures under faculty and senior resident supervision. Interns participate in emergent procedure "boot camps" throughout their first year that prepare them to translate skills to the bedside. Importantly, our PGY3 and PGY4 senior residents benefit from true graduated responsibility by serving as junior attendings rather than simply "seeing more patients." In this role, they receive presentations from all PGY1 and PGY2 residents, medical students and mid-level providers on their team. They interview and examine each of these patients, write supervisory notes on all charts and assist in coordinating appropriate dispositions. Each senior resident is responsible for teams that care for 12 to 20 patients at one time. In doing so, they learn to be highly efficient, drive throughput from the waiting room and provide patient-centered, quality care. Residents receive formative reports of patient satisfaction through Press Ganey surveys, separate from their supervisory faculty. Our graduates learn both the science and business of emergency medicine. Each can expertly transition to an attending role in any setting and are highly sought after by prospective employers across the nation.
Our innovative NUEM weekly didactic curriculum is specifically designed for adult learners and is rigorously updated based on resident feedback every year. Everyone actively participates in a dynamic curriculum that focuses on a specific organ system or topic each block. Weekly educational activities are coordinated to include didactic sessions, simulation, small-group learning, individualized interactive instruction (including online blogs and practice tests) and procedural and ultrasound labs. Interns participate each week in the EM Foundations program with both online and dedicated small-group learning led by our chiefs and other EM seniors. Two unique leadership development curricula are embedded throughout our longitudinal four-year NUEM program: our academic colleges and seminars in professional development. Research methodology is demystified in our monthly evidence-based conference series, our PGY2 scholarship rotation and through faculty-mentored scholarly work requirements. All residents prepare at least one publishable manuscript prior to graduation. 
NUEM residents become smart creators, curators and consumers of traditional medical literature as well as Free Open Access Medical Education blogs through annual contributions. Our vision is to create the next generation of leaders in EM. We begin by purposefully recruiting diverse applicants with demonstrated leadership potential as evidenced by a track record of academic accomplishment and service to society. Successful applicants are standouts in their medical school class based on rotation evaluations, USMLE scores, letters of recommendation, active leadership roles and volunteerism. We welcome applicants with a wide array of past experiences and strongly encourage applications from underrepresented minorities. We accept applications to our program only through the Electronic Residency Application Service. We participate in the National Residency Matching Program and offer 15 PGY-1 positions each year.
From Match Day on, new residents become a valued member of our team. Our outstanding program coordinators are an invaluable resource for information and assistance beginning even before orientation. New residents begin to transition to life in Chicago with information on neighborhoods, commuting, sports, entertainment and institution onboarding. Resident mentors connect with each intern personally to help everyone make the big jump to residency life. Twenty eight core education faculty, five assistant program directors, a hands-on program director and a dedicated faculty coach help each individual resident become an outstanding clinician and begin to develop expertise in their unique strengths and passions within EM. After residency, the majority of graduates begin their careers in academic leadership as educators or investigators, while others rapidly progress to become ED directors. As careers naturally evolve, every graduate is able to tap into the expertise of the vast NUEM alumni network.
Thank you for your interest in our program. Further details about our faculty, educational program, rotation sites, MS4 clerkship and residency application process are available throughout our website. You can also following us on Facebook, Instagram and Twitter or search #NUEM and #whyNUEM.