Andrea Calvert, PhD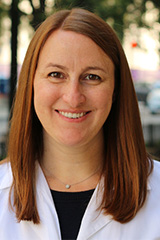 Dr. Calvert received her PhD in biological sciences from Northwestern University under Alexander Stegh PhD focusing on defining and exploiting metabolic vulnerabilities in glioblastoma. During her PhD, Dr. Calvert was on the NIH T32 Training Grant in Carcinogenesis and completed a Certificate in Management for Scientists and Engineers from Northwestern University Kellogg School of Management. Dr. Calvert joined the laboratory of C. Shad Thaxton MD PhD for her postdoctoral work. Andrea is focused on using bio-inspired nanomaterials to treat various diseases, including cancer and inflammation. The Thaxton laboratory synthesizes nanoparticle mimics of high-density lipoproteins (HDL), called HDL nanoparticles (HDL NP), which are similar to native HDLs with regard to their size, shape, surface charge, and surface chemistry. As such, HDL NPs specifically target HDL receptors, including scavenger receptor type B1 (SR-B1). The HDL NPs have varying effects on the cells based upon their surface chemical and core compositions. Dr. Calvert is studying how chemically modifying the HDL NPs alters their functional properties.  
Publications
Calvert AE, Chalastanis A, Wu Y, Hurley LA, Kouri FM, Bi Y, Kachman M, May JL, Bartom E, Hua Y, Misha RK, Schiltz GE, Dubrovskyi O, Mazar AP, Peter ME, Zheng H, James CD, Burant CF, Chandel NS, Davuluri RV, Horbinski C, Stegh AH. Cancer-Associated IDH1 Promotes Growth and Resistance to Targeted Therapies in the Absence of Mutation. Cell Reports. 2017 May 30; 19:1858-73.
Jensen SA, Calvert AE, Volpert G, Kouri FM, Hurley LA, Luciano JP, Wu Y, Chalastanis A, Futerman AH, Stegh AH. Bcl2L13 is a Ceramide Synthase Inhibitor in Glioblastoma. Proc Natl Acad Sci USA. 2014 Apr 15; 111(15): 5682-7.
May JL, Kouri FM, Hurley LA, Liu J, Tommasini-Ghelfi S, Ji Y, Gao P, Calvert AE, Lee A, Chandel NS, Davuluri RV, Horbinski CM, Locasale JW, Stegh AH. IDH3α Regulates One-Carbon Metabolism in Glioblastoma. Science Advances. 2019 Jan 2; 5(1):eaat0456.