Dermatologic Surgery Fellowship
Fellowship Summary Description
Effective July 1, 2022, we will transition to a 1-year fellowship program in dermatologic surgery at the McGaw Medical Center of Northwestern University.  Our program provides comprehensive training in all aspects of caring for dermatologic surgery patients:  inpatient and outpatient consultation, treatment of uncommon and rare tumors, skin cancer removal and treatment by multiple modalities, simple and advanced reconstruction, laser and aesthetic correction of scars and other skin problems, and multidisciplinary management of complex cases.  The program also includes extensive exposure to clinical research, particularly clinical trials and other patient-centered research. Fellows are mentored to develop research projects and provided additional formal training in and research methods as well as staff support. The goal of the fellowship is to train and equip national leaders in academic dermatologic surgery.
Our program meets the requirements of the Accreditation Council for Graduate Medical Education (ACGME) fellowship in Micrographic Surgery and Dermatologic Oncology fellowship.  Additionally, the fellowship year concurrently satisfies the requirements for the American Society for Dermatologic Surgery (ASDS) fellowship in Cosmetic Dermatologic Surgery.
We offer a robust didactic curriculum including journal club, multidisciplinary tumor board conferences and faculty lectures.  Fellows are encouraged to attend appropriate courses, including one focusing on anatomy/dissection, as well as annual meetings of the ASDS, ACMS, ASLMS, SID and AAD.
Clinical Research
Clinical research is a major part of the fellowship experience.  After fellows have matched, they are introduced to the research staff in the clinical research unit in dermatologic surgery. Through a succession of planning meetings attended by the fellow, faculty and staff, several substantial research ideas are developed that are then spearheaded by the fellow.  The fellow is provided staff support, necessary equipment and resources, formal training through coursework as appropriate, and the guidance of regular weekly research meetings with core faculty. Fellow research may include clinical trials, multicenter cohort studies, analysis of databases, guidelines development, and other work designed to substantially impact the practice of dermatologic surgery. The purpose of the research experience is to prepare the fellow for a career as an independent clinical researcher in academic dermatologic surgery.
Meetings and Conferences
Fellows are encouraged to present abstracts, posters, and oral presentations at meetings of major national professional societies. They are supported to attend the annual meetings of the ASDS, ACMS, ASLMS, SID, AAD, as well as other national or international conferences that may be of interest.
Positions offered
Effective July 1, 2023, two positions will be offered each year.
Application Process
Applicants will need to register with the Central Application System (CAS) on SF Match (https:www.sfmatch.org) for Micrographic Surgery and Dermatologic Oncology and designate one of the recipients to be the Northwestern University/Dr. Alam fellowship. 
In addition to the SF Match application, interested applicants should submit a personal statement of professional goals via email to dermresidency@nm.org with "Attn: Dermatologic Surgery Application" in the subject line. 
In this one-page statement of professional goals, the applicant should explain their post-fellowship plans. We are particularly interested in how the applicant is planning to contribute to the dermatologic surgery specialty after completion of the fellowship. Possibilities include humanitarian activities or public health initiatives, clinical or translational research, other creative intellectual work (e.g., innovation and invention), teaching and mentoring, government or public sector work, or leadership within the profession. We believe carefully crafting a personal statement of professional goals help provide clarity to both the applicant and the program.
Graduates of an ACGME-approved dermatology residency program interested in a career in academic dermatologic surgery are particularly encouraged to apply. Canadian applicants who have completed an equivalent program can be considered but the program does not sponsor or support H1B visa applicants. 
Current Fellows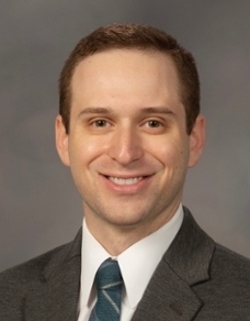 Ross Pearlman, MD (2022-2023)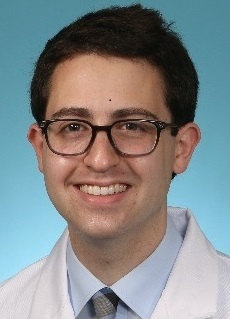 Daniel Schlessinger, MD (2022-2023)
Housestaff Training at McGaw
McGaw Medical Center of Northwestern University offers exceptional training experiences at nationally ranked hospitals and fosters a culture of diversity, innovation and excellence.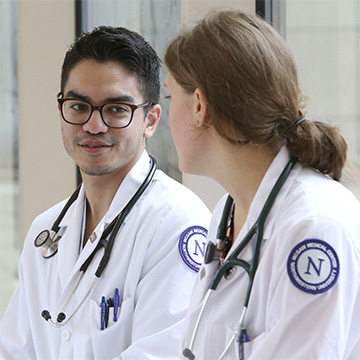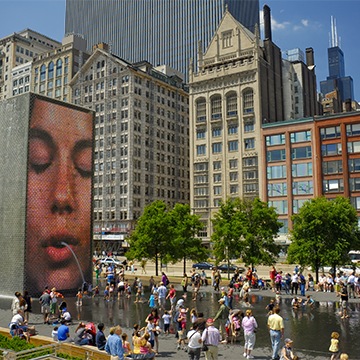 Why Northwestern?
Learn more about the benefits of training at a world-class academic medical center in a diverse and vibrant city of Chicago. Further program details, including the Department of Medicine housestaff manual and a sample training contract, are available on our McGaw Medical Center Graduate Education site.
Physician-Scientist Training & Resources
We offer a wide range of resources, mentorship opportunities and formal training programs to help our residents and fellows excel as physician-scientists. Explore all of the resources and hear from housestaff who are making research a major part of their career development plans.
VISIT THE STARZL ACADEMY SITE