Dermatology Residency
The three-year residency program in dermatology at Northwestern University Feinberg School of Medicine provides experience in outpatient and inpatient settings. 
Residents train in general dermatology, complex medical dermatology, pediatric dermatology, dermatologic oncology, dermatologic surgery, dermatopathology, dermatopharmacology, immunodermatology, phototherapy, Mohs micrographic surgery and laser and cosmetic procedures.
Specialty clinics allow exposure to challenging cases. Residents are encouraged to participate in and design laboratory investigation or clinical outcomes research that can be successfully completed during the three years of residency.
Throughout clinical training, residents rotate through several sites. The Northwestern Medical Group clinics are currently the home base for residents and the site of most of the didactic conferences. Residents also rotate through the Ann & Robert H. Lurie Children's Hospital of Chicago and Jesse Brown VA Medical Center.
 Updates on 2020-2021 Application Cycle
Dermatology Residency Program Director Consensus Statement on Impacts of the COVID-19 Pandemic on the 2020-2021 Application Cycle
The COVID-19 pandemic has caused significant disruptions to medical education across the country. We understand that students' anxiety about the upcoming application cycle has been heightened given the uncertainty surrounding COVID-19 related changes to curriculum and scheduling and how this will affect the residency application process.
As dermatology residency program directors, we would like to address principal areas of the residency application to hopefully lessen students' concerns regarding the process. These recommendations may change as the situation evolves; please continue to monitor AAMC and institutional policies and guidelines. Additionally, this statement represents the views of a group of dermatology residency program directors, but was not reviewed by all programs; please continue to refer to individual program websites for institution-specific information.
Research: We understand that projects have been halted or delayed secondary to the COVID-19 pandemic, and will note students' prior and ongoing participation in research and academic projects in this context. Efforts that students have put forth in these areas are valuable, irrespective of whether they culminated in published work.
Volunteer/service/other experiences: Many opportunities to serve in traditional areas for medical school volunteer experiences have been altered or made impossible by the COVID-19 pandemic. Additional opportunities associated with changes in institutional practices related to COVID-19 may be available at some institutions but not at others. Prior and current volunteer experiences will be reviewed in this context.
Away rotations: There is still uncertainty with regards to away rotation availability at many institutions; some institutions may be unable to offer away rotations this year at all, while others may be offering limited spots later in the summer or fall. Many students may be unable to participate in away rotations because of institutional travel restrictions. While away rotations can be helpful for certain students, particularly for those without "home" dermatology programs, or for those with family obligations in other locations, away rotations should not be perceived as required or necessary for matching into dermatology residency. If you have a specific interest in any programs, please visit those programs' websites to determine whether there are updates to their processes for this year, recognizing that institutional policies are constantly evolving.
Research year: In recent years, more students have been choosing to pursue a "year off" in research prior to entering into the dermatology application process. While there are reasons for students to pursue such an option, such as potential interest in clinical or basic research, these experiences should not be perceived as required or necessary for matching into dermatology residency. If you were planning on pursuing such an opportunity prior to the COVID-19 pandemic, then it would make sense to continue those plans. However, there is no reason to choose this path simply because of COVID-19 pandemic-related changes to your application.
USMLE Step 2: Some students may have planned to take the USMLE Step 2 exam but may be unable due to lack of availability of testing centers. USMLE scores are only a minor component of one's application, and students should not ​consider alternative application plans due to the absence of this score alone. Please refer to individual program websites to determine whether Step 1 score cut-offs are used and/or whether Step 2 scores are recommended/required.
As dermatology residency program directors, we recognize that the COVID-19 pandemic will result in increased disparities in strength of applications due to lack of opportunity for students with smaller home programs or in areas more affected by this crisis, particularly as some students may additionally be struggling with personal or family COVID-19 illness during this time. Understandably, this will lead to a considerable amount of added uncertainty and anxiety for many students as they consider future career plans. We support holistic review processes and encourage residency programs to consider and weigh these significant factors.
In this time of great personal and professional stress, we hope that by addressing specific concerns, students will feel more comfortable approaching the process and maintaining their application plans, knowing that we will take into consideration the multitude of extrinsic factors affecting applications this year.
Updated April 9, 2020
 Curriculum
The department encourages residents to acquire additional experience in dermatological subspecialties or research after completing the residency program. A major focus of the department is to train future leaders in dermatology. Other program highlights include:
Broad training in pediatric, adult, and procedural dermatology
Exposure to

 

specialty clinics
Continuity clinic during all three years of training
Elective opportunities (second and third year)
Attendance and participation at national meetings
See the sample schedule for a sample breakdown of how a resident's time may be spent.
First Year
First-year residents gain experience in general medical dermatology and dermatologic surgery in the outpatient dermatology clinics. Residents also spend one month rotating through dermatopathology, where more than 40,000 biopsies per year are reviewed with the faculty dermatopathologists. Each resident is also assigned to a dermatology continuity clinic that will continue throughout the three years of training.
Second Year
Second-year residents gain experience in pediatric dermatology and inpatient dermatology as well as continuing their training in general medical dermatology and dermatologic surgery.
Third Year
During the third year, residents continue their instruction in both the inpatient and outpatient settings, assuming greater responsibility for patient care.
 Research
All residents are highly encouraged to develop a well-defined basic or clinical research project throughout the three years of training under the mentorship of an assigned faculty mentor. Annual resident research conferences showcase work and offer opportunities for feedback. The residents are expected to present their work at regional and national meetings and submit their studies for publication.
Research Track (2+2)
In addition to the standard residency program, an academic track program consisting of two clinical years paired with two years of research fellowship may be arranged after the first year of residency.
 Seminars & Conferences
An active teaching program involves at least daily didactic sessions for residents. These include Grand Rounds, basic science seminars, surgical and cosmetic didactic units, bench-to-bedside talks, digital slide conferences, hospital rounds and journal club sessions.
Additional programs include:
Monthly visiting professorship program: Offers exposure to instructors from other institutions through morning grand rounds and morning sessions
Half-day resident seminars: Topics such as cutaneous oncology, mycology, immunobiology, inflammatory skin disorders and autoimmune disorders
Monthly Chicago Dermatological Society meetings: Encourages involvement with the broader field as well as the opportunity for Northwestern residents to host a meeting annually.
 How to Apply
Applicants must complete one year of graduate clinical education as a PGY-1 before entering the program.
Three to four positions are offered each year for the dermatology program. First-year dermatology positions (PGY-2) are selected through the National Resident Matching Program. Residency interviews take place during the months of December and January. Three letters of recommendation are required. Selected candidates are invited for interviews. Final selection of residents is made by the dermatology faculty. The application deadline is Oct. 26.
Applications should be submitted exclusively through the a href="https://students-residents.aamc.org/applying-residency/applying-residencies-eras/">Electronic Residency Application Service. Applicants selected to interview will be notified by early December.
 Resources
Following are additional resources related to the residency interview process.
 Why Northwestern?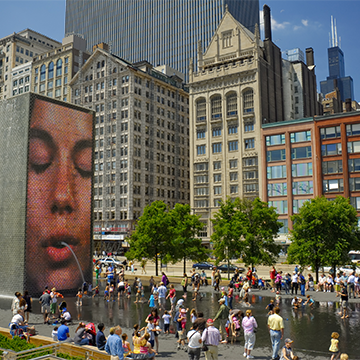 Housestaff training through McGaw Medical Center of Northwestern University provides diverse and challenging clinical experiences and world-class education located in the heart of the beautiful city of Chicago. Learn more via the links to the McGaw website below.
Watch Our Videos
McGaw Experience Discover Feinberg NM Community Partnership Program Learn More About Chicago Get to Know Streeterville
Physician-Scientist Training & Resources
We offer a wide range of resources, mentorship opportunities and formal training programs to help our residents and fellows excel as physician-scientists. Explore all of the resources and hear from housestaff who are making research a major part of their career development plans.
VISIT THE STARZL ACADEMY SITE