Next-Generation COVID Vaccines with Pablo Penaloza-MacMaster, PhD
As the Delta variant of SARS-CoV-2 is causing breakthrough infections in some vaccinated people around the world, scientists at Northwestern Medicine are developing and studying potential next-generation COVID-19 vaccines that could be more effective at preventing and clearing breakthrough infections. Pablo Penaloza-MacMaster, PhD, an assistant professor of Microbiology-Immunology at Feinberg, discusses work in his lab that could lead to better vaccines and treatments for coronaviruses.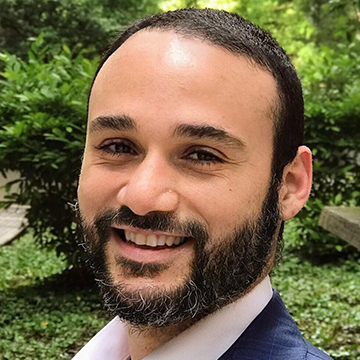 "This is not the first and likely not the last pandemic that we'll have. We have been exploring how we can make vaccines not only more effective against SARS-CoV-2 but potentially cross-protective, even against other coronaviruses."
 — Pablo Penaloza-MacMaster, PhD
Assistant Professor of Microbiology-Immunology
Member of Northwestern University Clinical and Translational Sciences Institute (NUCATS)
Member of the Robert H. Lurie Comprehensive Cancer Center
Episode Notes
In this episode, Pablo Penaloza-MacMaster, PhD, details his recent study in Cell Reports that found a combination of the current spike-based vaccine with an additional vaccine improved protection against breakthrough COVID-19 infections in mice. It is the first study to compare side by side the efficacy against breakthrough infection of a spike-based COVID vaccine with a vaccine that includes an additional antigen, in this case a nucleocapsid protein. 
Other topics covered:
Penaloza-MacMaster emphasized the need for all eligible people to get vaccinated to prevent disease and death, long-term complications and variants that are more transmissible or virulent. 

Penaloza-MacMaster's lab works to make vaccines better. His lab's area of focus is chronic infection, such as HIV. Since the pandemic began, his team has pivoted to utilize their toolkits and expertise to study SARS-CoV-2. 
hen it comes to viral infections, especially with SARS-CoV-2, "What doesn't kill you makes you weaker." All the long-term complications of contracting COVID-19 aren't yet known, but evidence shows chronic fatigue, brain fog and even neuropsychiatric disorders such as schizophrenia and psychosis are occurring. 
While the current vaccines do prevent severe disease and death, he says no vaccine is 100 percent perfect and infections in vaccinated people are not unexpected.

For this study in Cell Reports, Penaloza-MacMaster chose to focus on the addition of a nucleocapsid protein vaccine with the spike vaccine, because nucleocapsid proteins are one of the most abundantly expressed proteins in a coronavirus. Once someone develops an infection, the virus starts expressing nucleocapsid protein at very high levels, very early during the lifecycle. His team hypothesized that it was a good target for T-cell responses.

If in future studies the combination vaccine proves to be safe, immunologic and effective in non-human primate models, 
that may provide a rationale for exploring this concept further in human trials.
Additional Reading: 
"The study of antiviral drugs targeting SARS-CoV-2 nucleocapsid and spike proteins through large-scale compound repurposing" published in Heliyon
"The SARS coronavirus nucleocapsid protein – forms and functions" published in Antiviral Research
Subscribe to Feinberg School of Medicine podcasts here:
Recorded August 27, 2021.
Continuing Medical Education Credit
Physicians who listen to this podcast may claim continuing medical education credit after listening to an episode of this program.
Target Audience
Academic/Research, Multiple specialties
Learning Objectives
At the conclusion of this activity, participants will be able to:
Identify the research interests and initiatives of Feinberg faculty.
Discuss new updates in clinical and translational research.
Accreditation Statement
The Northwestern University Feinberg School of Medicine is accredited by the Accreditation Council for Continuing Medical Education (ACCME) to provide continuing medical education for physicians.
Credit Designation Statement
The Northwestern University Feinberg School of Medicine designates this Enduring Material for a maximum of 0.25 AMA PRA Category 1 Credit(s)™. Physicians should claim only the credit commensurate with the extent of their participation in the activity.
Disclosure Statement
Pablo Penaloza-MacMaster, PhD, has nothing to disclose. Course director, Robert Rosa, MD, has nothing to disclose. Planning committee member, Erin Spain, has nothing to disclose. Feinberg School of Medicine's CME Leadership and Staff have nothing to disclose: Clara J. Schroedl, MD, Medical Director of CME, Sheryl Corey, Manager of CME, Allison McCollum, Senior Program Coordinator, Katie Daley, Senior Program Coordinator, and Rhea Alexis Banks, Administrative Assistant 2.
Claim your credit