How Amish People Informed a COVID-19 Clinical Trial with Douglas Vaughan, MD
A Swiss Amish community in Indiana has been the focus of ongoing studies led by Douglas Vaughan, MD. Many members of this Amish community have a gene mutation that appears to protect against biological aging. A new experimental drug that effectively lowers the level of the protein associated with this mutation, PAI-1, is now being tested as a treatment for people with COVID-19 in a phase 2 clinical trial at Northwestern.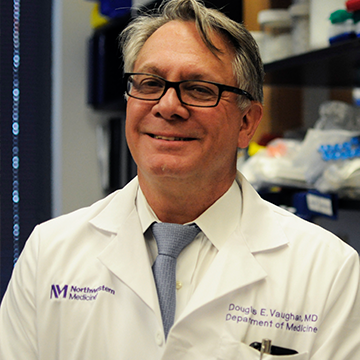 "We need drugs downstream that prevent the complications of a COVID-19 infection, like clotting, and we think a PAI-1 inhibitor might fit in there."
Chair, Department of Medicine
Irving S. Cutter Professor of Medicine in the Division of Cardiology
Northwestern Medicine Cardiologist
Member of Northwestern University Clinical and Translational Sciences Institute
Episode Summary
In this episode, Douglas Vaughan, MD, explains how his work studying a genetic mutation associated with PAI-1 (plasminogen activator inhibitor) among people in an Indiana Amish community has led to a phase 2 clinical trial for people with COVID-19. Topics in this episode include:
Background about the project in Berne, Indiana. In 2017, Vaughan published findings about this community in the journal Science Advances. His team found that carriers, people with very low levels of PAI-1 (about 10 percent of this Amish group), live 10 percent longer, have 10 percent longer telomeres (protective caps at the end of our chromosomes and a biological marker of aging) than their peers in the community without the mutation. They also have significantly fewer cases of diabetes and lower levels of fasting insulin.


The most important risk factor for morbidity or mortality in patients with COVID-19 is age. Other comorbidities that drive risk include obesity, cardiovascular disease and diabetes, all of which are associated with increased levels of PAI-1. Vaughan says PAI-1 might be a contributor to the morbidity and the mortality of COVID-19. 
In a preliminary blood analysis of COVID-19 patients at Northwestern, Vaughan found the highest PAI-1 levels he has ever seen. 


Vaughan has been working with Toshio Miyata, MD, PhD, of Tohoku University in Japan to develop and test an oral drug, TM5614, which inhibits the action of PAI-1. Vaughan applied for an Investigational New Drug Application from the FDA's Fast Track program to use TM5614 in an effort to reduce morbidity and mortality in COVID-19 patients.


The drug is set to arrive from Japan in November 2020, and then Vaughan's team will begin enrolling 80 high-risk COVID-19 patients in a double-blind, placebo-controlled study. For one week, half of the enrollees will receive the active treatment; the other half will receive the placebo. They aim to determine whether the drug is safe for people with COVID-19 and whether it is having a positive effect. 
Continuing Medical Education Credit
Physicians who listen to this podcast may claim continuing medical education credit after listening to an episode of this program.
Target Audience
Academic/Research, Multiple specialties
Learning Objectives
At the conclusion of this activity, participants will be able to:
Identify the research interests and initiatives of Feinberg faculty.
Discuss new updates in clinical and translational research.
Accreditation Statement
The Northwestern University Feinberg School of Medicine is accredited by the Accreditation Council for Continuing Medical Education (ACCME) to provide continuing medical education for physicians.
Credit Designation Statement
The Northwestern University Feinberg School of Medicine designates this Enduring Material for a maximum of 0.5 AMA PRA Category 1 Credit(s)™. Physicians should claim only the credit commensurate with the extent of their participation in the activity.
Disclosure Statement
Douglas Vaughan, MD, has nothing to disclose. Course director, Robert Rosa, MD, has nothing to disclose. Planning committee member, Erin Spain, has nothing to disclose. Feinberg School of Medicine's CME Leadership and Staff have nothing to disclose: Clara J. Schroedl, MD, Medical Director of CME, Sheryl Corey, Manager of CME, Allison McCollum, Senior Program Coordinator, and Rhea Alexis Banks, Administrative Assistant 2.
Claim your credit