COVID-19 Vaccine Safety with Eric G. Neilson, MD, and Robert Murphy, MD
This episode features a conversation between Eric G. Neilson, MD, dean of the Feinberg School of Medicine, and Robert Murphy, MD, the executive director of the Robert J. Havey, MD Institute for Global Health. They answer questions submitted by the Feinberg community on COVID-19 vaccine safety and effectiveness.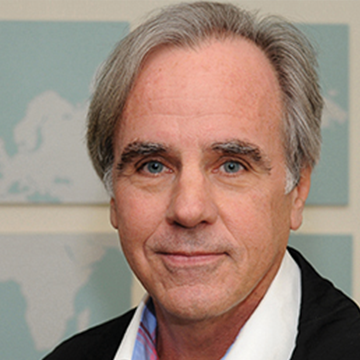 "If 100 percent of the people took the vaccine like years ago with smallpox and polio ... this thing would go away. It's actually that simple. So it is our goal to get this vaccine into as many people as possible."
—
Robert Murphy, MD
Episode Notes
Eric G. Neilson, MD, vice president for medical affairs and Lewis Landsberg Dean, started the conversation by explaining how vaccination against COVID-19 can help protect individuals and communities to facilitate a return to normal life. 
"If everyone were vaccinated, the virus would have nowhere to go and it would slowly disappear form the environment," says Neilson, who is also a professor of Medicine in the Division of Nephrology and Hypertension and of Cell and Developmental Biology. "That would be a wonderful event for the population around the world."
Neilson, along with Robert Murphy, MD, '81 '84 GME, the John Philip Phair Professor of Infectious Diseases and executive director of the Havey Institute for Global Health, addressed fears about rare side effects, including allergic reactions.
"It's very uncommon and it can be easily managed," Murphy says. "A few people out of millions have ended up in the hospital, and everybody has recovered." 
Other topics covered:
Details about the three vaccines that have emergency use authorization 

–

Pfizer, Moderna and Johnson & Johnson 

–

including how they work, which one to choose and possible booster shots to come
When to get the vaccine if you have recently contracted COVID-19 
The possibility of vaccinated people who might carry the virus passing it to non-vaccinated people
CDC's new guidelines on masking for vaccinated people
COVID-19 testing protocol and antibody testing for vaccinated people
Possible reactions to the vaccines
Traveling after vaccination
Children and the timeline for school-aged children to receive vaccinations 
Vaccine safety during pregnancy and how COVID-19 can impact fertility 
Addressing concerns about the vaccines from people who have a family history of auto-immune diseases
Religious and medical exemptions from COVID-19 vaccines 
Welcoming to campus students from other countries who have been vaccinated outside of the U.S.
Subscribe to Feinberg School of Medicine podcasts here:
iTunes 
Spotify
Google Play Music
Recorded May 7, 2021.
Continuing Medical Education Credit
Physicians who listen to this podcast may claim continuing medical education credit after listening to an episode of this program.
Target Audience
Academic/Research, Multiple specialties
Learning Objectives
At the conclusion of this activity, participants will be able to:
Identify the research interests and initiatives of Feinberg faculty.
Discuss new updates in clinical and translational research.
Accreditation Statement
The Northwestern University Feinberg School of Medicine is accredited by the Accreditation Council for Continuing Medical Education (ACCME) to provide continuing medical education for physicians.
Credit Designation Statement
The Northwestern University Feinberg School of Medicine designates this Enduring Material for a maximum of 1.0 AMA PRA Category 1 Credit(s)™. Physicians should claim only the credit commensurate with the extent of their participation in the activity.
Disclosure Statement
Eric G. Neilson, MD, has investment interest in Seno Therapeutics and receives royalties from Millipore. Robert Murphy, MD, has investment interest in Atea Pharmaceuticals, Inc. Course director, Robert Rosa, MD, has nothing to disclose. Planning committee member, Erin Spain, has nothing to disclose. Feinberg School of Medicine's CME Leadership and Staff have nothing to disclose: Clara J. Schroedl, MD, Medical Director of CME, Sheryl Corey, Manager of CME, Allison McCollum, Senior Program Coordinator, Katie Daley, Senior Program Coordinator, and Rhea Alexis Banks, Administrative Assistant 2.
Claim your credit