Alumni Physicians of Feinberg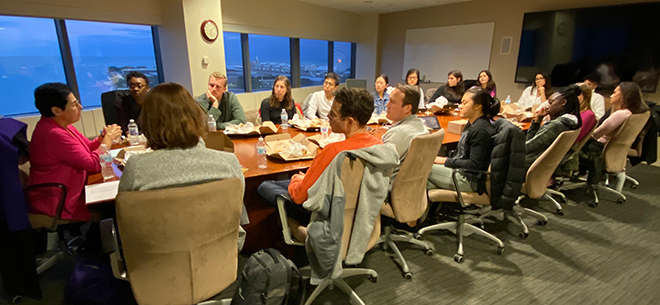 Alumni Physicians of Feinberg Series
The Alumni Physicians of Feinberg (APF) is an innovative program that unites alumni and faculty with students who want to learn about the lives of physicians—how they made their specialty choice, what they actually do all day, how they balance work, family, and life, lessons they have learned, and what they would do differently. This is especially valuable to students who are making their specialty choice.
Each session is held in the Rubloff Building on the Chicago Campus. During the pandemic, this series pivoted to a virtual format. We are pleased to share the digital archives of these recorded conversations:

Serve as a Speaker
Contact Allison Glibowski if you're interested in becoming a part of this series. 

Past Alumni Physicians of Feinberg Speakers
Dr. Mark Agulnik (hematology/oncology)
Kathryn Andolsek, '75 MD, '82 MPH (family medicine, community health)
Carey August, '82 MD, '86 GMER (pathology)
Eugene Bauer, '67 MD (dermatology, physicians in business)
Sara Elizabeth Berg, '10 MD, '13 GMER (primary care)
Jennifer Best, '00 MD (hospital medicine, general internal medicine)
Paul Bonucci,  '96 MD (emergency medicine, rural patients, global health, military medicine)
Sonja Boone, '90 MD (internal medicine, administrative medicine)
Sudip Bose '95, '99 MD (emergency medicine, veterans, medical education, entrepreneurship)
Thomas Bournias, '92 MD (ophthalmology)
Diana Katherine Bowen, MD, '16 GMER (pediatric, transitional & adult urology)
Arkadiush Byskosh '90, '92 MD, '97 GMER (otolaryngology)
Mobola Campbell-Yesufu, MD, '07 GMER (infectious disease, internal medicine, hospital medicine)
F. Douglas Carr '76, '78 MD (primary care)
Vinky Chadha '89, '91 MD, '94 GMER (general internal medicine, geriatrics)
James P. Chandler, MD, '96 GMER (neurology, head and neck surgery)
Yusra Rifaquat Cheema, MD, '11 GMER, '14 GMEF (nephrology)
Christina Clay '83, '85 MD (hematology, oncology)
Charles Davidson, MD, '85 GMER (interventional cardiology, father/daughter in same specialty)
Laura Davidson, '11 MD (interventional cardiology, father/daughter in same specialty)
Christopher S. Davis, MD, MPH, '14 GMER, '16 GMEF (trauma surgery)
Steven Deitcher '86, '88 MD (hematology, oncology, oncology research, drug development)
Paul Joseph Devlin '11, '15 MD, '17 GMER (cardiothoracic surgery)
Jordan Dubow, '03 MD, '07 GMER (neurology, clinical development, pharmaceutical development)
N. Lynn Eckhert, MD, DrPH (pediatrics, public health, global health, medical education)
Sherene Fakhran '99, '03 MD, MPH, '06 GMER, '09 GMEF (pulmonology disease and critical care)
Louis E. Fazen, III, '65, '69 MD, MPH (pediatrics, public health, global health, medical education)
Timothy Fong '94, '98 MD (psychiatry)
Helena Gabriel '87, '89 MD, '94 GMER (radiology)
Kavitha Gandhi '94, '98 MD, '99 GMER (dermatology)
Khalilah Latrece Gates, MD, '10 GMEF (pulmonary & critical care)
Paul Giboney, '96 MD (primary care, public health)
Javier Guevara Jr., '12 MD (family medicine, urban patients, women's health, LGBTQ health)
Ramona Gupta, MD, '09 GMEF (interventional radiology)
Reema Habiby '87, '89 MD, '92 GMER (pediatrics, endocrinology)
Amy L. Halverson, MD (colon and rectal surgery)
Elizabeth Harris, '86 MD (plastic surgery)
Lynn Hauser, '76 MD, '80 GMER (ophthalmology)
Robert Havey, '80 MD, '83 GMER, '84 GMER (primary care)
Thomas Z. Hayward, III, '89, '93 MBA, MD (trauma surgery)
James A. Hill '71, '74 MD, '79 GMER (orthopaedic surgery)
Mark Daniel Huffman, MD, '11 GMEF (cardiology)
Rachel Issaka, MD, '13 GMER, '14 GMER (gastroenterology, hepatology)
Emily Jones, '08 MD, '11 GMER (orthopedics, sports medicine)
Sumanas Wanant Jordan, MD, PhD, '17 GMER (plastic surgery)
Rashmi Kabre '98, MD, '12 GMEF (pediatric surgery)
Khadidjatou Kane, '05 MD, '08 GMER (hospital medicine, palliative care, global health)
James Kelly, '73 MD, '07 MBA (cardiothoracic surgery, physicians in business)
Sabrina Kendrick '86, MD, '96 GMEF (infectious diseases, internal medicine)
Allison Kessler, '12 MD, '16 GMER, '17 GMER (physical medicine and rehabilitation, spinal cord injury)
Edward Kim '92, '96 MD (oncology)
Alan Kumar '95, '98 MD (emergency medicine)
Ada Kumar '93, '97 MD (radiology)
Roopal V. Kundu '98, '01 MD, '02 GMER (dermatology, medical education)
James Lemons, '69 MD (neonatology)
Edwin McDonald IV, '08 MD, '11 GMER  (GI, nutrition education, obesity, small bowel disease, doctors married to doctors)
Wendy McDonald, '07 MD, '11 GMER (gastroenterology, nutrition, obesity, doctors married to doctors)
June McKoy, MD, '01 GMER, '05 LLM, '10 MBA (general internal medicine, geriatrics)
Julie Melchior '88, '91 MD (orthopaedic surgery, hand surgery)
Connie Mennella, '88 MD, '89 GMER (correctional medicine, internal medicine)
Ike Stanley Okwuosa, MD, '13 GMER (internal medicine)
Erik Orelind, '94 MD, '11 MPH (internal medicine, geriatrics, concierge medicine)
Amy Paller, MD, '83 GMER (dermatology)
Thomas Pitts, '76 MD, '79 GMER, '81 GMEF (endocrinology, diabetes)
Jennifer L. Reichek, MD (hematology/oncology)
Monica Rho '01, '05 MD, '09 GMER (physical medicine and rehabilitation)
Andrew H. Ripeckyj '72, '76 MD (psychiatry)
Daniel T. Robinson, MD, '17 MS (neonatology)
Barry Rosen, '87 MD (general surgery, breast cancer surgery, hospital medicine, patient safety and quality)
Marjorie M. Rosenbaum, MD, '71 MA/MS, '84 GMER (dermatology)
Neil Ross, '75 MD, '79 GMER, '80 GMEF (ophthalmology)
Gary Rusk, '69 MD (psychiatry)
Connie Savor Price, '95 MD, '98 GMER, '01 GMER (infectious diseases, internal medicine, clinical microbiology)
Anthony Schaeffer, '68 MD (urology, family of physicians, father/son in same specialty)
Christine Schaeffer-Pettigrew, MD (internal medicine and geriatrics, family of physicians)
Edward Schaeffer, MD (urology, family of physicians, father/son in same specialty)
Jeffrey Schaider, '85 MD (emergency medicine, hospital medicine, academic medicine)
Bruce Scharschmidt '68, '70 MD (gastroenterology, physicians in business)
Saadia S. Sherwani, MD, '00 GMER (anesthesiology)
Dinee C. Simpson, MD (organ transplantation)
Ben Singer, '07 MD, '10 GMER (pulmonary and critical care)
Deborah Smith Clements, MD (primary care)
Linda Idris Suleiman, MD, '17 GMER (orthopaedic surgery)
Babafemi Taiwo, MD, '06 GMEF (infectious diseases)
Amy Taub, '85 MD, '89 GMER (dermatology)
Alisha Thomas '01, '05 MD (family medicine, community medicine)
Alexis A. Thompson, MD (pediatric hematology, oncology, and stem cell transplantation)
Bonnie L. Typlin '70, '74 MD (pediatrics)
Imo Ime Uko, '17 MD (radiology)
Neelam Vashi '04, '08 MD, '09 GMER (dermatology)
Ronak Vashi Patel '09, '13 MD, '19 GMEF (gastroenterology, hepatology)
Shelly Vaziri Flais '95, '99 MD, '02 GMER (pediatrics)
Ryan Vealey, MD, '15 GMER, '16 GMEF (anesthesiology)
Bohdan Wasiljew, '76 MD, '81 GMER (surgery)
Darren Wethers, '88 MD (administrative medicine, internal medicine)
Santina Julianne Grant Wheat, MD, '13 GMER (primary care)
Jane Elizabeth Wilcox, MD, '10 GMER, '14 GMEF, '15 GMEF (cardiology)
John Wilkins, MD, '08 GMER, '11 MS, '11 GMEF, '12 GMEF (cardiology)
George Yang, '94 MD (surgery)
Quentin Youmans, '15 MD, '18 GMER (cardiology, hospital medicine, internal medicine)
William Ziering, '56 MD (allergy-immunology)