MAA Virtual Event Recording Archives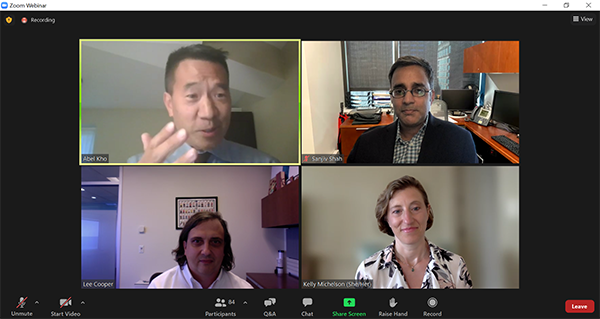 During the pandemic, the Medical Alumni Association pivoted to a virtual format for our events, hosting a number of well-received and highly-attended webinars for our alumni and friends of the medical school. Topics include medical school and campus history, conversations with Feinberg faculty and alumni who are leading experts in their fields, estate planning, panel discussions, and more.

We are thrilled to now share the digital archives of many of these recorded presentations with you. If you missed a presentation or would simply like to revisit the conversation, we invite you to explore our new virtual event recording archives below.

If you would like to learn more about a particular topic or have a question about a presentation not featured in our archives, please reach out to us at medalum@northwestern.edu.


Virtual Event Recording Archives
Genetics and AI to Help Identify and Prevent Heart Failure
November 1, 2023



Panel Discussion: Potocsnak
Longevity Institute
May 10, 2023



Digital Health and the Changing Paradigm of Atrial Fibrillation Treatment
May 2, 2023

The Tipping Point: The Future of Mental Health Care
July 13, 2022



Eye Diseases and Delivering Ophthalmic Care
May 11, 2022



Women's Health
and Aging
March 28, 2022



Major Trends and Opportunities
in Digital Health
February 8, 2022



Feinberg's Impact in the Chicago Community:
COVID-19 and Beyond
August 18, 2021

That Was Then, This Is Now:
The Evolution of Preventive Cardiology
August 11, 2021

Can Exercise Slow Parkinson's Disease Progression?
Jul 21, 2021



Augmented Intelligence
in Medicine
June 14, 2021



Stem Cell Technology for ALS and Pediatric Epilepsy
May 5, 2021



Build a Better Estate Plan
April 28, 2021



Moms in Medicine
January 13, 2021



That Was Then, This Is Now: Evolution of the Medical Campus
October 27, 2020

Interface of Dermatology and Technology
August 12, 2020

Celebrating Women in Medicine in the Time of COVID-19
August 6, 2020

ISGMH Special Event Honoring LGBTQ Pride
June 23, 2020