Aims, Wellness & Program Overview
Residents gain experience in all major subspecialties, including cornea and external disease, glaucoma, neuro-ophthalmology, ophthalmic plastic surgery, ophthalmic pathology, pediatric ophthalmology, uveitis, low vision, contact lens, refractive surgery and surgical and medical retinal disease.
Our Program Aims Include:
To recruit high-achieving diverse ophthalmology resident candidates with a proven record of academic accomplishment, leadership, and social service.
To create and maintain a supportive culture of professionalism and resident wellness.
To utilize the elective rotations to develop an individualized residency experience for each trainee in order to broaden the capabilities of the graduating residents and to maximize the yield of residency training.
Provide a training environment that fosters and encourages the practice of evidence-based medicine and scholarly endeavors while encouraging quality improvement and patient safety.
To prepare residents to be lifelong learners, educators and leaders.
To train excellent ophthalmologists who are well-prepared for both comprehensive clinical and surgical practice and subspecialty fellowship training, as well as careers in both academic practice and private practice settings.
Learn more about the program below.
Resident Wellness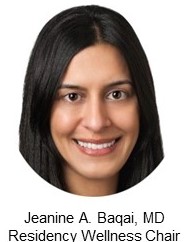 Meet Jeanine Baqai, MD, Assistant Professor of Ophthalmology at Northwestern.
Find more on counseling and psychological services for residents via the McGaw website.
The goal of our wellness curriculum is to promote wellness and decrease resident burnout by promoting resident resilience and decreasing stress. At Northwestern, resident wellness is a top priority. We strive to foster an environment of wellness in the ophthalmology department through education of and discussion with faculty, staff, and trainees. Our goal is to provide a supportive environment for residents while they develop the skills and knowledge to become outstanding ophthalmologists
Faculty mentoring for each resident
Biannual resident events sponsored by department
Discounted memberships to local gyms
Monthly debriefing meetings with the residency program director to freely communicate concerns
Careful monitoring of duty hours, proper management of fatigue
Confidential counseling available to all residents and fellows struggling with any adjustment issues, depression, anxiety, or other mental health concerns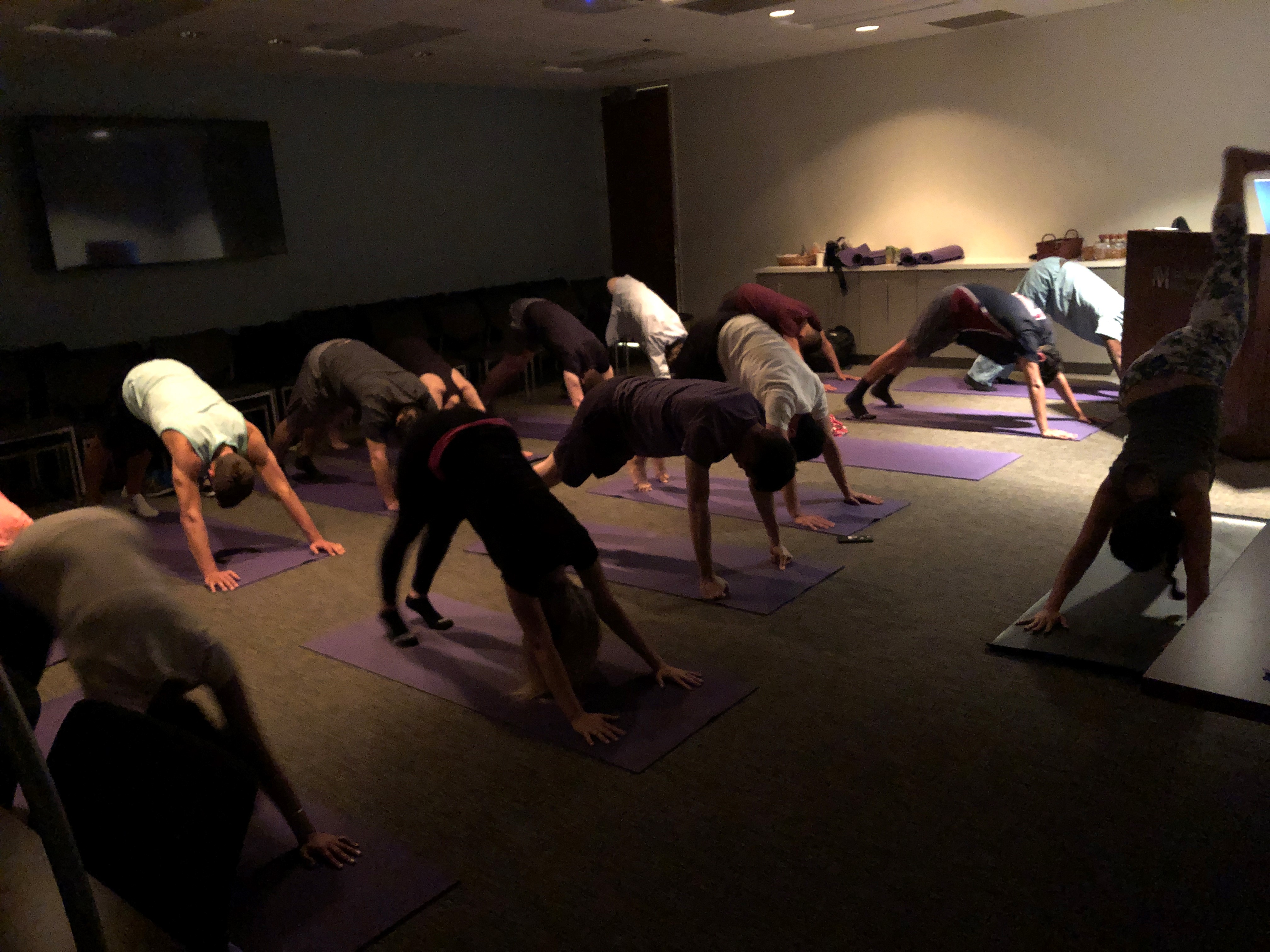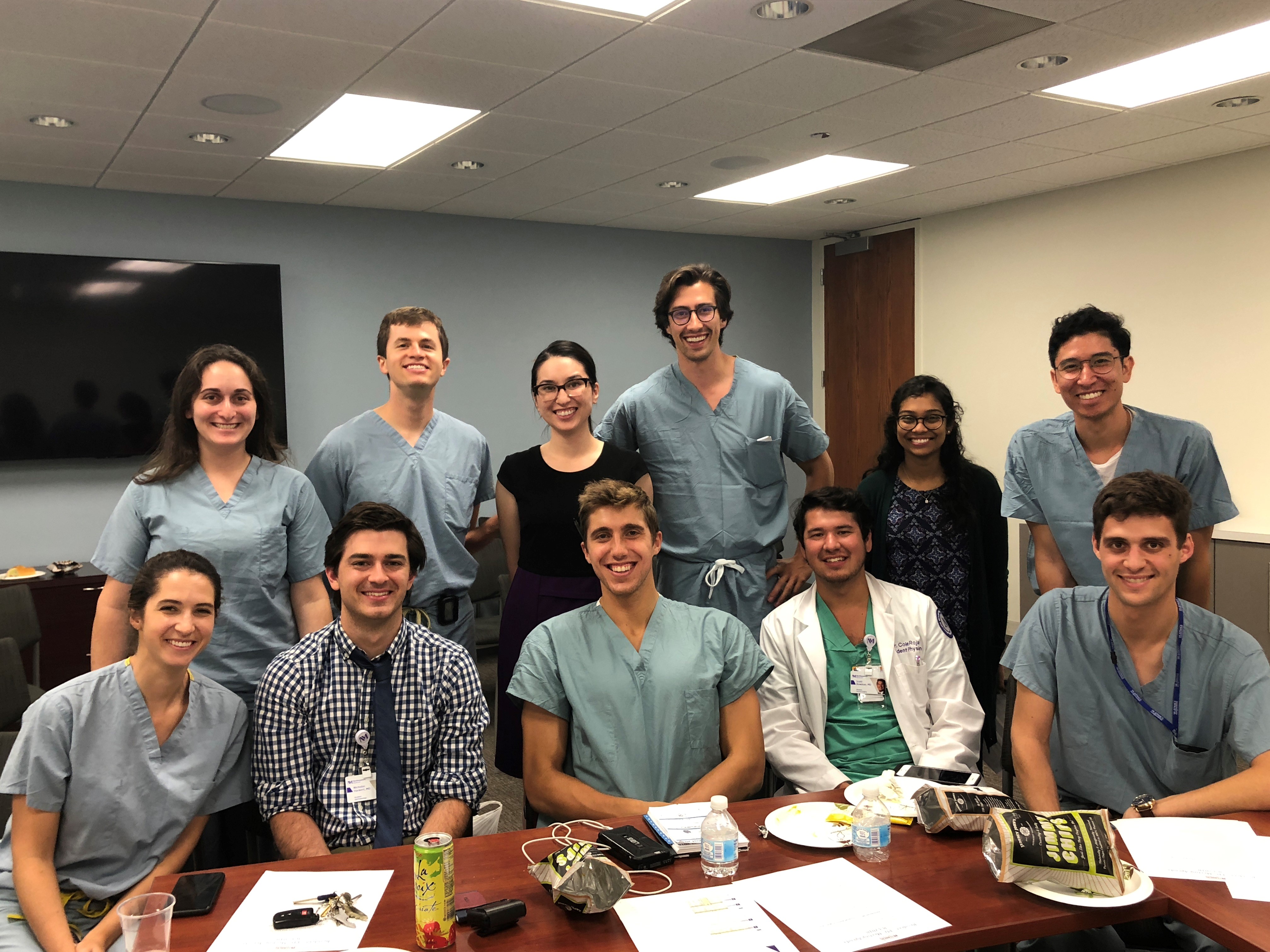 Residency Surgical Curriculum
Jessica Minjy Kang, MD
Associate Program Director
Co-director Residency Surgical Curriculum
Robert S. Feder, MD
Co-director Residency Surgical Curriculum
A PGY-specific wet-lab curriculum takes place throughout the academic year in the Chez Ophthalmology Microsurgery Laboratory. The curriculum is composed of 2-hour hands-on wet lab sessions led by 1-2 faculty members. The wet lab is also open and available to residents for practice on their own time.
Introduction to suturing
Oculoplastics
Strabismus
Retina
Introduction to anterior segment surgery
Phacoemulsification Basics
Glaucoma tube shunts
Cornea
Phacoemulsification – choosing IOL and loading IOLs
Phacodynamics and setting up the phaco machine
Phacoemulsification – advanced techniques
Glaucoma trabeculectomy and MIGS
Department of Ophthalmology Microsurgical Training Lab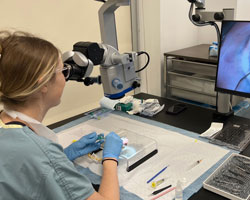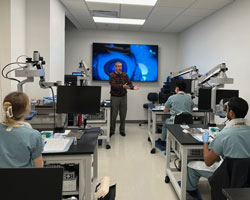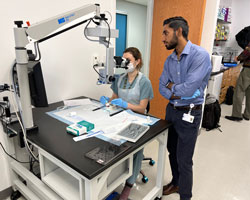 Dr. Robert S. Feder instructs trainees during a recent Anterior Segment Web Lab
This laboratory is the realization of a long-held dream, which could not have been realized without the generous gift and support of Ron and Athena Chez.
Training in a microsurgery lab enables a resident to experience the hand-eye coordination required when using a surgical microscope.  Selected steps of cataract surgery, oculoplastic surgery, retinal surgery, and eye muscle surgery can be practiced and proctored in a relaxed and supportive environment.
Our new laboratory has 6 workstations with state-of-the-art Haag-Streit operating microscopes, each with an attached video monitor and an adjustable worktable.  Each video monitor is easily connected with an 80-inch monitor on the front wall which facilitates demonstration as well as power point presentation.  Video images can be sent to other locations or received from other locations.  Residents can record their work for later review.  Each workstation has a complete set of high-quality microsurgical instruments.
Our wet lab also has an Eyesi computer simulator which helps residents to master more challenging steps in cataract and retina surgery.  The Eyesi program guides the resident through these steps until proficiency is attained, recording the progress along the way.
Northwestern Phacoemulsification Training Course
Surendra Basti, MD
Director of Resident Refractive Surgery Curriculum
Every year residents also participate in the Northwestern Phacoemulsification Training Course, a two-day didactic and wet lab course that offers a customized curriculum for surgical teaching for each year of residency training. More info HERE
Surendra Basti, MD discusses aspects of the residency surgical curriculum, including the India rotation and the annual phacoemulsification course. WATCH VIDEO 
Northwestern Cataract Symposium
An annual educational symposium discusses recent advances in cataract surgery. More info HERE
Clinical Rotation Structure
Intern Didactics
The PGY1 residents have a dedicated didactic curriculum to learn basic exam skills and introduce topics in ophthalmology. These sessions take place during the ophthalmology and elective rotations. Online knowledge-based lectures are provided to interns to learn at their own pace, while in-person hands-on and interactive sessions take place with two interns and one attending at a time.
PGY2-4 Didactics
During the PGY-2 to PGY-4 years, there is an 18-month long didactic curriculum. Material is presented in focused blocks, each ranging from six to 12 weeks. On Fridays, 8 a.m. to noon is a protected time for didactic sessions. The didactic curriculum includes Grand Rounds case conferences, Morbidity and Mortality conferences, specialty lectures, retina imaging conferences, and small-group problem-solving sessions.
The Chicago Curriculum of Ophthalmology is a lecture series on Saturday mornings from 9-11 am from September until April. It is a citywide curriculum that all six ophthalmology residency programs participate in, featuring the city's best speakers.
Resident Research Curriculum
The goals of our research curriculum are to teach our trainees a foundation in the scientific method, develop the skills to critically review and interpret scientific literature, and provide the necessary information and framework to complete a high quality research project.
Our curriculum includes didactic experiences, interactive journal clubs, and a structured timeline for research progress. Our didactics cover the scientific method, statistical analysis, grant writing, the electronic data warehouse (a tool to interact with the electronic health record via specific queries), the institutional review board (IRB), research compliance, ethics, and an introduction to different research study designs. These experiences are intended to provide the background information that is necessary to design a research study, get IRB approval and grant funding, execute the study, and appropriately analyze the results.
The journal clubs are focused upon the design of research studies and the validity of the results. Rather than focus on the information learned from the manuscript discussed, our journal clubs offer an interactive environment to teach our residents how to critically dissect a manuscript, decide if it is applicable to their patient populations, and how to implement the results into clinical practice. Furthermore, this process should be illuminating for future manuscript preparations of their research projects.
Our structured research experience includes a discrete timeline for our residents to execute their research thesis. The timeline includes selecting a mentor, choosing a project, finding an advisory committee to help with project development in a small group setting, proposing the project at our research grand rounds for department level feedback, applying for IRB approval and grant funding, executing the project, presenting the interim results at research day, submitting the results to research meetings, writing and publishing the manuscript, and presenting the work at international and local research meetings.
International Experience
Through our partnership with Grewal Eye Institute in Chandigarh, India, we provide a robust cataract surgical experience. This optional surgical rotation introduces the resident to delivering ethical, high-quality care to a socioeconomically challenged sector of the population.