Giving
In this remarkable age of scientific discovery, we can foresee much progress in the field of vision medicine. Northwestern is squarely in the midst of this revolution with leading-edge research and exceptional clinical care programs. Private commitments to the department will help us advance our scientific and education programs. The generosity of alumni, patients and friends will enable us to train tomorrow's vision specialists, support research to cure blindness, recruit talented vision scientists and purchase key pieces of equipment or technology.
The Department of Ophthalmology has many ways for you to make a difference. Your generous contributions are most appreciated and will greatly enhance and benefit the department now and in perpetuity. Each gift makes a difference.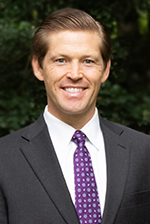 Contact Andrew P. Christopherson, PhD for more information on supporting Feinberg's Department of Ophthalmology.
Northwestern University Feinberg School of Medicine
Development & Alumni Relations
420 E. Superior St.
Arthur J. Rubloff Building, 9th Floor
Chicago, IL 60611
312-503-3080