Chair's Message
Welcome to the Department of Ophthalmology website. In the accompanying video, department chair Nicholas J. Volpe, MD, discusses the direction of the department and our faculty's impact on education, research and the care provided through our clinical affiliates.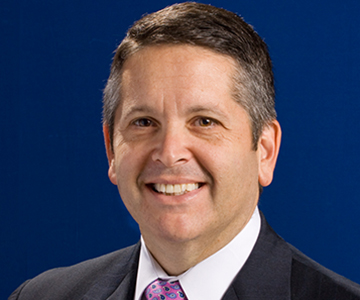 Our vision for the future of the Department of Ophthalmology at Northwestern University Feinberg School of Medicine is clear and compelling: to become one of the nation's pre-eminent research intensive academic ophthalmology departments as measured by the excellence of our faculty and students, the success and innovative nature of our research and educational programs and the quality of compassionate clinical care we provide to our patients. The Department of Ophthalmology is dedicated to providing the most advanced medical care, educating students, residents and fellows and conducting high-impact research that results in the development of new knowledge and new therapies for vision-threatening diseases. Our faculty members include nationally and internationally recognized specialists in cornea, glaucoma, pediatric ophthalmology, orbit and oculoplastics, ocular inflammation, retinal diseases, refractive surgery, neuro-ophthalmology, adult strabismus and comprehensive ophthalmology. With a commitment first and foremost to our patients, our department is a nationally recognized leader in ophthalmology and vision sciences and is at the forefront of vision care, research and education.
I hope that as you visit our website you will find it to be a thoughtful review of the breadth of our academic activity. We maintain our clinical space in the Sorrel Rosin Eye Center at the Lavin Family Pavilion of Northwestern Memorial Hospital, where we have 40 examination rooms, procedure rooms and state-of-the-art diagnostic equipment and lasers as well as an extensive clinical research facility. This is also the home of Northwestern Refractive Surgery Suite. In addition, six full-time faculty members practice at the Ann & Robert H. Lurie Children's Hospital of Chicago. The department's academic space and Shoch Library is located in our offices at the 645 N. Michigan building across from our clinical space. Finally, the department's laboratory research space is currently housed on the fifth and 13th floors of the Tarry Research Building, where our basic and translational scientists carry out their research work. In addition to these facilities, the breadth of vision research that occurs across the Northwestern University at both its Evanston and Chicago campuses is astounding. More than 30 physicians and scientists are actively pursuing new knowledge to improve the quality of life and options for adults and children with diseases and disorders of the eyes. Other investigators who share appointments in the Department of Ophthalmology are based in Northwestern's Department of Biomedical Engineering, Neurobiology, Dermatology and Neuroscience. Please take time to visit our residency program information site, which highlights many of the outstanding aspects of our residency.
Our research goals are broad. The overall goal is to promote interdisciplinary research and education in vision medicine that would ultimately contribute to the development of highly advanced therapies for macular degeneration, diabetic retinopathy, glaucoma, ocular inflammation, corneal blindness, optic nerve disorders and disorders of the eye. We have also just launched a program in comparative therapies and health economics. You will find the breath of clinical, educational and academic activity for our residents to be impressive.
In this remarkable age of scientific discovery, we can forsee much progress in the field of vision medicine. I hope that this website introduces you to the multitude of exciting educational and research activities that are occurring in our department. Northwestern is squarely in the midst of a revolution with leading-edge research and exceptional clinical care and education programs. Ultimately, we have a vision for sight restoration through patient care, innovative research and our efforts to train the next generation of scientists and outstanding ophthalmologists.