Uveitis Fellowship
Uveitis fellows learn to diagnose and treat a wide range of inflammatory conditions, including scleritis, acute and chronic anterior uveitis, intermediate and posterior uveitis secondary to sarcoidosis, toxoplasmosis, syphilis, Behcet's disease, Vogt-Koyanagi-Harada disease, herpes virus and serpiginous choroiditis, in addition to a number of other entities. The fellow will learn how to manage immunosuppressive therapy with methotrexate, mycophenolate and biologic agents. Fellows also perform complex cataract surgery and learn placement of intravitreal drug release devices. Fellows participate in resident and medical student teaching and attend weekly departmental Grand Rounds and other conferences.
Research is a key component of the fellowship. Fellows will have dedicated academic time and may choose to participate in ongoing studies or design a project of their own. Support is given throughout the process, from project design and data analysis, to manuscript preparation. The submission of at least one manuscript for publication is expected. Fellows may present at the American Uveitis Society meeting, AAO, ARVO or other major meetings.
How to Apply
Two uveitis fellowship positions are available each year. Applications are available through the San Francisco Match Website. Please also send a photograph and copy of your CV to Alicia Frasz.
Prospective fellows must successfully complete a residency in ophthalmology, be ABO board-eligible in ophthalmology and be a U.S. citizen, permanent resident or have appropriate visa status. Applicants from outside the United States must have passed the USMLE examination and be able to secure an Illinois State Medical license.  
The application deadline is Sept. 1 for training beginning in July.
This program is AUPO FCC accredited and overseen by the McGaw Medical Center of Northwestern University.
Contact Us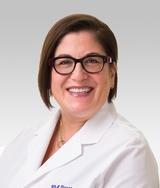 Director
Phone: 312-908-8152
Graduate Research Resources
We offer a wide range of resources, mentorship opportunities and training to help our fellows excel as physician-scientists. Explore all of the resources and hear from housestaff who are making research a major part of their career development plans.
VISIT THE HOUSESTAFF RESEARCH PORTAL
Back to top