McGaw Medical Education Clinical Scholars Program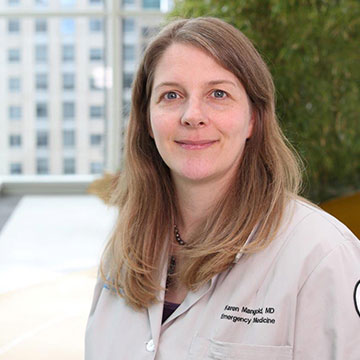 The McGaw Medical Education Clinical Scholars Program is a two-year certificate program, offering Northwestern University's McGaw Graduate Medical trainees (residents and fellows) a competency-based medical education certificate program to provide them with training in educational theory and teaching in a variety of settings.
Program Objectives
Provide trainees who have an interest in medical education with the opportunity to receive more information in how to achieve this career path and increased opportunities to grow as an educator
Provide experiential opportunities in a variety of medical education formats, including clinical teaching, administration, educational research, curriculum design and assessment
Provide career mentorship to trainees interested in medical education
Promote faculty-mentored scholarly activity in medical education for trainees
Application for 2021-2023 Cohort will open June 1st, 2022
See below for program and application details.
Application opens: June 1st, 2022
Application deadline: July 25th, 2022
Decisions communicated: August, 2022
Orientation: Medical Education Day, September 30th, 2022
Application Process and Deadlines
The call for applications will go out on July 1st, 2021. The application can also be found here. There will be information sessions held during these times for people to attend if they have questions or want to learn more about the program The deadline for applications will be July 25th, 2022.
Application
Letter of support from the program director
Statement of interest
CV
Attend Program Orientation and Introduction to the Educator Portfolio
Held in September during Medical Education Day, a full-day series of presentations and discussions celebrating and examining the future of medical education.
Attend or watch 12 TIME (Today's Innovations in Medical Education) Lectures
TIME Lectures sponsored by the Feinberg Academy of Medical Educators. Offered the third Tuesday of each month 4:00pm-5:00pm. May watch via live webcast or via online stream – if watched remotely, a reflection form must be submitted.
Attend 5 Faculty Development Workshops
Listen to Podcasts
Listen to 10 KeyLIME (Key Literature in Medical Education) Podcasts and submit reflection forms on these. This podcast is published every other week – learners can choose from any archived topic – read the reviewed literature and comment on the paper after listening to the podcast
Core Reading
Participants will read How Learning Works: Seven Research-Based Principles for Smart Teaching. Each section of the book will be discussed during the quarterly meetings that must be attended to receive credit for the reading.
Read four other medical education books and discuss at quarterly book group discussions.
Participate in 5 Directly Observed Teaching Sessions
Trainees will have their teaching observed by a mentor, certificate program leadership or other expert in the field. They should also have a peer (preferably another participant in the certificate program) observe and give feedback for one observation.
Feedback will be given to the learner after each session. Trainees should plan to include this feedback, as well as their own reflections on the session, in their educator portfolio.
Trainees should hope to have a variety of teaching formats observed – lectures, small groups, leading rounds, precepting students or leading simulations are all examples of acceptable formats.
Develop an Educator Portfolio
Trainees will build an educator portfolio that includes their teaching philosophy, teaching materials, directly observed teaching feedback, learner evaluations and self-reflection.
Mentors will review the portfolio and provide feedback on the content.
Scholarly Project
Poster presentations, peer-reviewed publications, curriculum development materials, research and quality improvement initiatives are examples of projects. Projects should be presented as a poster or presentation format in June during the provided TIME session for presentations.
Mentor and Administrative Meetings
Trainees will be paired with a Medical Education Mentor, drawn from the Feinberg Academy of Medical Educators. Meeting with mentors should occur quarterly.
Trainees are also required to attend quarterly administrative meetings with program leadership.