Q&A with David Hsi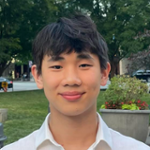 David Hsi is a sophomore at Northwestern University studying Data Science and Business Institutions. He has a strong interest in the power of data science and statistics and their real-world implications in everyday life. In the future, he hopes to go into the sports analytics field or the tech industry as a data scientist.

How did you first hear about the Institute for Augmented Intelligence in Medicine?
As a student who is interested in the intersection of data science and healthcare, when I saw I.AIM and its mission towards applying augmented intelligence to improve human health, I thought joining was the perfect opportunity for me.

What factors interested you to apply to I.AIM?
I.AIM's mission to use innovative applications such as artificial intelligence, machine learning, and more to improve healthcare resonated with me deeply. I really wanted to work somewhere where a real impact was being made, and I.AIM provides that type of environment. Furthermore, everyone on the team at I.AIM has an immense amount of experience and knowledge in the field, which could provide invaluable guidance for me as a student trying to start my career.

How has your experience in I.AIM changed you?
My experience at I.AIM has shown me what it's like to work in a professional environment. I have learned a lot of valuable information during my time at I.AIM and working on projects has really opened my eyes to the possibilities of augmented intelligence in medicine and other fields as well. Working at I.AIM has definitely been a
huge stepping stone for me in my career development.

What have you enjoyed about the internship?
Aside from I.AIM being a huge learning experience, I also really enjoyed the work environment of I.AIM. Everyone in the team are not just coworkers, but friends as well
and that really makes working at I.AIM enjoyable.