Educational Technology Support & Resources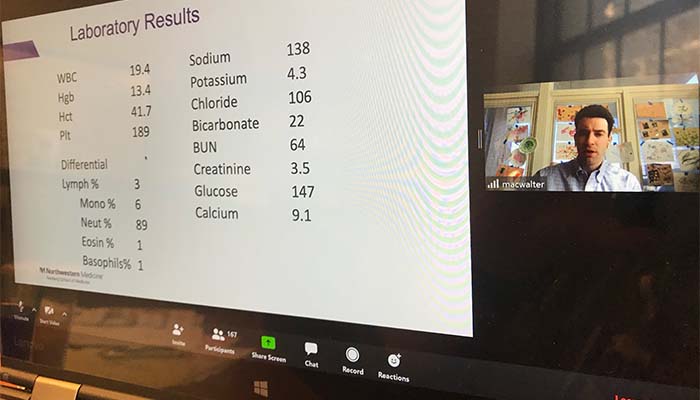 Knowing how busy faculty are with clinical duties, teaching duties, and the general anxiety of the times in which we live, we offer a variety of ways for you to get support with the educational technologies you use in your teaching practice.
Virtual Consultations
We strongly encourage everyone to have at least one virtual consultation with an educational technologist before your first teaching session. We are happy to meet with you at a time that is ideal for you. To request a consultation, complete this brief form and someone will reach out within 24 hours.
Remote Teaching Studio
If you're feeling confident with Zoom and the other technologies you'll be using, you might consider taking advantage of the Remote Teaching Studio on campus. The Remote Teaching Studio is set up, fully supported, and ready to help you accomplish whatever you want to do in your session. In addition, you can use this space to record lectures or demonstrations. Simply complete this form, and someone will contact you within 24 hours to assess your needs and finalize the arrangements.
Remote Teaching Primer
Shifting to a remote teaching model can feel overwhelming. We have developed this remote teaching primer to help you embrace the change and find your confidence in this new environment.
Online Teaching Resources
If you prefer to learn on your own, and at your own pace, we've assembled a collection of the latest resources for you. We've organized these by the technology, so click the technology you'd like to delve into below.
 Zoom

Zoom is the Northwestern University supported technology for hosting virtual meetings, virtual classes, and virtual office hours.
 Panopto (Lecture capture and video storage)

Panopto is a lecture capture and video storage/hosting platform that is widely used in higher education.
 TurningPoint Technologies (Student Response System)

TurningPoint Technologies is the supported student response system used widely at Feinberg.
 Canvas (Northwestern's Learning Management System)

Canvas is the official learning management system for Northwestern University, and for most R1 institutions.
 Piazza

Piazza is a flexible discussion board tool.
 Other Educational Technologies

The Feinberg School of Medicine offers several other teaching technologies, and new technologies are being added all the time.
Contact Us
If you can't find what you need, or you want to make some suggestions, or you just want to discuss an idea on how to use an educational technology, please contact FSMEdTech@northwestern.edu We'll respond to your inquiry within one business day.