How Lung Transplants Are Saving COVID-19 Patients with Ankit Bharat, MBBS
Ankit Bharat, MBBS, Chief of Thoracic Surgery at Northwestern Medicine and director of the Lung Transplant program, shares findings that support why lung transplantation should be considered for patients who have developed irreversible lung disease due to COVID-19.
"One of the most important points of this study is to establish lung transplant as a treatment option in very sick patients (with permanent lung damage and no chance of recovery) which is a big paradigm change in the context of organ transplant."
— Ankit Bharat, MBBS
Chief of Thoracic Surgery in the Department of Surgery
Harold L. and Margaret N. Method Research Professor of Surgery
Associate Professor of Surgery in the Division of Thoracic Surgery
Associate Professor of Medicine in the Division of Pulmonary and Critical Care
Member of the Robert H. Lurie Comprehensive Cancer Center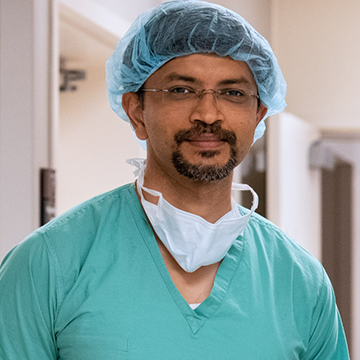 Episode Notes
So far, the procedure has been 100 percent successful: There has been no recurrence of the virus and all patients are making fast recoveries.
Using a newly-developed extracellular matrix imaging technique combined with single-cell RNA sequencing, Bharat and other collaborators examined the damaged lung tissue from the three patients who underwent transplants as well as from patients who died from COVID-19-associated pneumonia.
The investigators found severe damage resembling that of end-stage pulmonary fibrosis. In addition, RNA sequencing allowed the investigators to "map" the lungs of COVID-19 patients onto those of fibrosis patients, a tool that could one day identify which patients are recovering well and which patients might require a transplant.
Bharat hopes the need for such procedures will diminish with the development and distribution of a COVID-19 vaccine. However, these surgeries have helped establish the safety of performing lung transplantation on critically ill patients, even those suffering from infectious causes of lung failure such as COVID-19  a new paradigm in transplantation.
Additional Reading:
Read the paper "Lung transplantation for patients with severe COVID-19" in Science Translational Medicine

Find out more about the COVID-19 double lung transplant patients at Northwestern and their path to recovery 
Subscribe to Feinberg School of Medicine podcasts here:
Continuing Medical Education Credit
Physicians who listen to this podcast may claim continuing medical education credit after listening to an episode of this program.
Target Audience
Academic/Research, Multiple specialties
Learning Objectives
At the conclusion of this activity, participants will be able to:
Identify the research interests and initiatives of Feinberg faculty.
Discuss new updates in clinical and translational research.
Accreditation Statement
The Northwestern University Feinberg School of Medicine is accredited by the Accreditation Council for Continuing Medical Education (ACCME) to provide continuing medical education for physicians.
Credit Designation Statement
The Northwestern University Feinberg School of Medicine designates this Enduring Material for a maximum of 0.05 AMA PRA Category 1 Credit(s)™. Physicians should claim only the credit commensurate with the extent of their participation in the activity.
Disclosure Statement
Ankit Bharat, MBBS, has nothing to disclose. Course director, Robert Rosa, MD, has nothing to disclose. Planning committee member, Erin Spain, has nothing to disclose. Feinberg School of Medicine's CME Leadership and Staff have nothing to disclose: Clara J. Schroedl, MD, Medical Director of CME, Sheryl Corey, Manager of CME, Allison McCollum, Senior Program Coordinator, Katie Daley, Senior Program Coordinator, and Rhea Alexis Banks, Administrative Assistant 2.
Claim your credit