COVID-19 Vaccines and Pregnant Women with Emily Miller, MD, MPH
Recently, the director of the CDC officially recommended that pregnant women receive the vaccines for COVID-19. However, pregnant women are less likely than non-pregnant women to get vaccinated and are at greater risk of hospitalization and death from the disease. Emily Miller, MD, MPH, has been caring for pregnant patients at Prentice Women's Hospital since the onset of the pandemic. She shares results from a new study on the benefit of maternal vaccination and speaks to the history of excluding pregnant women from clinical trials.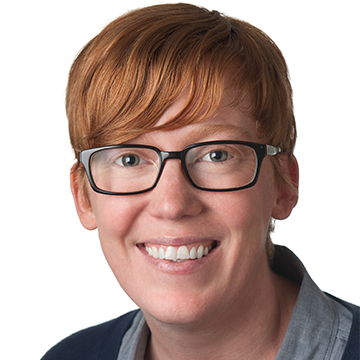 "We need to start reframing from the historical perspective of 'we need to protect pregnant women from research' and really convert it to 'we need to protect pregnant women through research.'"
— 
Emily Miller, MD, MPH
Episode Notes
If pregnant women become infected with COVID-19, they are more likely to develop severe manifestations of the disease. They have a five-fold increased risk of hospitalization, three-fold risk of ICU admission and nearly a two-fold risk of dying from COVID-19 compared to similarly aged women, reports Emily Miller, MD, MPH. Despite these increased risks, pregnant people were initially excluded from clinical vaccine trials and they are less likely than non-pregnant women to receive the vaccine.
In this episode, Miller addresses reasons pregnant people have historically been omitted from clinical trials and what's at stake from their continued omission, especially during this pandemic. She discusses her recent study that found women who were vaccinated for COVID-19 earlier in their third trimester had a higher likelihood of passing protective antibodies to their newborns than women who received their vaccine closer to delivery. 
Other topics covered:
She dispels myths surrounding infertility and COVID vaccines, including the misconception that the vaccine will attack the placenta due to similarities between the spike protein of SARS-CoV-2 and a protein in the placenta.
Miller elaborates on her recent study on maternal-fetal antibody transfer in 

27 vaccinated pregnant women and 28 babies' umbilical cord blood and the next steps for the research.

Modeled from her work focused on HIV and pregnant women, Miller adapted "multiple pillars" into her approach to this pandemic: research, community outreach, education and advocacy. 
Miller offers strategies for care providers and communicators looking to address pregnant women's vaccine hesitancy. "Number one is listening," Miller stresses. "Not starting with 'You should get this' and rushing in, but 'What are your thoughts and feelings on the vaccine?'" 
Additional Reading: 
"Cord blood antibodies following maternal coronavirus disease 2019 vaccination during pregnancy" published in American Journal of Obstetrics and Gynecology
"Placental Pathology in COVID-19" published in American Journal of Clinical Pathology
Subscribe to Feinberg School of Medicine podcasts here:
iTunes 
Spotify
Google Play Music
Recorded May 4, 2021.
Continuing Medical Education Credit
Physicians who listen to this podcast may claim continuing medical education credit after listening to an episode of this program.
Target Audience
Academic/Research, Multiple specialties
Learning Objectives
At the conclusion of this activity, participants will be able to:
Identify the research interests and initiatives of Feinberg faculty.
Discuss new updates in clinical and translational research.
Accreditation Statement
The Northwestern University Feinberg School of Medicine is accredited by the Accreditation Council for Continuing Medical Education (ACCME) to provide continuing medical education for physicians.
Credit Designation Statement
The Northwestern University Feinberg School of Medicine designates this Enduring Material for a maximum of 0.25 AMA PRA Category 1 Credit(s)™. Physicians should claim only the credit commensurate with the extent of their participation in the activity.
Disclosure Statement
Emily Miller, MD, MPH, has nothing to disclose. Course director, Robert Rosa, MD, has nothing to disclose. Planning committee member, Erin Spain, has nothing to disclose. Host, Amanda Dee, has nothing to disclose. Feinberg School of Medicine's CME Leadership and Staff have nothing to disclose: Clara J. Schroedl, MD, Medical Director of CME, Sheryl Corey, Manager of CME, Allison McCollum, Senior Program Coordinator, Katie Daley, Senior Program Coordinator, and Rhea Alexis Banks, Administrative Assistant 2.
Claim your credit