COVID-19 Deaths and Racial Health Disparities with Clyde Yancy, MD
Although COVID-19 doesn't necessarily discriminate, some communities are far more susceptible to the disease. People who are black or African-American are more likely to contract the virus - and to die from it. Clyde Yancy, MD, discusses reasons for these outcomes and the need to fully address health care disparities in America.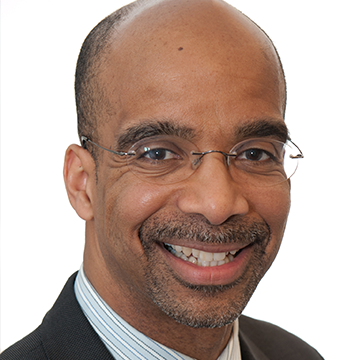 "If we are who we say we are as a civil society, there's no way we can allow this kind of disproportionate suffering to occur. We have to begin to say, 'This is our pivot point.' This is when we finally say, 'Disparate health is not an attribute that we will withstand anymore.' We need to go forward and try and strive for health equity."
Vice Dean for Diversity and Inclusion
Chief of Cardiology in the Department of Medicine
Magerstadt Professor
Professor of Medicine in the Division of Cardiology
Professor of Medical Social Sciences
Member of the Center for Diabetes and Metabolism
Member of Institute for Public Health and Medicine 
Member of the Center for Epidemiology and Population Health
Member of Northwestern University Clinical and Translational Sciences Institute
Episode Notes
In the early days of the COVID-19 pandemic, Clyde Yancy, MD, and his colleagues at Northwestern observed data from China and Europe indicating that those with COVID-19 requiring mechanical ventilation, needing renal replacement therapy or dialysis, and ultimately dying from the disease were those with preexisting hypertension, diabetes or already established cardiovascular disease.
Many of the underrepresented communities in our country, particularly the African-American community, fit that profile. In the weeks that followed the initial outbreak in the U.S., Chicago, New Orleans and Detroit began sharing public health statistics showing that African-Americans were getting sick with the disease and dying at a much higher rate than other populations.
"(In Chicago) 50 percent of the infections were impacting African-Americans and 70 percent of the deaths were in the African-American cohort compared to the representation of the population," Yancy says.
Native Americans and Latinx communities are also seeing these disparities. Yancy believes this phenomenon can be attributed to the preexisting health conditions and living circumstances in minority communities. Social distancing and strict hand hygiene can be difficult for many who cannot work from home, live in crowded conditions or may not have access to hand sanitizer and other supplies such as face masks.
He hopes this pandemic can be a pivot point for the nation to finally address these disparities and strive for health equity.
Additional Reading: 
Read Yancy's editorial on this topic in JAMA.
CDC report on COVID-19 in Racial and Ethnic Minority Groups
Subscribe to Feinberg School of Medicine podcasts here:
iTunes 
SoundCloud
Spotify
Google Play Music
Recorded on May 5, 2020.
Continuing Medical Education Credit
Physicians who listen to this podcast may claim continuing medical education credit after listening to an episode of this program.
Target Audience
Academic/Research, Multiple specialties
Learning Objectives
At the conclusion of this activity, participants will be able to:
Identify the research interests and initiatives of Feinberg faculty.
Discuss new updates in clinical and translational research.
Accreditation Statement
The Northwestern University Feinberg School of Medicine is accredited by the Accreditation Council for Continuing Medical Education (ACCME) to provide continuing medical education for physicians.
Credit Designation Statement
The Northwestern University Feinberg School of Medicine designates this Enduring Material for a maximum of 0.25 AMA PRA Category 1 Credit(s)™. Physicians should claim only the credit commensurate with the extent of their participation in the activity.
Disclosure Statement
Clyde Yancy, MD, disclosed an external financial relationship with Abbott Laboratories. Course director, Robert Rosa, MD, has nothing to disclose. Planning committee member, Erin Spain, has nothing to disclose. Feinberg School of Medicine's CME Leadership and Staff have nothing to disclose: Clara J. Schroedl, MD, Medical Director of CME, Sheryl Corey, Manager of CME, Jennifer Banys, Senior Program Administrator, Allison McCollum, Senior Program Coordinator, and Rhea Alexis Banks, Administrative Assistant 2.
Claim your credit