Esophageal Diseases, Symptom Anxiety and Hypervigilance with John Pandolfino, MD
Esophageal diseases are extremely common, and symptoms such as trouble swallowing, chest pain, regurgitation and choking diminish quality of life. There can also be psychosocial effects for patients with these diseases, including hypervigilance — a heightened focus on physical symptoms — and symptom-specific anxiety such as fear of choking. Identifying patients with issues could help providers better treat their disease.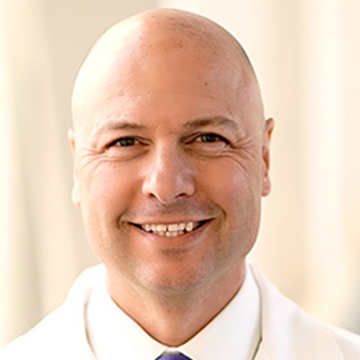 "Hypervigilance is a central brain focus on the particular symptom where it literally becomes the focus of your attention consciously. You think you feel things, you're very worried about your esophagus, and that generates symptom-specific anxiety around that particular thought process. And if you can break that thought process, you can dramatically improve patients' quality of life."
Chief of Gastroenterology and Hepatology in the Department of Medicine
Hans Popper Professor
Professor of Medicine in the Division of Gastroenterology and Hepatology
Member of Northwestern University Clinical and Translational Sciences Institute
Episode Notes
A recent Northwestern Medicine study published in the journal Gastroenterology found that measuring levels of hypervigilance and symptom-specific anxiety may improve healthcare providers' understanding of patient outcomes for severe esophageal diseases and treatment strategies. John Pandolfino, MD, senior author of the study, details the findings in this episode. 
Years ago, Pandolfino became interested in this topic when he realized that despite very similar physiology, some of his patients had worse symptoms than others. There seemed to be increased reports of hypervigilance and symptom-specific anxiety in patients with worsening symptoms. 
For this study, Pandolfino's team performed a retrospective review of patient chart data for 103 people diagnosed with eosinophilic esophagitis (EoE), a chronic inflammatory disease caused by excess build-up of white blood cells, called eosinophils, in the esophagus. They found that the biggest driver impacting quality of life was hypervigilance and symptom anxiety. The findings suggest that cognitive behavioral therapy, in conjunction with physiologically treating the disease, is an essential component of improving symptom severity and quality of life for patients with EoE. 
Other topics covered:
Behavioral approaches such as cognitive behavioral therapy and hypnosis could arm patients with tools needed to shift their attention away from their symptoms.
Technology such as video calls and apps have been used by members of Pandolfino's team during the COVID-19 pandemic to treat patients nationally and internationally with a focus on the mind-gut connection.
There seems to be an increase in EoE and other esophageal diseases, which Pandolfino says could be due to the rise of obesity in America and an increase in allergies. 
Additional Reading: 
iTunes 
Spotify
Google Play Music
Recorded on July 30, 2021.
Continuing Medical Education Credit
Physicians who listen to this podcast may claim continuing medical education credit after listening to an episode of this program.
Target Audience
Academic/Research, Multiple specialties
Learning Objectives
At the conclusion of this activity, participants will be able to:
Identify the research interests and initiatives of Feinberg faculty.
Discuss new updates in clinical and translational research.
Accreditation Statement
The Northwestern University Feinberg School of Medicine is accredited by the Accreditation Council for Continuing Medical Education (ACCME) to provide continuing medical education for physicians.
Credit Designation Statement
The Northwestern University Feinberg School of Medicine designates this Enduring Material for a maximum of 0.25 AMA PRA Category 1 Credit(s)™. Physicians should claim only the credit commensurate with the extent of their participation in the activity.
Disclosure Statement
John Pandolfino, MD, discloses financial relationships with Medtronic, Inc., Diversatek, Torax Ethicon, Ironwood, and Takeda Pharmaceuticals, Inc. Peer reviewer, Erica Donnan, MD, has nothing to disclose. Course director, Robert Rosa, MD, has nothing to disclose. Planning committee member, Erin Spain, has nothing to disclose. Feinberg School of Medicine's CME Leadership and Staff have nothing to disclose: Clara J. Schroedl, MD, Medical Director of CME, Sheryl Corey, Manager of CME, Allison McCollum, Senior Program Coordinator, Katie Daley, Senior Program Coordinator, and Rhea Alexis Banks, Administrative Assistant 2.
Claim your credit