At Northwestern Simulation, we use exceptional simulation-based education to improve cognitive, technical and professional skills of healthcare providers. Our ultimate goal is to transform healthcare through education, innovation and scholarship. We emphasize respect, collaboration, safety, high-impact research and cost-effectiveness in all activities.
The Northwestern Simulation team is comprised of faculty and staff who are recognized internationally as experts in simulation, assessment and debriefing. Our first priority is creating an environment in which outstanding education is provided to our medical students, trainees, practicing clinicians and ancillary teams. Our experts in medical and surgical simulation, device design and engineering, and instructional design and development foster and create a safe educational environment where learners can make mistakes, stop, reflect and try again.
Every day, we promote and foster the highest level of patient safety. While teaching technical, procedural and communication skills, we work to translate those competencies into improved patient outcomes. In addition to our internal Northwestern team, we are fortunate to have a wide network of external collaborators, including experts in simulation-based education, translational research, cutting-edge medicine and healthcare innovation. We collaborate not only across the Northwestern community, but also with medical societies, government organizations and industry leaders in healthcare, science, engineering and technology.
We know the possibilities are endless. Explore our website, take a virtual tour, schedule an event and reach out to our team. Let's transform medicine together.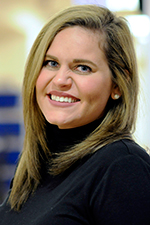 Elizabeth Wylie, MHA, FACHE
Executive Director of Northwestern Simulation™ and FSM Clinical Skills Center; Director of Operations for the Department of Medical Education