Chiefs' Message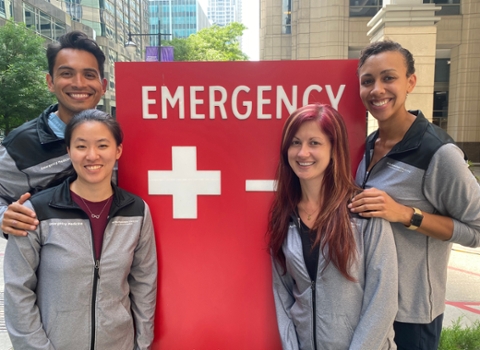 Thank you for your interest in Northwestern University Emergency Medicine (NUEM). There has never been a better time to train in emergency medicine, and we are excited to share the details of our incredible program.
We are proud to train some of the best emergency physicians in the country. NUEM residents care for a diverse patient population with a wide spectrum of acuity. With nine critical care rotations (and no floor months), our residents grow comfortable taking care of the sickest patients. Our primary training site is Northwestern Memorial Hospital, a Level I trauma center and one of the nation's premier academic medical institutions. Here, we provide care in a rich clinical environment where we see the full spectrum of emergency medicine from ankle sprains in tourists to critically ill transplant patients, from VIPs of Chicago to undomiciled individuals living downtown.
Our department is led by our chairman and Northwestern Medicine's chief medical officer, James Adams, MD. Our faculty features national leaders in academic medicine. Our residents learn from expert clinicians who serve as passionate educators, administrators, and scientists. Faculty also serve as editors of major journals, direct curriculum at the top-ranked Feinberg School of Medicine and work as physicians for Chicago's professional sports teams.
For those interested in augmenting their clinical training, there are opportunities throughout the department, the hospital system, and the school of medicine. Departmental research areas include pulmonary thromboembolic disease, sepsis, hospital resource utilization, opioid prescribing, traumatic head injury management, and geriatric emergency medicine. Residents participate in faculty research as well as conducting their own studies. Others get involved in longitudinal hospital quality improvement programs, sit on hospital committees, present at national conferences, work in ED operations, develop new simulation curricula, teach in the medical school or lead one of our three innovative academic colleges.
If the existing opportunities do not meet your needs, our department is wonderful at working with you to achieve whatever your goals might be.
As comprehensive as our clinical training is at Northwestern, what we value most are the relationships we build in this program. At Northwestern, you will have the chance to meet, train with, and become lifelong friends with truly incredible individuals who will undoubtedly shape the future of emergency medicine academically, administratively, and through outstanding patient care. Our graduated training model allows us to not only hone our clinical teaching skills on every shift, but it also allows us to work closely with our co-residents to develop a unique bond that will last far beyond residency. Outside of work, you would be hard-pressed to find a day of the year where there is not a group of residents enjoying Chicago and each others' company in some form or fashion.
We're thrilled that you're considering our NUEM family. Please explore our website, social media, and feel free to contact us at any time with questions at nuem.chiefs@gmail.com. Good luck on the interview trail!
Andra, Alex, Justine, and Nery