Watch On-demand: "Navigating the Legal Landscape of ChatGPT in Medicine"
On March 15, 2023, I.AIM hosted "Navigating the Legal Landscape of ChatGPT in Medicine." There are abundant possibilities for using large language model technologies such as ChatGPT to improve and expand access to services. But there are risks, including privacy, bias, and unsafe systems that do not work. How might existing and emerging laws address the risks and help us capture the benefits of AI for medicine?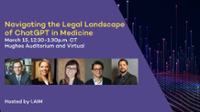 Listen to I.AIM's panel discussion with Daniel W. Linna Jr., JD, Northwestern Pritzker School of Law and McCormick School of Engineering, and Andrea Lee Linna, JD, Partner and Co-Lead of the Digital Health, Technology and Innovation practice group at McGuireWoods LLP. They talk about the legal landscape for AI in medicine and share potential directions for future regulation. Cathy Gao, MD, Pulmonary and Critical Care Medicine, Mohammad Hosseini, PhD, Postdoctoral Scholar in Preventative Medicine, and Alex Carvalho, MD, MPH, Infectious Diseases, share clinical and ethical perspectives on how legal quandaries of AI technologies may affect healthcare.
View the recording. 
View the slides.