Pathology PSTP
The six-to-seven-year Physician-Scientist Training Program (PSTP) within the Department of Pathology is designed for the MD/PhD or MD graduate with extensive research experience who is interested in a career in academic pathology and investigation. 
The PSTP is designed to allow the trainee to complete American Board of Pathology requirements for certification in anatomic pathology, clinical pathology or both while providing ample time for intensive laboratory work under the guidance of a faculty mentor. 
Program Details
The basic structure of the program will involve progression from general clinical activity (two-and-a-half years of structured training in the categorical AP or CP residency training program, or three-and-a-half years of combined AP/CP training), to research (two years), to specialized clinical fellowship training (one year), if desired.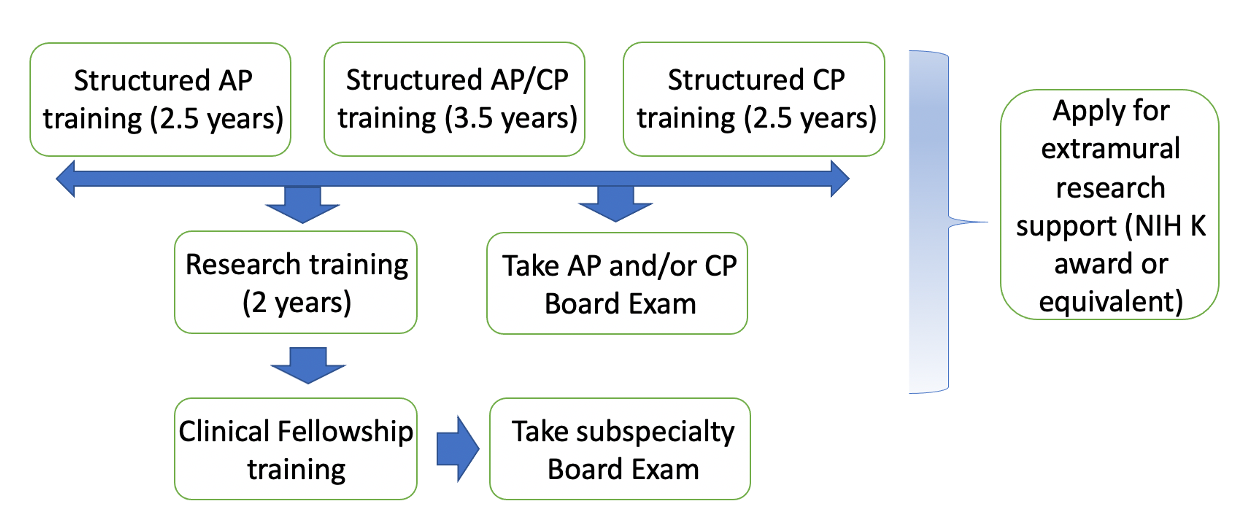 The Department of Pathology tailors investigator-track resident schedules to meet each candidate's clinical and research goals. PSTP trainees fulfill all ABP eligibility requirements for AP, CP or AP/CP certification. With adequate progress in the residency and research phase of training, the candidate will be accepted into the clinical fellowship of choice to provide continuity of training that will make it possible to continue to develop and strengthen the trainee's research program and independence.
Depending on the needs and interests of the trainee, additional didactic training is available at Northwestern. Trainees may participate in the programs of the Driskill Graduate Program in the Life Sciences, Master of Science in Clinical Investigations or the Master of Science in Epidemiology and Biostatistics. In addition, there are numerous other lectures and seminars available at Northwestern University, and there are regular seminars and programming developed specifically for PSTP trainees.
During the pre-research phase of training, each scholar will be assigned a career development mentor who, together with an advisory committee composed of other physician-scientists, will help guide the trainee's overall career development. Once a research lab has been chosen, the trainee's research mentor will also be represented on the Career Development Committee, which will meet at regular intervals to evaluate career development progress.
Research training can be completed under the mentorship of any faculty member at Northwestern University. Applicants will be encouraged to interview potential mentors during the first year of residency training. In collaboration with their designated research mentor, the trainee will develop a research project and write a training fellowship application (such as an NIH NRSA), which will ensure that a highly focused and scientifically relevant project will be pursued by the trainee.
The program is designed for recent MD or MD/PhD graduates who meet the eligibility qualifications to receive U.S. residency training and have a strong record of research accomplishment and clear commitment to a career in academic pathology as a physician-scientist.
Applicants should apply to the Pathology Basic Science Investigator Training Program of the McGaw Medical Center of Northwestern University through ERAS. Applicants will be notified if they are invited to interview. Acceptance into the program will be via the NRMP and will be based on previous accomplishment and commitment to a career as a physician-scientist in academic pathology.
Northwestern University does not discriminate or permit discrimination by any member of its community against any individual on the basis of race, color, religion, national origin, sex, sexual orientation, gender identity, gender expression, parental status, marital status, age, disability, citizenship or veteran status in matters of admissions, employment, housing or services or in the educational programs or activities it operates.
Each trainee accepted into the program will be guaranteed a position in the fellowship program of any of the clinical subdivisions in the Department of Pathology and will receive financial support for their salary, benefits and research.
Normally, trainees are able and expected to apply for fellowship stipend support for the time they are engaged in research. Salaries of trainees in the PSTP will be supplemented by the department to maintain the appropriate ACGME level of postgraduate clinical training stipend and will be guaranteed if the trainee, after honest effort, is unable to garner independent support and/or the mentor is unable to provide support. 
The Pathology PSTP will provide a minimum of $52,200 support for the duration of training as indicated below.
Training Year
Position
Support
Purpose

1

AP or CP Residency

$1,000

$2,000

Travel

Books

2

AP or CP Residency

$1,000

$2,000

Travel

Books

3

AP or CP Residency (6 mos.) Research (6 mos.)

$1,000

$2,000

Travel, Books, Journals, etc.

Computer and software

4

Research

$3,000

$65,869

Travel, Books, Journals, etc.

Salary support paid at ACGME PGY4 level

5

Research

$3,000

$68,530

Travel, Books, Journals, etc.

Salary support paid at ACGME PGY-5 level

6

Fellowship (paid at PGY rate for clinical fellows)

$1,000

$2,000

Travel

Books

Total

$154,399