Applicants interested in internships, areas of scholarly concentration for medical students, PhD assistantships, K Awards and postdoctoral fellowships should send a full CV or resume and a description of research training needs to the Buehler Center for Health Policy and Economics.
EMAIL US
Buehler Center for Health Policy & Economics Postdoctoral Fellowship Opportunity
The Buehler Center for Health Policy & Economics at the Northwestern Feinberg School of Medicine invites applications for a two-year postdoctoral Research Associate fellowship to begin in Fall 2023. The fellowship provides an opportunity for postdoctoral scholars to advance injury control science for prevention and mitigation research focused on combating drug overdose. The Fellow will be provided time, space, and mentoring to develop their early career scholarship.
The Postdoctoral Fellow will work primarily with Dr. Lori Post at the Buehler Center for Health Policy and Economics to support global opioid and other drug surveillance. The Fellow's specific project-related responsibilities will be developed in consultation with Dr. Post and may include project management, surveillance system design and facilitation, data management/analyses and manuscript preparation.
The postdoctoral fellowship is a two-year full-time appointment. Salary is commensurate with NIH guidelines for postdoctoral fellows (see https://grants.nih.gov/grants/guide/notice-files/NOT-OD-19-036.html). Benefits are also provided. See https://www.northwestern.edu/hr/benefits/ for more information on postdoctoral training and benefits at Northwestern University in Chicago, Illinois.
The Buehler Center for Health Policy and Economics sits within the Robert J. Havey, MD Institute for Global Health (IGH) at the Northwestern Feinberg School of Medicine. We help foster high-quality, policy-relevant research and disseminate it widely to decision-makers in the public and private sectors. Our mission is to impact the public health through discovery and education. The pursuit of excellence requires a learning organization grounded in leadership, innovation, and compassion that can translate new knowledge into better human health. These attributes are interwoven by professionalism dedicated to teamwork, collegiality, and social and intellectual diversity. Such values promote the best interests of medicine and further strengthen our social contract with the community we serve.
The Buehler Center is deeply committed to a community of excellence, equity, and diversity and welcomes applications from women, underrepresented minorities, persons with disabilities, sexual minority groups, and other candidates who will contribute to the diversification and enrichment of ideas and perspectives.
Eligibility
Applicants must have completed all requirements for their doctoral degree by July 1, 2023. They may not hold another scholarship, visiting or employment position during their fellowship. The fellowship cannot be deferred.
Preferred candidates will have:
Expertise in injury control science research and/or experience working in Global Public Health
Previous experience with surveillance systems, GIS, drug overdose, violence prevention, or injury control.
Experience working directly with people from diverse racial, ethnic, and socioeconomic backgrounds.
Experience incorporating the perspectives of multiple communities, including communities of color.
Strong organizational, time management, and interpersonal skills, including effective oral/written communication, as evidenced by publications or grant-writing experience.
Embraces and actively promotes an inclusive and equitable work environment.
Experience conducting mixed-methods research, including strong quantitative analytical skills.
Proficient computer skills, use of statistical packages and proficiency in navigating and maintaining databases. Experience with SPSS, R, or Stata is preferred.
Application
The Deadline for applications is June 30, 2023. Review of applications will begin immediately and will continue until a suitable candidate is selected. Candidates are invited to contact Lori.Post@northwestern.edu to apply and submit the following documents:
Cover Letter (maximum 300 words) with title and summary of proposed
Curriculum vitae with a list of
Research proposal (maximum 2000 words) including a detailed description of the project, goals, timetable, bibliography, and how much of the work has already been done.
An abstract of one writing sample equivalent to a single journal article, book chapter, or dissertation chapter. The writing sample may be published or unpublished.
Graduate Transcript: A transcript from your doctoral degree-granting institution. If your doctoral program did not include formal graded classes, submit a statement to that effect
Three Letters of Recommendation: We ask you to provide reference letters from three referees, who may send their letter directly to Lori.Post@northwestern.edu. Letters of recommendation are due no later than June 30, 2023.
With the exception of official transcripts, all documents must be in English
Starzl Academy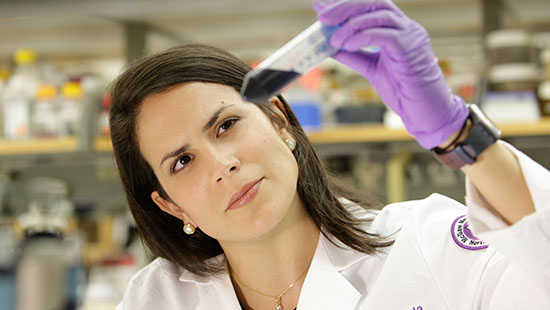 Physician-Scientist Training & Resources
We offer a wide range of resources, mentorship opportunities and formal training programs to help our residents and fellows excel as physician-scientists. Explore all of the resources and hear from housestaff who are making research a major part of their career development plans.