2023
Elyse Azriel
Undergrad:
Indiana University, Biology, Minor: Psychology
Graduate:
Northeastern Illinois University, MA in Rehabilitation Counseling
As a clinical therapist and Manager of the Supported Employment Program at The Josselyn Center, a Chicagoland mental health nonprofit, Elyse Azriel, MA, CRC, LPC, and her team helped clients with disabilities secure competitive employment. She currently serves on the Human Rights Committee for TotalLink2 Community and the Counselor Education Advisory Board at NEIU. After discovering her own Lynch Syndrome diagnosis, Elyse became involved in AliveandKickn, an advocacy group for Lynch patients. She was welcomed onto the AliveanKickn Board of Directors in 2021 and continues to improve the lives of patients and families through research, education, and screening.
Madison Dodds
Undergrad:
Carnegie Mellon University, Biological Sciences and Hispanic Studies
At CMU, Madison was actively involved in Global Medical Brigades, serving as co-president her senior year. She also performed research at the Hinman Lab, studying gene regulatory networks in starfish. Following her graduation, she served with AmeriCorps at the Latino Community Center in Pittsburgh. She was an intake specialist and head of the COVID-19 Campaign, where she scheduled vaccine appointments for clients. She lead a team of Vaccine Awareness Champions to share information about the vaccine and understand vaccine hesitancy in the Latinx community. She has been volunteering with Pittsburgh Action Against Rape as a helpline counselor. In her free time, she enjoys dancing, traveling, and baking.
Nouran Gouda
Undergrad:
University of Toronto, Genetics
After graduating, Nouran returned home (to Egypt) where she discovered her interest in counseling while working with school children experiencing domestic violence. In 2016 she joined the genetics lab of one of the most prominent children's cancer hospitals in Egypt as a research associate. She worked on projects including profiling miRNA in pediatric leukemia patients and monitoring the gut microbiome of hospitalized children during chemotherapy. Her expertise in NGS technology earned her the opportunity of completing laboratory genetic testing for pediatric patients with suspected hereditary cancers while assisting the clinical geneticists in delivering test results.
Madison Granier
Undergrad:
Southwestern University (Georgetown, Texas), Biology, Minor: Spanish
As an undergraduate, Madison worked in a molecular ecology laboratory investigating environmental DNA and spent a summer researching cancer genetics at UT Southwestern Medical Center. She held several leadership positions, including president of the Biology Honor Society and coordinator of a science program for elementary students. After graduating, Madison worked as a laboratory technician at UT Southwestern investigating metabolism and Alzheimer's. She then worked at Planned Parenthood, helping patients in underserved communities receive care. Madison was also the social media intern for Grey Genetics and a volunteer for the Dallas Area Rape Crisis Center. In her free time Madison enjoys baking, biking, and traveling.
Gaganjot Grewal
Undergrad:
University of California, Los Angeles, Psychobiology
While at UCLA, Gaganjot (Gagan) was involved in a competitive Bhangra team and worked as a research assistant. Post-graduation, she took up a volunteer position with the City of Hope clinical cancer genomics team, where she helped organize genomic conferences while working part-time as a Behavioral Therapist. Later, she accepted a genetic counselor assistant position with the pediatric and adult genetic clinic at UCSF. Apart from her clinical duties, she worked on a 15q24 microdeletion case study and helped develop a connective tissue disorder packet. Gagan has also teamed up with an Instagram page @brown.girl.health to raise genetic counseling awareness to the South Asian community.
Karly Kern
Undergrad:
Pepperdine University, Biology and Hispanic Studies
Karly completed her capstone project in Spanish on HPV vaccinations in Latin America and also worked as a Teaching Assistant for the organic chemistry department. Karly found a passion for counseling others through her work as a resident advisor and within her university's Title IX office. Outside of school she volunteered with Constellation Theatre, an organization that runs workshops for children with disabilities. In her free time, Karly loves to read, paint, and play with her cats. She gained exposure to the field through genetic counseling seminars and shadowing opportunities in Northern California.
Zaina Khatoon
Undergrad:
University of Minnesota Twin Cities, Physiology, Minor: Public Health
As an undergraduate, Zaina was a research assistant in an epigenetic research lab studying Contactin-2 as a potential biomarker for Hypoxic ischemic encephalopathy and is where she was introduced to genetic counseling. Zaina also served as a peer mentor to underrepresented first-year students, held a board position on the Pakistani Student Association, and was a student reviewer for the Minnesota undergraduate research & academic journal. After graduation, she worked as a pharmacy technician and volunteered as a Resource Counselor at Tubman, a local domestic violence shelter. In her free time, she enjoys cooking, hiking, meeting new people, and exploring new places.
Carley Knudsen
Undergrad:
University of North Dakota, Biology and Psychology, Minor: History
Throughout her time as an undergraduate student, Carley was a teaching assistant for a variety of psychology courses, held various leadership positions within her sorority and other academic organizations, and studied abroad in Florence, Italy where she volunteered at a local pharmacy. She also worked in her university's pathology laboratory where she studied genetic expression in bladder cancer and gene profiling in breast cancer. Following graduation, she began working as a Hereditary Oncology Genetic Counseling Associate at the University of Nebraska Medical Center and volunteered with the WCA Crisis Hotline. In her free time, she enjoys making macrame, baking & decorating her apartment.
Jessica Kreamer
Undergrad:
University of Michigan, Environmental Science (concentration in Environmental Health)
Graduate:
Midwestern University, MS in Biomedical Science
After graduation, Jessica worked as a hospitalist medical scribe in the Chicago area and later earned a Masters in Biomedical Science from Midwestern University in 2018. Her masters thesis studied epigenetic modifications of bacteria in response to graviola, a tropical fruit with antibacterial properties. After graduating from Midwestern, she became an associate scientist and later a quality technician at Abbott Labs, working on both immunochemistry and clinical chemistry assays. When the pandemic hit, she volunteered for a hotline that provides emotional support to seniors suffering from loneliness, grief, and anxiety. She also volunteers for a local domestic abuse shelter.
Lillianne Marcheggiani
Undergrad:
University of Florida, Microbiology and Cell Science
In undergrad, Lillianne completed her honors thesis by researching the effects of Pseudomonas aeruginosa colonization on protein trafficking and volunteered as a teaching assistant in several microbiology labs. Additionally, Lillianne held a leadership position in Floridance, a student-led dance company that specializes in performance and community outreach. Throughout her time in Floridance, she volunteered to provide children with disabilities an adaptive dance experience. After graduating, Lillianne worked as a medical scribe in colorectal surgery. She also volunteered at a therapeutic horse-riding center and as an English tutor for first-generation immigrants. Outside of class, she loves to read and update her book blog.
Athena Nagel
Undergrad:
Indiana University-Bloomington, Biology (concentrations in Molecular Genetics and Cellular Biology), Minors: Chemistry and Music Performance
During her time at IU, Athena worked as an undergraduate research assistant in Dr. Justin Kumar's lab studying the genetic and developmental pathways of the Drosophila eye. Athena also held several leadership positions, such as the fundraising chair of the American Medical Woman's Association and the president and co-founder of Blooming Memories through Music. During her Junior year as an undergrad, Athena studied abroad for a year at the University of Oxford through their international Biochemistry program. After graduating, Athena spent a year working as a genetic counseling assistant at PreventionGenetics in Marshfield, WI.
Neha Rizvi
Undergrad:
University of Houston, Biology, Minors: Mathematics and Business Administration
As an undergraduate at UH, Neha held an officer position for the United Missions Relief organization at her campus and aimed to bring awareness to local and global crises. In addition, she volunteered at a SIRE Horse Therapy Facility, where she assisted in the rehabilitation of numerous special needs patients. She also planned activities and participated in fundraisers for a local children's shelter. Neha's passion for the field began when she attended in-person and online recruitment events and shadowed Prenatal Genetic Counselors associated with UT Health and Baylor College of Medicine. In her free time, Neha loves to garden, paint and bake.
Casey Scherer
Undergrad:
University of San Diego, Behavioral Neuroscience, Minor: Chemistry
As a research assistant in the social psychology laboratory at USD, Casey studied veterans' experiences in higher education. During her undergraduate years, she volunteered for Crisis Text Line, NAMI, and Alzheimer's San Diego. Following graduation, Casey worked at Achieve TMS as a Transcranial Magnetic Stimulation Technician where she treated patients with Major Depressive Disorder and Obsessive Compulsive Disorder. As an intern at UCSF's Cancer Genetic Counseling Department, she shadowed appointments and created patient pedigrees. Casey continues to volunteer as a Crisis Text Line counselor, tutor disadvantaged children for Homework Central, and run a small online business to donate to various charitable causes.
Neil Shah
Undergrad:
Rutgers University, Genetics, Minors: French and South Asian Studies
As an undergraduate, Neil studied the TGF-β signaling pathway in C. elegans, instructed a transitional course to international students and tutored Expository Writing. Passionate about advocacy work, his roles included: working with adolescents with autism spectrum disorders, volunteering at Crisis Textline and a COVID hotline, and serving as a South Asian mental health advocate. Upon graduation, Neil worked as a Genetic Counselor Assistant in Preimplantation Genetic Testing. He is an avid South Asian singer who enjoys collaborating and performing at various gigs/events. As an active member of Minority Genetic Professional's Network, Neil hopes to work towards empowering representation from underrepresented groups in genetic counseling.
Jennifer Shin
Undergrad:
University of California, Los Angeles, Biochemistry
Graduate:
Georgetown University, MS in Physiology and Biophysics
Since graduating from GU, Jennifer has worked at So Others Might Eat, serving the unhoused in Washington DC, and educated her local community in Los Angeles as a freelance science and math tutor. Through these experiences, Jennifer became passionate about educating and advocating for her community, and she is excited to continue pursuing these passions as a genetic counselor. In her free time, Jennifer enjoys playing board games, traveling, and hanging out with friends and family.
Anum Siddiqui
Undergrad:
Stockton University, Biology, Minor: Holocaust and Genocide Studies
During her undergraduate career, Anum was involved with interviewing and assisting Holocaust Survivors with writing their memoirs. She also worked in a genetics laboratory investigating the viability and duration of sperm life in White Pekin Ducks. Post-graduation, Anum worked as a Registered Polysomnographic Technologist, conducting sleep studies on patients with sleep apnea, narcolepsy, and delayed sleep phase disorder. Anum has spent her free time as a summer camp counselor for the Muscular Dystrophy Association where she was the primary caretaker for children with neuromuscular disease. She enjoys long hikes, camping, and eating on the rocks overlooking the epic views while enjoying the fresh mountain air.
Ria Singla
Undergrad:
University of California, Santa Barbara, Biochemistry
As an undergraduate, Ria worked in a molecular biology laboratory investigating WDR5A and conducted research focused on obesity & binge-eating at Johns Hopkins. She pursued her passion for advocacy and education while volunteering at her local elementary school, tutoring various introductory biology courses, and working as a crisis counselor. After graduating, Ria interned at Igenomix, where she gained knowledge of the field from an industry perspective and fell in love with the profession. She is currently a member of the board at the non-profit, Embracing You, where she continues to advocate for survivors of human trafficking.
Vanessa Venner
Undergrad:
University of California, Santa Cruz, Molecular, Cellular, and Developmental Biology
At UCSC, Vanessa (Prerna) worked in a genetics lab where she studied admixture-enabled selection in fruit flies, and worked as a film production assistant. Additionally, she was an undergraduate tutor, elementary school teacher, and most recently worked at UCSF with the Cancer Genetics & Prevention Program. She is actively involved with the Minority Genetic Professionals Network, and is passionate about increasing the diversity and equity in genetic counseling to better support underserved populations. In her free time, Prerna enjoys watching movies, roller skating, and playing with her miniature dachshund, Bash.
William Whisler
Undergrad:
University of Wisconsin-Madison, Genetics, Certificate: Leadership
While at UW Madison, Will researched at the Audhya Lab, co-authoring a paper on the role of ESCRT proteins in C. Elegans. Outside lab, he worked as a Campus Tour Guide Supervisor, acted as a Chair in the Student Leadership Program, and played for the UW Club Tennis Team. Upon graduation he gained exposure to the genetic counseling field by shadowing and researching with Jennifer Leonhardt in Bemidji. He also developed his counseling skills volunteering as a Resource Counseling Advocate at the Tubman Domestic Violence Shelter and while working as counselor for the IMAlive crisis center. Additionally, a summer internship with GENEWIZ strengthened his passion for communicating genetic information.
Soohyun Yoo
Undergrad:
University of Toronto, Molecular Genetics and Microbiology, Cell and Molecular Biology
As an undergraduate, Soohyun (Sam) was a research assistant who studied the topic of the cell cycle mediated protein-protein interaction of the Human SLX4 protein. Post-graduation, he volunteered as a crisis line responder for several different organizations including Crisis Textline, CSPS and Distress Centres of Greater Toronto. Soohyun also joined the Minority Genetics Professional Network where he realized the healthcare disparity faced by diverse populations across the world. This experience solidified his determination to further spread genetic counseling services throughout underserved populations throughout the globe. In his free time, Soohyun enjoys cooking and eating a variety of different cuisines across the world.
2024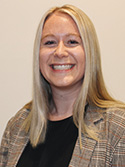 Sam Anderson
Undergrad:
Iowa State University, Biology, Minor: Genetics
Sam Anderson graduated from Iowa State University in 2020 with a BS in Biology and a minor in Genetics. As an undergraduate, she was actively involved in teaching and peer mentoring first-year Biology students. She also spent time as a research assistant in Dr. Johansen's laboratory studying chromosome regulation and gene expression in Drosophila. Outside of school, she volunteered at ACCESS in Ames, Iowa with the housing team to support individuals who had experienced domestic abuse and sexual assault. Sam has worked as a Genetic Counseling Assistant at PerkinElmer Genomics and in a clinical setting at Mayo Clinic assisting both Prenatal and Cardiac Genetic Counselors. In her free time, you can find Sam playing cards with friends, trying new restaurants, or camping in state and national parks.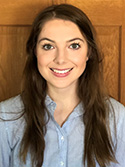 Courtney Bromberek
Undergrad:
University of Wisconsin-Madison, Genetics; Certificate: Disability Rights and Services
Courtney Bromberek graduated from the University of Wisconsin-Madison in 2021 with a BS in Genetics and a Certificate in Disability Rights and Services. As an undergraduate, she worked as a disability program aide at UW Madison's office for students with disabilities. Courtney pursued her passion for advocacy even further by becoming abehavior technician through a local organization that provides Applied Behavioral Analysis therapy to children with autism and also volunteered as a tutor for local middle school students with Individualized Education Plans. After graduating, Courtney moved to Chicago and has been working as a genetic counseling assistant through NorthShore University HealthSystem in Evanston, IL. In her free time, she enjoys walking her foster dog, reading and visiting new coffee shops.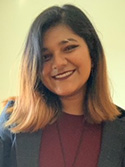 Max Chauhan
Undergrad:
University of Pittsburgh, Biology, Minor: Chemistry, Social Work, and Gender, Sexuality and Women's Studies
Max Chauhan graduated magna cum laude from the University of Pittsburgh in 2022 with a BS in Biology and minors in Chemistry, Social Work, and Gender, Sexuality and Women's Studies. Following their passion for activism and advocacy, they pursued coursework related to poverty, disability rights, intersectional advocacy and biases in medical care. They have conducted research at the Van Andel Institute in Dr. Triche's lab, where they studied germline DNA mutations, and developed a pathway to connect variants to worse phenotypes of pediatric Acute Myeloid Leukemia. Additionally, they held several educational and service-oriented positions, such as a resident assistant and senior officer for Project Potter PGH. Currently, they are a counsellor for Crisis Text Line, as well as an intern at Medneon. They enjoy puzzles, baking and film photography.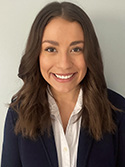 Emilia Chiriboga
Undergrad:
University of Missouri-Columbia, Biology and Psychology
Emilia graduated from the University of Missouri-Columbia in 2022 with a BS in Biology and Psychology. During her undergraduate career, she was able to broaden a deep-rooted passion to advocate for social justice as a Brooks Scholar. Additionally, she served as a mentor for at-risk youth in the community and as a biology and chemistry tutor for her peers at the university. Emilia began to volunteer for the Missouri Crisis Line in 2020; she continues to serve in this role as a staff member on the Chat Line. As a native Spanish speaker, she hopes to serve minority populations both during her training as a genetic counselor and throughout her career. In her spare time, Emilia enjoys traveling, baking, reading and spending time outdoors.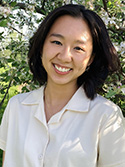 Melaine Diep
Undergrad:
Augustana College, Biology, Minor: Psychology
Melaine Diep graduated from Augustana College in 2021 with a BA in Biology and a minor in Psychology. During her time at Augustana, she was involved in Alpha Phi Omega, a national co-ed service fraternity. An avid explorer, she spent a summer analyzing climate change effects on juniper tree and pinion pine growth in New Mexico, spontaneously climbed a fourteener in Colorado and roamed the bustling streets of Tokyo and Kyoto. After graduating, Melaine took on an assistant teacher role at an elementary school in the Chicago suburbs where she worked closely with fourth-grade and third-grade students. In her free time, she volunteers for CommUnity Food Bank and Crisis Services in Iowa City and the Trevor Project. She is passionate about plants (especially the carnivorous kind), fiber arts and video games.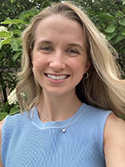 Madeline Dingle
Undergrad:
Xavier University, Biology, Minor: Chemistry, Pre-Physical Therapy, and Gender & Diversity Studies
Madeline Dingle graduated from Xavier University in 2021 with a BS in Biology and minors in Chemistry, Pre-Physical Therapy, and Gender & Diversity studies. During her undergraduate career, she worked with diverse patient populations as a hospice visitor and as a summer research assistant on an arterial stiffness study at UIC. Madeline represented Xavier as a member of the Division I track and cross country teams throughout her undergraduate education. Also during undergrad, she gained teaching experience through tutoring at a local elementary school. Madeline continued tutoring after graduation at Gigi's playhouse in the literacy department. She gained additional counseling experience as a shelter hostess at a home for domestic violence survivors and as a crisis chat line volunteer at National Runaway Safeline.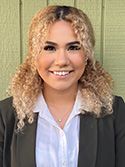 Krystal Fernandez
Undergrad:
University of California, Santa Cruz, Molecular, Cell and Developmental Biology and Psychology
Krystal Fernandez graduated from the University of California, Santa Cruz in 2019 with a BS in Molecular, Cell and Developmental Biology and a BA in Psychology. During her time as an undergraduate, she was a residential assistant, volunteered at the local elementary school as well as the Homeless Garden Project, and held leadership positions in her sorority. Postgraduate, Krystal became an essential worker at a mental health clinic that served the low-income and homeless population of Sacramento. After this fulfilling position, she transitioned into being a research associate at a biopesticide company where she focused on the optimization of gene-edited microbes. In her free time, she likes to take her dog on adventures, painting and reading self-help books.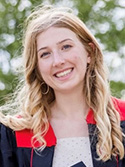 Emma Hawkins
Undergrad:
University of Wisconsin-Madison, Genetics and Genomics
Emma Hawkins graduated from the University of Wisconsin-Madison in 2021 with a BS in Genetics and Genomics. During college she volunteered as a Health Coach through Community Health Volunteers of Madison where she conducted pre and post doctor visit consultations with patients. As a summer job she worked for Appalachia Service Project as a project and volunteer coordinator directing free home repair services in Logan, West Virginia. Following graduation, Emma moved to Juneau, Alaska to serve an Americorps year as a healthy living specialist for a youth center. During her year in Juneau, she enjoyed volunteering as an adaptive ski and snowboarding facilitator and cooking for the Juneau youth that visited the center. Although sad to be leaving the mountains, she is excited to return to her home city of Chicago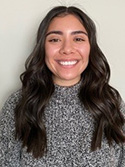 Cristal McAninch
Undergrad:
Oregon State University, Biochemistry and Molecular Biology, Minor: Chemistry and Public Health, Certificate: Medical Humanities
Cristal McAninch graduated from Oregon State University in 2020 with a BS in Biochemistry and Molecular Biology with minors in Chemistry and Public Health and a Certificate of Medical Humanities. Cristal held leadership roles within her sorority and in the greater Greek community, while also participating in other student organizations. During a summer in undergrad, Cristal researched the Ubiquitin substrate, performing in vitro assembly cloning of predicted HECT E3 Ligases in Dr. Jonathan Pruneda's lab. After graduating, Cristal became a genetic counseling assistant in UT Southwestern's Cancer Genetics Department. Over the past year, Cristal has also volunteered with Crisis Textline. In her free time, she enjoys going to amusement parks, reading a good Collen Hoover book, exploring new places and tending to her many plants.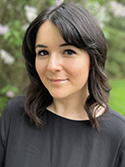 Rachel Mnushkin
Undergrad:
University of Illinois at Chicago, Biological Sciences, Minor: Spanish
Rachel Mnushkin graduated from the University of Illinois at Chicago in 2016 with a BS in Biological Sciences and a minor in Spanish. After graduating, she worked as a Junior Data Analyst for a biotech company, abstracting and analyzing data to construct the foundation of a cancer genomics database, where she discovered her interest in genetic counseling. In 2019, she joined Reproductive Genetics Innovations as a genetic counseling assistant, responsible for all intake coordination for preimplantation genetic testing for single gene disorders and structural rearrangements. She also volunteered at the National Runaway Safeline as a crisis line counselor and as an English teacher for first generation immigrants. In her free time, she enjoys traveling, playing tennis and relaxing nights in watching movies.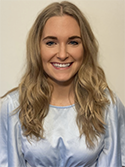 Amanda Nieters
Undergrad:
University of Missouri, Columbia, Biology and Psychology
Amanda Nieters graduated from the University of Missouri, Columbia in May 2020 with a BS in Biology and Psychology. During her undergrad, she completed her honors thesis with the Thomson Center for Autism and Other Neurodegenerative Disorders where she conducted research in clinical interventions for individuals with autism spectrum disorder. Additionally, she worked as a genetic research assistant at BayFarm and enjoyed getting involved in her community. Passionate about genetic counseling, Amanda became a genetic counseling assistant at Massachusetts General Hospital in the Center for Cancer Risk Assessment post-graduation. Here, she assisted in developing multiple cancer genetic testing service delivery models which honed her passion for patient advocacy and access to genetic testing. Amanda enjoys trying new things, games, being outdoors and reading.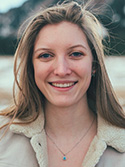 Abby Tubman
Undergrad:
University of Colorado Boulder, Integrative Physiology, Certificate: Public Health
Abby Tubman graduated from the University of Colorado Boulder in 2020 with a BA in Integrative Physiology and a Certificate in Public Health. As an undergraduate, she worked for the Alpine Microbial Observatory where she helped study the impacts of Roundup on soil bacteria and chemistry during a restoration project for Colorado grassland. In addition, she worked as a resident advisor at CU. After graduating, Abby worked as a medical assistant at a dermatology practice. She also volunteered for Movement to End Sexual Assault as a hotline counselor. In her free time, she enjoys skiing, traveling and climbing.