Director's Message
Welcome to the Graduate Program in Genetic Counseling at Northwestern University. We are thrilled that you are considering our program for your graduate degree. Choosing the graduate program that best fits your needs can be challenging. We will do our best to convey what we feel makes our program exceptional, how we approach education, who are our students and what we value as a community.
Debra Duquette, '92 MS
Program Director, Graduate Program in Genetic Counseling 
Associate Professor of Cardiology in the Department of Medicine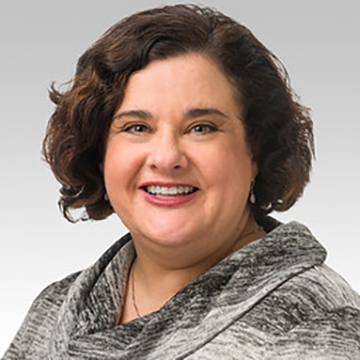 A Rewarding Career
Being a genetic counselor is an exciting career choice, with many different professional options after graduation. We encourage our students to find the genetic counseling career that best suits their strengths and ignites their passion. Our students graduate ready to utilize their genetic counseling skills in multiple ways. While the majority of genetic counselors work in clinical practice, many work in other settings and roles, including research, advocacy, policy, public health, education, diagnostics and industry. Genetic counseling skills are highly transferable and our unique array of rotations prepares students for entry into whatever option they may choose.
Our Chicago Community
Our program is situated in the Streeterville neighborhood of downtown Chicago, steps away from the bustle of the Magnificent Mile, our beautiful lakefront and many great eating, living and cultural destinations. While the program is housed in Northwestern University, this truly is a Chicagoland graduate program. We have over 125 board-certified genetic counselors who work with our students as rotation supervisors, thesis advisers, committee members and course coordinators and instructors. This high level of faculty engagement translates into an abundance of rotation sites serving diverse populations, access to national and regional genetic counseling experts and unique opportunities for mentorship, networking and professional development. In addition to the genetic counseling faculty, we take advantage of the numerous world-renowned hospitals and institutions in Chicago, utilizing a wide variety of provider, advocacy, industry and research experts.
Our Students
What can we say? We think they are fabulous. Our students are kind, tolerant, compassionate, flexible, adaptable, resilient, passionate and supportive. They come from all over the United States and the world. They represent diverse opinions, views and backgrounds. We learn from them every day and are grateful they chose us to walk side by side with them on their educational journey. There is no one "type" of student who attends our program. We value the differences all our students bring to the program. We always strive to foster a collaborative environment, instill a strong sense of community and encourage self-care practices in a supportive learning environment that recognizes and appreciates the unique needs of our students.
Please explore our website and contact us to learn more about our program and faculty. I hope you find this resource useful as you plan for your future as a genetic counseling graduate student. Thank you for your interest in our program.