Career Development Opportunities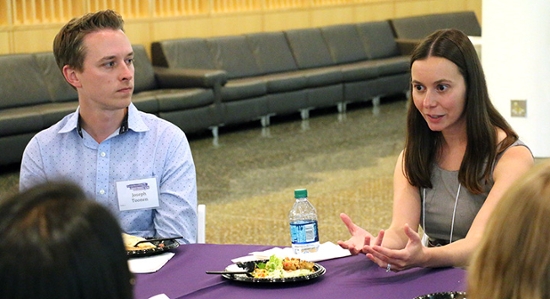 The Walter S. and Lucienne Driskill Graduate Program in Life Sciences (DGP) is committed to helping students succeed in their chosen careers both inside and outside academia. DGP and Northwestern provide a variety of resources for students to learn about possible careers, develop skills needed for those careers and secure job placements in their chosen fields. 
BioProfessionals
Visit the BioProfessionals page to learn about this series of seminars/workshops run by the life sciences PhD programs.
Northwestern University Professional Development Programs
Teaching Certificate Program
Offered by the Searle Center for Advancing Learning and Teaching for students interested in teaching careers, this program offers seminars, workshops and small-group discussions about teaching practices as well participation in a significant teaching experience.
Management for Scientists and Engineers
This eight-week summer program offered by the Kellogg School of Management to PhD students in life and physical scientists introduces students to concepts in business, management and leadership.
Events
Northwestern holds several career development events for graduate students throughout the year on writing effective teaching statements, presentation skills and interviewing. Check out our events page for upcoming workshops.
Student Group Events
The Chicago Graduate Student Association offers career development workshops and panels on alternative careers throughout the year.
NU Edge is dedicated to exposing students and post-docs to biotechnology-related opportunities and issues, through interactive seminars, networking events and other creative formats.
The Advanced Degree Consulting Alliance helps PhD students learn about and prepare for careers in consulting.
SPiN and NU SPAN are groups that are focused on science policy and advocacy.
Additional Coursework
Students may take up to one course per semester in other departments and schools for the duration of their graduate career, including courses offered by the Kellogg School of Management, McCormick School of Engineering and the Program in Public Health.
Other University Resources
The Searle Center for Advancing Teaching and Learning offers workshops for new teaching assistants and offers graduate teaching fellowships for advanced students.
The Graduate School Professional Development Series offers workshops on topics such as presentations, fellowship writing and job searches for graduate students in all fields.
Innovation and New Ventures Office (INVO) offers a summer fellowship program for graduate students for exposure to intellectual property and the commercialization office. INVO also sponsors seminars and events in entrepreneurship and commercialization.
The Northwestern Career Advancement office provides support for all aspects of career planning and job searching, including individual appointments for career assessments, career research, resume review and interview preparation.
Back to top