The Team
Below is a list of Core Team Members of the Institute for Augmented Intelligence in Medicine.
Ngan MacDonald
Chief of Data Operations
Ngan MacDonald is Chief of Data Operations for the Institute for Augmented Intelligence in Medicine at Northwestern University. She is also the Vice President of Healthcare Business Solutions Architecture for HealthLX, an interoperability platform software company. She serves as an advisor from time to time for companies trying to understand landscape of data in healthcare. She has over 20 years of experience providing technical and business leadership for information strategies and solution implementations with large and small companies. Her experience spans across analytics, information management, data strategy, regulatory compliance with interoperability. Ngan's healthcare experience spans 15+ years with both large and small health insurers in operational roles as well as in management consulting. Her mission is the liberation of data for use in healthcare settings
View More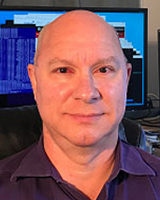 Bill Temps
Solutions Engineer
Bill Temps learned computer programming from books before he had a computer to use, before the IBM PC was introduced. Later, he worked as a computer operator and programmer for Northwestern; while there, he recommended that all new programs use four-digit years to avoid problems with the year 2000, but since this was far off in the distant future, the suggestion was not accepted.

Most of his career has been in banking and finance, including what is now JP Morgan Chase and Merrill Lynch (supporting computer systems -- nothing to do with the banking crisis or Great Recession). In the early 1990s, he switched from the IBM Virtual Machine facility (VM) to Unix system support. While employed by IBM Global Services, between mid-1998 and 2000, he led a team to prepare a bank's Unix systems for the year 2000.

He returned to Northwestern in 2012, doing programming and statistical analysis in support of Dennis West's RADAR group, investigating adverse effects of prescription drugs. He joined I.AIM in December, 2020, with the title of Solutions Engineer and the goals of resolving problems and facilitating research.
View More