ARCC Community-Engaged Research Partnership Award
The Alliance for Research in Chicagoland Communities (ARCC) established this award to recognize community-engaged research partnerships that exemplify strong collaborative community research principles and have made an impact on the health of their community. ARCC is part of the Center for Community Health serving Northwestern University's Institute for Public Health and Medicine and Clinical and Translational Sciences Institute.
2019 Award Winner 
Be-Lung Initiative: Building Capacity for a Community Based Research Partnership to Optimize Physical Activity in Lung Cancer Survivors
This award acknowledges the efforts of The 'BE-LUNG' INITIATIVE: Building Capacity for a Community Based Research Partnership to Optimize Physical Activity in Lung Cancer Survivors, an intervention to increase physical activity among lung cancer survivors in Chicago. This exemplary partnership between Gilda's Club Chicago, (led by Kathleen Boss, director of Special Initiatives) a community organization that supports individuals and their families and friends whose lives have been impacted by cancer, and Shirley Ryan AbilityLab (led by Northwestern's Prakash S Jayabalan, MD, PhD, Assistant Professor of Physical Medicine and Rehabilitation). The partnership also included Northwestern's Lurie Comprehensive Cancer Center (led by Victoria Villaflor, MD, Associate Professor of Medicine- Hematology & Oncology). To learn more, click here.
Past Community-Engaged Research Partnership Award Recipients
2018: Cooking Up Health: Docs & Kids in the Kitchen
In 2016, an ARCC seed grant award enabled the strong partnership foundation to address childhood obesity issues and foster the development of a sustainable program for the delivery of cooking and nutrition education in the community by future physicians. The unique Cooking Up Health is an elective course at Feinberg which teaches medical students about nutrition through the lens of culinary medicine and community health and hands-on cooking. The medical students then deliver the healthy habit messages to Chicago Public Schools elementary school students in underserved communities. The 2018 award acknowledges the exemplary partnership between lead community partner, Stephanie Folkens, of Common Threads, a community organization fighting childhood obesity through cooking and nutritional education, and lead academic partner, Northwestern's Melinda Ring, MD, of the Osher Center for Integrative Medicine for the efforts of Cooking Up Health: Docs & Kids in the Kitchen. Read the press release.
 
2017: Pastors4PCOR: Engaging Faith-Based Communities in Health Research
The 2017 award acknowledges the exemplary partnership between a collaborative partnership of 12 churches serving underrepresented populations in Chicago and South Suburban areas and their congregants, community health advocates, health system providers, and academic health researchers including Rebecca Johnson, PhD, research assistant professor of Medical Social Sciences at Feinberg.
P4P received a seed grant award from ARCC in 2014 to establish the partnership's foundation. Since then, P4P has been awarded two Eugene Washington Awards (2015 and 2017) from the Patient Centered Outcomes Research Institute (PCORI). These awards have supported P4P to develop and deliver training for research ministry ambassadors and a network of faith-based communities across the Chicagoland area and nationally. P4P Ambassadors have also been actively engaging and serving as members of the research team of other clinical research initiatives including Chicago Area Patient-Centered Outcomes Research Network (CAPriCORN), Adaptable (The Aspirin Study), and other studies conducted by other PCORI clinical data research networks around the country.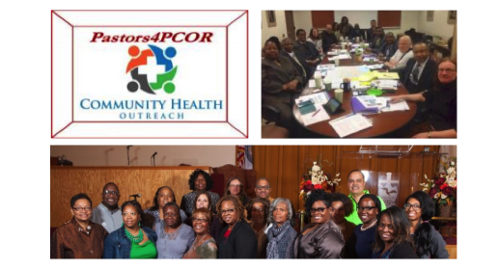 2016: Reducing Cancer Health Disparities Among Chicago-area Latinos/Latinas
This award honors the exemplary partnership between Judy Guitelman and her team at ALAS-WINGS and David Victorson and his team at Northwestern University. It began four years ago through a pilot project within a National Institutes of Health (NIH)-funded grant which sought to identify unmet support needs of limited-English speaking Latinas with breast cancer and determine whether mobile health solutions (mHealth) existed to meet these needs.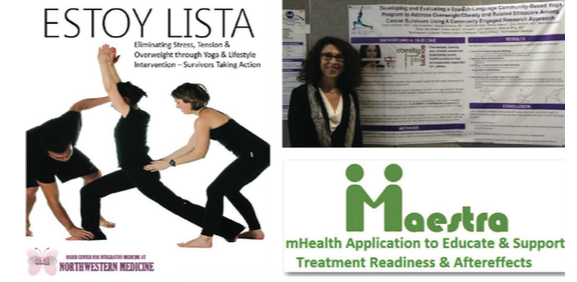 Learn more about the partnership and award.
2015: Partnership to Advance LGBT Health and Wellness
This long-standing exemplary partnership between the Center on Halted and the IMPACT LGBT Health & Development Program at Northwestern University collaborates on research projects aimed at improving lesbian, gay, bisexual, and transgender health. The collaboration has resulted in interventions proven to reduce HIV risk behaviors, as well as new initiatives such as the building out of co-branded research space at the Center, a groundbreaking LGBT psychology training program, and an annual LGBT research conference.

2014: Collaboration to Improve Chronic Disease Outcomes for Chicago Public School Students
This long-standing exemplary partnership between Chicago Public Schools (CPS) Office of Student Health and Wellness and Ruchi Gupta, MD's team at Northwestern University has generated many successful projects and is leading to improved chronic disease reporting and verification for CPS students on asthma, food allergy, and other health issues. CPS and Northwestern University are working together to accomplish mutually beneficial goals for their respective communities and the Chicagoland community at large.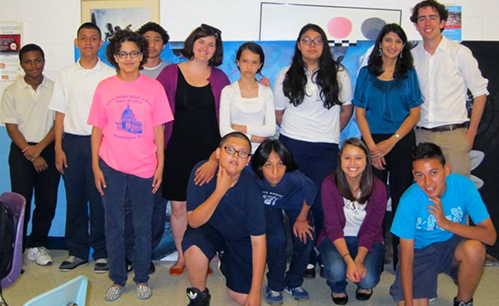 2013: The South Asian Healthy Lifestyle Initiative
Led by Santosh Kumar, Metropolitan Asian Family Services and Namratha Kandula and Swapna Dave, Northwestern University Feinberg School of Medicine Division of General Internal Medicine and Geriatrics, the partnership aimed at understanding the multiple determinants of health, engaging South Asian immigrants in research, and expanding the reach of lifestyle interventions into immigrant communities often not reached by traditional health care systems.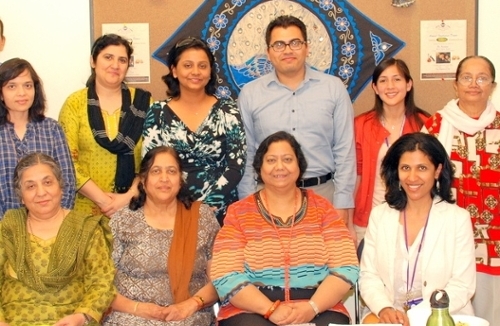 2012:  DuPage Patient Navigation Collaborative
Spearheaded by Kara Murphy, Executive Director of Access DuPage, and Dr. Melissa Simon, Assistant Professor in Feinberg's Obstetrics and Gynecology, Preventive Medicine, and Medical Social Sciences departments, with contributions by many other partners in DuPage and  Northwestern. Established in 2001 by thousands of individuals and hundreds of organizations in DuPage County, including hospitals, physicians, local government, human services agencies, and community groups, to provide access to medical services to the county's low-income, medically uninsured residents.