Sheila Chari, PhD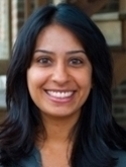 Graduation Year: 2009
Advisor: Winandy
Current Position: Editor in Chief, Cell Stem Cell
Sheila Chari grew up mostly in the town of Wheeling, in the Chicago suburbs.  A graduate of the University of Illinois, Urbana-Champaign, she joined the IGP (now known as the DGP) in 2003.  She completed her thesis in the lab of Dr. Susan Winandy, in the Department of Microbiology-Immunology.  Sheila is currently the Editor in Chief at Cell Stem Cell.
What made you want to go to graduate school?
At U of I, I was in the "biology general" program so while my academic interests leaned towards molecular biology, microbiology and immunology, I also took courses in ecology and evolution. That coursework led me to work in a fruit fly evolutionary genetics lab where I really fell in love with research and working in a lab. At the same time, my mother had been sick with an autoimmune disease that doctors couldn't properly diagnose for years, and I wanted to do something more medically focused to help understand disease and hopefully contribute to developing treatments for people like her. NW had a strong microbiology-immunology department and that was one of the reasons I applied there.
What brought you to Northwestern and the IGP/DGP?
It was a combination of factors. I wanted to be in a vibrant city, Chicago was familiar to me, and I knew that I could live a good life there on a graduate student stipend. I applied to all the Chicago area schools, and as soon as I interviewed at Northwestern I knew I would go there. I found at Northwestern a different kind of enthusiasm and engagement with the professors and students than I had at other places I interviewed, which either seemed too stuffy or lacking in rigor. I have a fond memory of interviewing with Greg Smith and him excitedly marking up a whiteboard with drawings to teach me about how herpes virus co-opts cytoskeleton motors for infection and then being a few minutes late for the happy hour, where I found Steve Anderson operating the keg in the atrium. It seemed like there was a balance between science and fun and that was a good match for me. By the end of the interview weekend, I was convinced that I'd receive an education that would challenge and nurture my learning in ways that matched my experience and desires.
What did you study in graduate school?
I studied transcriptional mechanisms controlling cell fate decisions, mostly in the context of T cell development and lymphoma.
Did you do a postdoc?  What did you study?
Yes, I did a short (2.5 years) postdoc. I wasn't ready to leave Chicago yet, but felt it was good to get a different perspective in terms of science and institution, so I did my postdoc research at the University of Chicago with Dr. Bruce Lahn studying epigenetic mechanisms of cell fate choice using somatic cell reprogramming to induced pluripotent stem cells as a model.
What was your first job outside of academia, and how did you get it?
My first "real" job was as Reviews Editor at the Cell Press journal, Cell Stem Cell. I had known that this type of work was ideal for me since I had attended an alternative career presentation by an editor from Cell that our postdoc association organized. I had been slowly honing my skills to that end for about a year when I interviewed for the job, which basically meant reading lots of papers and going to talks on diverse topics. When time came for the application, I read years of back issues of the journal's front section in my spare time, met with the career services to refine my cover letter and CV, and when I landed an in person interview I set up a mock interview with a volunteer from the business school that really prepped me for the real one.
What is your current position?  
My current position is Editor in Chief of Cell Stem Cell. It's a relatively new role for me (I'm a little over 1 year in!). My broader responsibilities include keeping up-to-date on the latest advances in stem cell science and scientific publishing, building and executing our journal strategy, and managing a team of editors to accomplish those goals. In terms of daily activities, a core part of the job centers on taking papers through the peer review process from submission through reviewer selection, making editorial decisions, and then preparing papers for publication. I also attend several scientific conferences each year and participate in broader Cell Press projects around improving scientific communication.
How did Northwestern prepare you for your current career?
I really enjoyed my time at Northwestern. I was in a small lab where everyone had pretty independent projects, but we were all in it together trying help each other work through roadblocks. For me the environment was a good match because it helped me learn how to work really independently but also support my peers rather than compete with them.  My current work environment requires a lot of independent work, but we also support and lean on each other's expertise and that means you have to have an attitude of trust and support rather than a big ego about being right or wrong about a given paper or topic. At Northwestern, I was also in a multidisciplinary cross-campus training program (Cell and Molecular Basis of Disease), which was a fantastic experience.  It forced me to think about questions that were far outside my comfort zone and also offered opportunities to invite outside speakers and organize a 1-day symposium, which is something that I now do as an Editor. 
What other experiences brought you to your current position?
There are two other things that I experienced early on in my career that helped prepare me for an editorial career, which were an interest in public policy and bioethics. My experience in policy debate at a young age helped prepare me to think not only about the scientific questions but the practical matters involved in funding and regulating research. I also audited a Bioethics course and attended the med school bioethics lecture series while at Northwestern. Cell Stem Cell covers the ethical, legal, and social impacts of stem cell research and I don't think I'd be as excited or engaged by that without these early experiences.
What advice would you give to current students interested in pursuing a career similar to yours?
The interview process at Cell Press is really focused on your skills and has a lot less to do with your publication record or whether you come from a big lab. So, I did a lot of preparation to widen my range of knowledge by attending as many talks as I could and reading papers outside my specific area of interest. I also committed to building other skills that seemed essential to a fast-paced, multi-tasking, project driven environment. Organizing conferences with my student and post-doc associations were a great way to establish some project management skills and also get more comfortable building a network and engaging with scientists who are leaders in their fields.
Do you have any final advice for graduate students?
There were times during grad school where I got really discouraged about all the negative results and failed experiments, and I felt like I was never going to be able to publish a first author paper. This happens to a lot of people and I want to remind you that if it was easy then it probably wouldn't be worth doing. You are learning a lot of skills that will be useful to you no matter what you choose to do next and when you are faced with disappointment at the bench, please try to remember that!