Scott Baker, PhD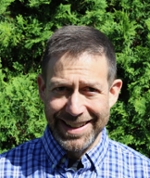 Graduation Year: 1996
Advisor: Jones
Current Position: Lead Biologist, Environmental Molecular Sciences Laboratory, Pacific Northwest National Laboratory
Scott Baker moved from Oregon to Chicago to start graduate school at Northwestern in 1992.  He worked with Dr. Jonathan Jones in the Department of Cell and Molecular Biology.  After some time as a postdoc and staff scientist, Scott joined the Pacific Northwestern National Laboratory, where he is currently a scientist and group leader.
 Where did you do your undergraduate degree?
I graduated from Oregon State with a BS in Biology in 1992. Go Beavers! I still dream of a Rose Bowl with Oregon State against Northwestern.
What made you want to go to graduate school?
I knew that I enjoyed solving puzzles and problems so continuing my education and becoming trained as a research scientist made graduate school an obvious next step for me.
What brought you to Northwestern and the IGP/DGP?
The short answer is good luck. The IGP at Northwestern was the perfect program for me. The longer answer is that I came out for the interview and was really impressed with the breadth of research areas that were covered by the IGP. I had an open mind with regard to the area of research I wanted to get into and the possibility of being able to move between different disciplines within the life sciences was a huge selling point. Also, it was my first visit to Chicago and by the end of interview I knew it was a city where I could live for the next several years.
What did you study in graduate school?
In Jonathan Jones' lab I studied the dynamics of hemidesmosomes. Hemidesmosomes are critical for epidermal cell adhesion to basement membranes. It was so much fun for me – my graduate research taught me how to think as a cell biologist while at the same laid the foundation for how I still approach my research.
What did you study in your postdoc?
I did two postdocs, the first at University of Arizona being in the area of cell adhesion but using a genetics approach in Drosophila melanogaster. While studying fruit flies, I was introduced to genomics which led me to my second postdoc doing functional genomics in fungal plant pathogens at a Syngenta's Torrey Mesa Research Institute. I was subsequently hired as a staff scientist at Syngenta.
What are your current research interests?  How have they changed over time? 
Currently, I am a scientist and group manager at the Pacific Northwest National Laboratory (PNNL), a Department of Energy (DOE) national laboratory, in Richland, Washington. At PNNL, my research is still focused on fungal biotechnology and genomics with the goal of enabling sustainable production of biofuels and bioproducts.
How did Northwestern prepare you for your current career?
Northwestern prepared for my career by giving me the opportunity to do research in an environment where there were a vast array of different approaches and experimental systems being utilized for interesting and relevant life science research. Part of my current position is as the lead for the biology part of the DOE Environmental Molecular Sciences Laboratory (EMSL) user facility at PNNL. EMSL houses cutting microscopy and omics capabilities that are available to the international research community and there is always something new and interesting to learn about.
What is the most rewarding part of your job?
The ability to collaborate with an international network of researchers is exiting. And I still love the discovery part of research – generating and analyzing data to learn new things about biological systems is enormously satisfying.
What is the most challenging part of your job?
As I have advanced through my career, I have steadily taken on more responsibilities. Carving out dedicated time for research amidst my other job-related priorities can be very challenging at times.
What advice would you give to current students interested in pursuing careers in government labs?
Students who love to be part of research teams and are collaborative in nature are well suited for pursuing a career at a DOE national lab. The DOE supports high risk team driven science and funds a phenomenal research infrastructure full of novel "bleeding edge" capabilities. There is room for individual PI-driven research, but many projects are team driven. 
How would you say careers in government labs are similar or different from academic or industry labs?
Researchers at PNNL support both basic and applied science missions of DOE, so there is a strong emphasis on publication. Development of intellectual property and translation of research and instrumentation into application that supports applied goals is also a priority. In short, there are elements of academic and industry research in the national lab system.
Any final advice for students?
Make time to relax and enjoy yourself – take advantage of what Chicago has to offer!