Nehal Gosalia, PhD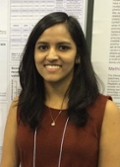 Graduation Year: 2014
Advisor: Harris
Current Position: Associate Director of Genetics, RTW Investments
Nehal Gosalia was born in India and lived there until her family moved to the US when she was 11 years old. Her family lived in the suburbs of Chicago and Nehal attended the Illinois Institute of Technology for her bachelor's degree in biology with a minor in business.  She joined the DGP in 2009 and worked with Dr. Ann Harris at the Children's Memorial Research Center.  She is currently Associate Director of Genetics at RTW Investments.
What made you want to go to graduate school?
While I was at IIT, I took research electives and worked in a lab working on using bacteria to de-sulfurize crude oil. Based on my interests in research and higher education, both my research and academic advisors, who had PhDs, convinced me to apply for graduate school.
What brought you to Northwestern and the IGP/DGP?
I was interested in staying in Chicago for graduate school. I liked that Northwestern had an umbrella program, allowing us to do rotations in different labs before deciding on a focus area and lab. Additionally, its location in the city was ideal. 
What did you study in graduate school?
My graduate degree was in molecular biology and genetics. In the Harris lab, we focused on the regulation of the CFTR gene, which is mutated in cystic fibrosis. It was clear from prior data that upstream, intronic, and downstream elements regulated tissue-specific CFTR expression. A major focus of my research was on CTCF and cohesin binding sites in CFTR and its 3D organization. 
Did you do a postdoc?  What did you study?
I did a short postdoc in my graduate school lab to wrap up some research and manuscripts. Next, I did a two year postdoc in industry at Regeneron Pharmaceuticals in Tarrytown, NY. I was a postdoc at the Regeneron Genetics Center, where I had three projects. For my first project, I used a machine learning method to develop an algorithm to predict the pathogenicity and mode of inheritance for missense variants. My second project utilized whole exome sequencing data with de-identified electronic health records on tens of thousands of individuals to address questions on human genetic variation and its contribution to disease. My third project involved performing in vitro and in vivo modeling to determine the impact of a genetic variant on disease.  
What was your first job outside of academia, and how did you get it?
My first job outside of academia was an industry postdoc. After my postdoc at Regeneron, I received a full-time position at the Regeneron Genetics Center, where I used whole exome sequencing data to identify variants associated with disease and other phenotypes of interest in founder and unique populations around the world. 
What is your current position? 
Currently, I am the Associate Director of Genetics at RTW Investments. RTW invests in innovative companies that are bringing new products to patients across different technology platforms and disease areas, including gene therapy, oligos, cancer, and rare disease.  My role is still very research-oriented and involves leveraging publicly available data and bioinformatic tools to generate genetic insights for disease areas of interest.
How did Northwestern prepare you for your current career?
The training I received at Northwestern along with the technical, bench research experience in graduate school was important in preparing me for my future roles. 
What other experiences brought you to your current position?
My diverse experiences in both molecular biology during my time at Northwestern and bioinformatics during my postdoc and full-time position were essential for my current role. Additionally, 4 years of experience in industry (Regeneron) as well as training at a leading genetics center were also invaluable. 
What advice would you give to current students interested in pursuing a career similar to yours?
My advice to students would be to diversify your research experiences as much as possible. For me, the best part about research is learning new things and being able to challenge yourself continuously. When I was graduating with my PhD, I had decided that I would do a postdoc where I would be able to develop my bioinformatics and coding skills. It was clear to me that those skills were very valuable as next generation sequencing and big data became a large part of research. 
Do you have any final advice for graduate students?
One of the most important lessons I learned as a graduate student was to stay focused, organized, and be very pragmatic about the experiments and projects you work on.