Mark Merchant, PhD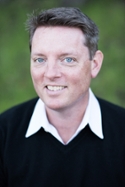 Graduation Year: 2001
Advisor: Longnecker
Current Position: Senior Scientist, Genentech
Mark Merchant graduated from the Driskill Graduate Program (then Integrated Graduate Program) in 2001. Mark is originally from Iowa City and got his undergraduate degree from Iowa State University. As a graduate student at Northwestern, Mark worked in Richard Longnecker's lab in the Department of Microbiology and Immunology. There he studied the oncogenic virus, Epstein-Barr Virus (EBV). Mark is currently a Senior Scientist at Genentech.
What made you want to go to graduate school?  
I worked in labs at Iowa State University during my undergrad and at the Massachusetts Institute of Technology after my graduation, where I largely focused on genomic mapping research.  At MIT, I had the opportunity to start to link animal genetics to diseases, like diabetes and asthma, via the maps I had helped to generate.  This prompted an interest in immunology, which I explored through classes at Harvard.  This cemented my desire to study the nature of human diseases through biomedical research, as I felt that the genetic and molecular advances being made could lead to meaningful change in the treatment of multiple intractable diseases.
What brought you to Northwestern and the IGP/DGP?  
I found Northwestern to be an attractive option for graduate school because of the intimate tie between clinical and non-clinical study.  Other schools I had applied to had terrific graduate programs as well, but few of them had a campus and staff quite like that of Northwestern.  The integrated nature of the graduate program really appealed to me as well, enabling students to pursue their interests in a variety of laboratory settings as well as get the help we'd need from a diversity of research professionals.
What did you study in graduate school?  
My project in the Longnecker lab focused on the signaling downstream of the EBV Latent Membrane Proteins 2A and 2B (LMP2A, LMP2B).  These proteins are expressed in infected B cells during the latent phase of viral infection and act to maintain cells in a latent state by mimicking B cell receptor signaling.  I assessed the signaling downstream of LMP2A vs. LMP2B in an in vivo setting.  These studies helped me to better understand the immune system and how EBV co-opts a normal process to ensure viral persistence. 
What was your first job outside of academia, and how did you get it?  
My first job out of academia was a post-doc at Genentech in the laboratory of Frederic de Sauvage.  In Fred's lab, I continued to focus on signal transduction in a different pathway, the Hedgehog pathway.  I got this position by applying directly to the company for available positions I was interested in.
What is your current position?  Please describe the big picture of your position as well as a bit about the day-to-day. 
I am currently a Senior Scientist in the Department of Translational Oncology at Genentech.  In this role, I manage a group of scientists who assess potential cancer therapies in preclinical models, including cell-based and animal-based studies.  My group supports projects from target validation to clinical evaluation by providing preclinical pharmacokinetics, biomarker pharmacodynamics and proof-of-concept efficacy data to guide molecules in their clinical development.
How did Northwestern prepare you for your current career? 
Northwestern was instrumental in training me as an independent scientist.  At Northwestern, I expanded my scientific understanding of biology and disease and learned how to approach scientific problems in a systematic way.  I learned how to lead my own research and communicate my data and ideas effectively.  Without my training at Northwestern, I would obviously not have been able to pursue my career, not only because I would not have had the right credentials, but also because I would not have had the technical ability and scientific understanding to tackle the challenges I faced later in my career.
What other experiences brought you to your current position?  
Prior to Northwestern, I had a series of jobs that ultimately led to me wanting to pursue my PhD and a career in biotechnology.  Not all of these jobs were terribly glamorous, such as working as a dishwasher or a housekeeper at a hotel and a hospital, but they were instrumental in teaching me what it means to work and the value and opportunities afforded with education.  In college, I was fortunate to find jobs as a lab technician, first as an intern at the University of Ulm in Germany where I studied microbiology, and then later at Iowa State and MIT.  It was at MIT that I was first able to take on independent research projects and see my efforts translated into scientific insight.  This sparked my desire to pursue a career in biomedical research by attending Northwestern.
What advice would you give to current students interested in pursuing a career similar to yours?  
I would advise graduate students to complete their training with an eye towards developing skills in high demand and to start networking and looking for opportunities, such as collaborations and internships, early in your graduate career.