Alyson Fuller, JD, PhD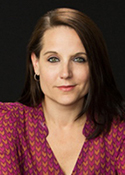 Graduation Year: 2006
Advisor: Kim, B.S.
Current Position: Vice President of Intellectual Property, Prolacta Bioscience
Alyson Fuller is a native Midwesterner who graduated from the Integrated Graduate Program (now known as the DGP) at Northwestern in 2006. She later returned to law school and is enjoying her career at the intersection of science and law. 
Where did you grow up?
I grew up in the small town of Conneaut, Ohio.  Conneaut is situated on the shores of Lake Erie at the very sharpest northeastern tip of the state of Ohio and is a working class town made up primarily of railroad, dock and later, prison workers..
Where did you do your undergraduate degree?
I went to Gannon University in Erie, PA.  It is a small, private, Catholic, liberal arts university that has a strong life sciences program because of its relationships with Lake Erie College of Osteopathic Medicine. 
What made you want to go to graduate school?
I entered as an undergraduate at Gannon University as a biology major with the intention of going to medical school. However, I came to the conclusion quickly that it was the science of healthcare that appealed to me most and the patient care aspects were not well suited for me.  Gaining inspiration from one of my undergraduate professors, I decided to apply to graduate schools instead, with the hopes of doing clinically relevant basic research.
What brought you to Northwestern and the IGP?
I knew I wanted to live in Chicago, so I applied only to Chicago schools, and between Northwestern and the University of Chicago, the choice was clear.  The campus, the proximity to the lake and downtown, and of course the faculty and staff at NU had me sold the moment I stepped on campus.
What did you study in graduate school?
I worked in the lab of Dr. Byung Kim in the Microbiology/Immunology Department.  In the lab, we studied a small RNA virus called Theiler's virus that, when injected into the brains of mice, gives them a disease that is a model for chronic progressive multiple sclerosis. In particular, my thesis research focused on the gender differences in the response to this virus with the intention of better understanding the gender dimorphism in human autoimmunity and MS in particular. 
What was your first job after graduate school, and how did you get it?
I left graduate school in early 2006 and joined a small law firm in Washington, DC, as a patent technical specialist. I first learned of the availability of patent law as a career through a fellow IGP alumnus, Kate Neville.  She gave me some tips on how to look for jobs and what the job would look like if I got it.  From there, I found a posting for a technical specialist at a law firm in Washington DC, Sterne Kessler Goldstein and Fox, who were looking for a PhD with expertise in immunology/molecular biology.  I applied, interviewed and got the job.  
I stayed at SKGF for a little over 2 years. During that time, I took and passed the patent bar, becoming a registered patent agent, and also enrolled in law school part time at night at The Catholic University Columbus School of Law.  During my first year of law school, however, I left SKGF to join a much bigger law firm, Cooley LLP.  I practiced at Cooley during law school as a patent agent and then upon graduation as an attorney for a total of about 9 years.
What is your current position? 
Currently, I am the Vice President of Intellectual Property at Prolacta Bioscience.  At Prolacta, I am in charge of protecting and defending the company's intellectual property estate including patents, trademarks and trade secrets.  I am also responsible for directing our outside counsel in matters of intellectual property litigation.  One of the most interesting parts of my job at Prolacta, however, is my role in research and development.  In addition to my legal skills, my job at Prolacta allows me to help guide R&D decisions and the future of our company.
How did Northwestern prepare you for your current career?
Above all else, Northwestern taught me how to be skeptical and to think like a scientist. In addition to those fundamental skills, the network that I built while a student has been key to my success.
What other experiences brought you to your current position? 
There are lots of career opportunities for experienced biotech attorneys.  So when I knew I wanted to move on from Big Law, I had some hard choices to make.  For me, the very most important factor was the ability to feel good about how I spend my time away from my family.  Prolacta's mission of saving the lives of the most fragile babies gives me the very best opportunity for not only career satisfaction, but personal satisfaction as well. Furthermore, Prolacta also supports my personal mission of lending pro bono legal assistance to LGBTQ asylum seekers coming from countries where it is illegal or otherwise life threatening to live openly.
What advice would you give to current students interested in pursuing a career similar to yours? 
Go for it!  And network, network, network.
Do you have any final advice for graduate students?
HAVE FUN! Adulting comes faster than you can ever imagine!