Margaret Ruesch, PhD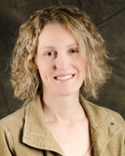 Graduation Year: 1998
Advisor: Laimins
Current Position: Vice President, Pfizer
Margaret (Meg) Ruesch graduated from the Integrated Graduate Program (currently the DGP) in 1998.  A Midwestern native of Cleveland, OH, Meg received her bachelor's degree from the University of Notre Dame.  At Northwestern, she worked on human papillomavirus with Dr. Laimonis Laimins in the Department of Microbiology-Immunology.  Meg is currently the Vice President of Analytical Research and Development, Biotherapeutics Pharmaceutical Sciences at Pfizer Worldwide Research and Development.
What made you want to go to graduate school? 
I always loved science and, after not going to medical school, I intended to go to graduate school.  While working at Abbott Labs for about a year after undergrad, one of the leaders there really insisted and encouraged me to go to graduate school, which I found very helpful.
What brought you to Northwestern and the IGP/DGP? 
I liked the faculty, environment, and reputation of Northwestern.
What did you study in graduate school? 
I was in Lou Laimins' lab and studied how the E7 oncogene of human papillomavirus disrupts cell cycle control.
What was your first job outside of academia, and how did you get it? 
I had worked at Abbott Labs before grad school for about 18 months and liked it, and I got a job back there after my PhD.
What is your current position?  Please describe the big picture of your position as well as a bit about the day-to-day.
I am the Vice President of Analytical Research and Development, Biotherapeutics Pharmaceutical Sciences (BTx PS), Pfizer Worldwide Research and Development.  BTx PS drives the science (molecular biology, chemical engineering, analytical chemistry, biochemistry, biology) required to reliably manufacture consistent, high quality, complex protein therapeutics and vaccines.  We develop the manufacturing processes and associated analytical tools to characterize and produce materials that go into many important clinical trials.  If the clinical trials are successful and the product will be licensed, we transfer the process and analytical tools to a commercial manufacturing organization with large-scale facilities located around the world.  We deliver well-characterized, safe and efficacious large molecule therapeutics and vaccines, as well as the regulatory documentation that complies with worldwide requirements and guidelines.  We interact regularly with the U.S. FDA and other regulatory organizations outside the U.S. in order to get approval for investigational drug usage and ultimately commercial licensure. 
On a day to day basis, as the leader of a large organization involved with developing a very deep understanding of the products we make, I attend meetings about product characterization and analytical strategies, advise teams on difficult technical or regulatory issues, especially if they have the potential to impact product quality or availability, and work with other leaders to understand the larger organizational needs at Pfizer R&D.  For example, Pfizer recently has become more involved with cell and gene therapies, so we work to understand the challenges in reliably making high quality, consistent and safe drug for clinical trials and hopefully commercial licensure.  We engage with the clinical groups and research organizations to make sure we are prepared to support new modalities or areas of research.  The leadership team for BTx PS Analytical R&D also works to foster innovative scientific approaches to improve our understanding of the products we make, or bring products to clinical trials or to market faster.  We engage externally at scientific meetings and in industry consortia to develop sound strategies and enable us to bring the best medicines possible to patients.  We also spend time to make our organization both a challenging and enjoyable place to work.  Because we are located at several sites in the US and our teams have complex technical deliverables that are often on tight timelines, we travel regularly to engage with our teams in person.
How did Northwestern prepare you for your current career? 
I received a great scientific background in an integrated environment that encouraged collaboration with other students and across labs.
What other experiences brought you to your current position? 
In my role, every aspect of our success relies upon successful collaboration and teamwork.  I think my experience at jobs prior to graduate school where I was involved with bringing people together for a common goal, or where I needed to understand the varying perspectives and motivations of others were key to my success.  It is completely impossible to be an expert in every aspect of the work that BTx PS Analytical Research and Development does, so we rely on bringing teams of experts together to deliver the right science.   Building bridges and relationships has been key, and something I have always liked to do.
What advice would you give to current students interested in pursuing a career similar to yours? 
I think one can't map out every career decision and plan, opportunities may arise from a variety of experiences, so being open minded and flexible seems most important.  One can develop critical skills and have important experiences even when in a role that seems to have no upward mobility.  Make the most of each opportunity and be ready when the next opportunity presents itself.
Any final advice for graduate students? 
Don't limit yourself to a particular field you feel you must be a part of.  There are many right answers for your career that could be extremely fulfilling.