Our Scientists
 Steven Gard, PhD

Novel and effective methods to enhance community participation, quality of life and access to high-quality services and devices for persons with various types of disabilities.
 Stefania Fatone, PhD

Examining the effects of prostheses and orthoses on human function to increase understanding, establish efficacy and improve effectiveness.
 Colin K Franz, MD, PhD

Studying traumatic neurological injuries, neuropathy, diaphragm muscle weakness and amyotrophic lateral sclerosis (ALS).
 Matthew J. Major, PhD

Quantifying the biomechanics and motor control of prosthesis and orthosis users to advance therapeutic and device interventions for enhanced function.
 Thomas J. Schnitzer, MD, PhD

Focusing on musculoskeletal pain and bone, specifically understanding the basis for pain chronification through brain imaging and psychophysical methodologies. 
Clinical Trials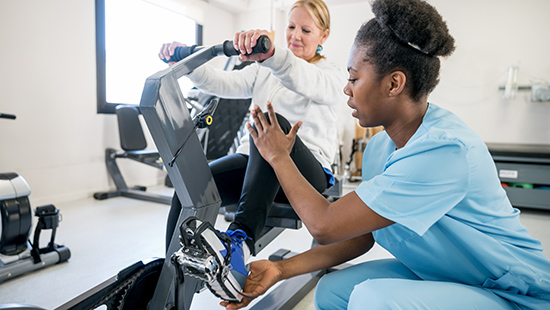 Participate in Research
Treatments developed through our investigators' trials might be new drugs or new combinations of drugs, new surgical procedures or devices or new ways to use existing treatments. Search our list of ongoing trials to learn more or sign up for our registry to participate in a study.
Northwestern University Prosthetics-Orthotics Center
NUPOC supports our faculty through the education and training of professional prosthetists, orthotists, rehabilitation engineers and other rehabilitation professionals; the design and application of prostheses and orthoses; and its work to improve human interactions with prosthetics and orthotics systems. Visit the center's site to learn more about its education and research programs.