Brain Injury Medicine Fellowship
The Shirley Ryan AbilityLab, an affiliate of Northwestern University, offers the one-year, ACGME-accredited James & Carmela O'Boyle Brain Injury Medicine Fellowship training program at Shirley Ryan AbilityLab.
The fellowship experience includes clinical exposure to the continuum of care for individuals with brain injuries, including early management in the ICU, inpatient rehabilitation and long-term follow-up in Day Rehabilitation and outpatient. This clinical exposure will occur through rotating at Northwestern Memorial Hospital, the AbilityLab and its associated outpatient and Day Rehabilitation facilities.
The fellowship is also designed to provide fellows experience in the diagnosis and management of patients with severity of injury that spans the spectrum of brain injury medicine from concussion to severe disorders of consciousness. It provides a comprehensive educational experience that will prepare the trainee with the evaluation and management skills needed to provide care to patients with brain injury from early management in the intensive care unit through rehabilitation to community reintegration and return to work, school or other main life activities.
This fellowship opportunity is made possible through the generous endowment of the James and Carmelita O'Boyle family.
About the Program
The goal of this fellowship is to prepare the candidate for the clinical practice of brain injury medicine in an academic setting. The program consists of the following core experiences:
Inpatient Brain Injury Rehabilitation
This rotation is the "core" of the fellowship. Trainees will spend six months on the inpatient Brain Injury Unit and one month on the Inpatient Stroke Service. The fellow will work with one of the core faculty members board-certified in brain injury medicine and will provide an assessment, treatment plan, management and oversight of patients undergoing inpatient rehabilitation.
Neurocritical Intensive Care Unit
Fellows will spend a one-month rotation in the Neurocritical Intensive Care Unit at Northwestern Memorial Hospital. During this rotation, fellows will work with neuro-intensivists (neurologists and neurosurgeons) to provide care to acutely injured/stroke patients learning the initial assessment and management to facilitate optimum neurologic and functional outcomes.
Stroke Rehabilitation Rotation
Fellows spend one month on the Stroke Rehabilitation Service. The goal of this rotation is to learn and review neurovascular anatomy, stroke syndromes and the impact of stroke on functional outcomes. The fellow will work with a dedicated Stroke Service Attending.
Day Rehabilitation/Vocational Rehabilitation
Fellows will spend one month at one of the Shirley Ryan AbilityLab's Day Rehabilitation sites. These patients have often completed an inpatient rehabilitation stay and are continuing in comprehensive multidisciplinary rehabilitation. Fellows will be responsible for the assessment, development and oversight of ongoing medical issues and therapy plan. Fellows will also spend time with vocational counselors with exposure to vocational assessment and return to work planning.
Research Rotation
Fellows will have one month dedicated to working on their scholarly activity. On this rotation, they are expected to learn the process and administration of a research project, including the formulation of hypothesis, literature review, IRB application and ethical considerations, data collection, basic statistical analysis, results interpretation and dissemination activities. 
Outpatient Brain Injury Clinic
Fellows will participate in weekly outpatient clinics. In this setting, fellows will be exposed to long-term continuity of care for the brain-injured population. Fellows will be responsible for the assessment and ongoing management of medical and rehabilitative needs, including the further initiation of therapy, return to work/school/driving and issues of medical management such as spasticity. In this setting, fellows will also be exposed to individuals predominantly served in the outpatient setting, such as those with mild TBI/concussion.
Brain Injury Medicine Consultation Service
The fellow will perform the initial assessment on all requested brain injury consultations at our affiliated acute care hospital, Northwestern Memorial. The fellow will be responsible for assessment of medical issue, impairments and potential complications. The fellow will also be responsible for developing a treatment plan, including interventions to patient complications, initial therapy recommendations, functional goals and appropriate post-acute setting for rehabilitation. Each consultation will be staffed with one of the core attendings certified in brain injury medicine.
Elective Rotations
Each fellow is scheduled for two elective months during their 12-month fellowship. This allows trainees to direct their education toward areas of interest or toward areas where additional clinical exposure is desired. A wide variety of elective rotations are available through resources at the Shirley Ryan AbilityLab, the core residency program in PM&R or educational programs at Northwestern University through Graduate Medical Education.
Eligible candidates will have successfully completed a residency and be board-eligible or board-certified in physical medicine and rehabilitation or in neurology. Preference will be given to physiatrists.
For convenience, the Brain Injury Fellowship is now using the Electronic Residency Application Service (ERAS).  Through ERAS, applicants will be expected to submit a personal statement, curriculum vita, board scores, medical school transcripts and three reference letters. 
Application acceptance start date is July 1. The deadline is Oct. 1. We reserve the right to close the application process early if an appropriate candidate is identified. Interviews for fellow candidates generally take place in October and November.   
We participate in the National Resident Matching Program. Match rank lists are usually due at the end of November, with the Match taking place in Mid-December. Please visit the NRMP site for more information.
Contact Us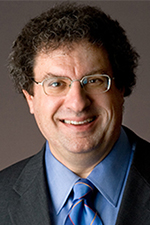 Elliot J. Roth, MD
Program Director
ejr( at )northwestern.edu
312-238-1657
Jamie Byrne
Fellowship Coordinator
If you have questions or comments, please contact Jamie Byrne at jbyrne@sralab.org or 312-238-2870.
Fellow

Michael Guthrie, MD
Residency: University of Pittsburgh Medical Center
Physician-Scientist Training & Resources
We offer a wide range of resources, mentorship opportunities and training to help our residents and fellows excel as physician-scientists. Explore all of the resources and hear from housestaff who are making research a major part of their career development plans.
VISIT THE STARZL ACADEMY SITE