Honoring Carol Asher, Champion of Mental Wellness and Women's Health
August 15, 2023
In a remarkable act of love and dedication, the late Don Asher of the Asher family left behind a legacy that will forever shape mental wellness and women's health.
Upon his passing in January 2023, Don bequeathed a generous $3 million sum to the medical school. The funds established the Carol W. Asher Professorship—a prestigious honor that will carry forth his late wife's unwavering passion and commitment to these vital areas of study.
Curious and compassionate, Carol Asher was a champion of research and education around depression, bipolar disorder, and women's health. She became deeply involved in the Asher Center for the Study and Treatment of Depressive Disorders' efforts to advance human mental health.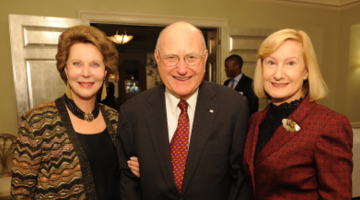 "She was keen on people being aware of how prevalent and critically important treating depression is for Americans of all walks of life, because depression knows no boundaries in terms of socioeconomic status, race, or gender. And that's really what Carol lived—she believed that mental health is fundamental to health," said Katherine L. Wisner, MD, MS, director of the Asher Center and the Norman and Helen Asher Professor. Dr. Wisner is also professor of Psychiatry and Behavioral Sciences (General Psychiatry) and Obstetrics and Gynecology at Northwestern University Feinberg School of Medicine.
Dr. Wisner and Carol became close after Dr. Wisner joined Northwestern's faculty in 2012. The pair, who bonded over a love of fine art, shared a relentless desire to find solutions to many health issues, especially those affecting perimenopausal women. Their discussions spurred a number of grant applications, grand rounds presentations, and community events intended to raise awareness and funds for research.
Carol passed away in December 2021.
"I felt almost similar to when my own parents passed away, particularly for Carol," Dr. Wisner said of Carol's and Don's passings. "I had a hard time at her memorial service not bursting into tears."
The Asher Center was established by Don's parents, Helen and Norman Asher in 1991. Three years later, the Ashers established the Norman and Helen Asher Professorship in Psychiatry and Behavioral Sciences.
Named and endowed professorships, like the Carol W. Asher Professorship and the Norman and Helen Asher Professorship, represent the highest honor a university can bestow upon its faculty. These positions represent the pinnacle of academic achievement and excellence and are reserved for Northwestern's most distinguished and productive physicians and scientists.
Passing the Torch
Don and Carol are survived by their children, David, Craig, and Hope Asher. As stewards of the Asher legacy at Northwestern, Craig said the siblings intend to continue to support Dr. Wisner, the soon-to-be-nominated Carol W. Asher Professor, and the talented team of scientists at the Asher Center as they pave the way to a better future.
"Mom would have wanted this, absolutely, unequivocally," said Craig Asher.
Carol delighted in supporting Dr. Wisner and the Asher Center's mission, as it was very much aligned with her goals, Craig said. But the Asher family focus on depression and mood disorders runs even deeper. Craig's grandfather, Norman Asher, experienced depression and other mental health issues throughout his life—a key reason he and his wife, Helen, aimed to help turn the tide against depression by endowing the Asher Center.
"I share this passion and know that this is a major problem in the world, and for a long time it's been understudied and very much undertreated," said Craig, who also invests in companies developing new therapies for mood disorders. "Hopefully, the research results in better therapies and better ways to deploy those therapies."
This story was published in the summer 2023 issue of  Legacy, a planned giving newsletter from Northwestern's medical school. Read the whole issue here.