Alumnus Invests in Digital Health and Data Science Training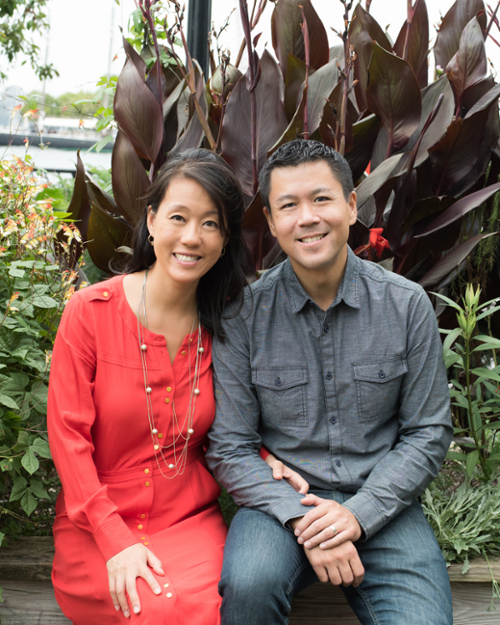 Ed Wu, '02 MD, has not had a traditional career in medicine since graduating from Feinberg. Instead, he has become an entrepreneur, combining his interests in medicine, data science, and technology to improve healthcare.
To help prepare the next generation to innovate and succeed in a rapidly evolving field, Dr. Wu and his wife, Joyce, have made a generous $250,000 commitment to Feinberg to expand its digital health and data science curriculum. Northwestern is one of the first medical schools in the nation to emphasize this important area.
"Back in medical school, I was interested in blending patient care, informed decision-making, and technology," said Dr. Wu. "Digital health wasn't around yet, but Northwestern gave me the mentors and opportunities to carve my own path. Northwestern was instrumental to my career in digital health, so I wanted to give back and help students pursue this area that today touches every discipline of medicine." 
When Dr. Wu was in medical school, Northwestern had just adopted an electronic health record (EHR) system, but the digital revolution in healthcare was still decades away. Ahead of his time, Dr. Wu got involved in research projects with former Feinberg faculty Greg Makoul, PhD, and David Channin, MD, studying patient-physician communication and medical informatics.
After graduating with his BS, MD, and MBA from Northwestern, Dr. Wu practiced as an internist in New York City and pursued public health research during a fellowship at New York University. He went on to spend a decade advising health systems across the country on the deployment of EHRs. Over the years, he got involved with nonprofits and startups focused on streamlining patient care in specialties spanning mental health to geriatric medicine using digital health technologies.
"Data science can help us heal in a more focused and efficient way. By analyzing large data sets, we can diagnose quicker and create targeted treatment plans for individual patients," explained Dr. Wu. In 2020, he cofounded Recora, a company that applies these ideas to improve cardiac care in the home.
"Healthcare is all about people coming together. If we can all come together to support our medical school, we can make a huge difference across the field of medicine. I've been fortunate to be able to give back to that area that I've cared about so deeply since medical school, and I encourage others to give back to the area that shaped them."

—Ed Wu, '02 MD
Feinberg has already begun to build out its digital health and data science curriculum and can bring its efforts to the next level with the Wu's gift. For example, the funding will enable faculty in Feinberg's Institute for Augmented Intelligence in Medicine (I.AIM) to create a Health Data Gymnasium—a digital library containing extensive de-identified and synthetic data for students to engage in hypothesis-driven research and practice clinical decision making while learning data science skills.
"We are incredibly grateful to Ed and Joyce for their generosity to our Center for Medical Education in Data Science and Digital Health," said Abel Kho, MD, director of I.AIM and a professor of Medicine and Preventive Medicine. "The Wu's philanthropy not only gives Northwestern and our graduates a competitive edge, it also will help us train future leaders in medicine equipped to leverage—and even develop—new information and technologies to better serve patients."
Still in the midst of their careers, Dr. and Mrs. Wu chose to give back to Feinberg now because they believe investment in Northwestern and data science can't wait. Dr. Wu continues to integrate Recora's technology at health systems and insurers. Mrs. Wu works in finance and chairs the Board of Trustees at Central Queens Academy, a school dedicated to serving new immigrant families. They reside in New York City with their three young children.
"The moment is now. Data science will inform primary care, cardiology, dermatology, urology, pathology—you name it. This is an area where we can build overall efficiencies for patient care," Dr. Wu explained. "I would love for others to join me in making gifts to support this important cause that will ultimately benefit all of us." 
For more information about supporting digital health and data science please contact Dave McCreery at david.mccreery@northwestern.edu or 312-503-6099.