Honoring Our Scholarship Supporters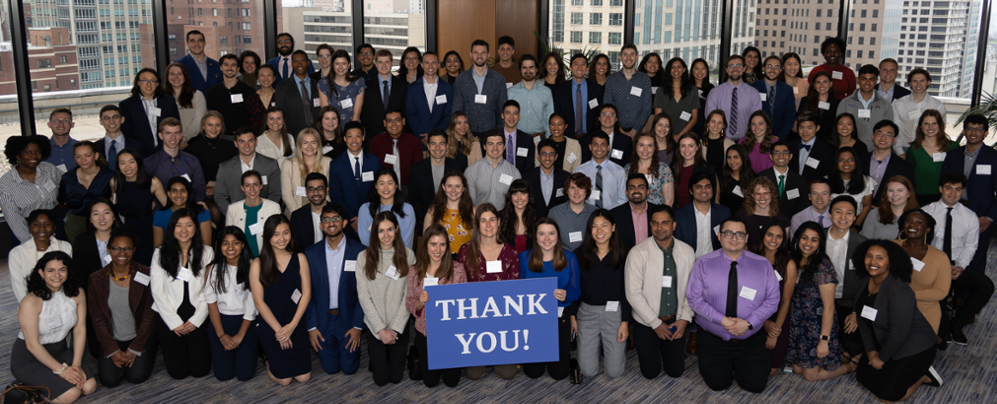 New Scholarships as of 2019

Alpha Omega Alpha Scholarship
Anonymous Feinberg Scholarship
Robert Babbs Jr. PT Diversity Scholarship
Richard A. Brickley, MD Scholarship
Lawrence H. Caplan, MD & Dorlene V. Kaplan Scholarship
Class of 1973 Scholarship
Class of 1995 Scholarship
Dr. Jeffrey and Meredith Conn Watters Scholarship
Feinberg Promise Scholarship
John R. Flanagan Charitable Foundation Scholarship
Mary Ann Frable, MD Dean's Scholarship for Women in Medicine
Dr. Margaret Gerber Scholarship
Dr. David Grganto Scholarship
Hanger Foundation Diversity Scholarship
George and Marguerite Irwin Scholarship
Dr. Philip W. and Sally Marin Scholarship
Judith Mayzel Scholarship
Earl M. Mumford, MD Family Scholarship
D. Muralidhar Family Scholarship
Emma Reynolds Scholarship
David R. and Evelyn L. Sanderson Endowed Scholarship
William W. Ting, MD and Flora H. Ting Scholarship
On April 30, 2022, Northwestern University Feinberg School of Medicine hosted donors at a special Commitment to Scholarships luncheon at the Ritz-Carlton, Chicago, where medical school students and leadership celebrated and thanked these generous alumni and friends for their life-changing support to future clinicians.
Attendees heard from Jay Perman, '72 MD, who reflected on his medical education at Northwestern more than 50 years ago. A former Edward K. and Vivian H. Ploner Scholarship recipient, he is now chancellor of the University System of Maryland, a pediatric gastroenterologist, and a proud supporter of medical scholarships at his alma mater. 
"It was Mrs. Ploner who made it possible for me to stand before you today. I grew up on the west side of this great city, the only child of my parents—immigrants from Eastern Europe—who scratched out a living operating a hand laundry," shared Dr. Perman. "Today I can report to Mrs. Ploner, and to you, my alma mater, that I continue to be a physician prepared to do what I love by the extraordinary education I received here."
Today, the Feinberg scholarship endowment is approximately $235 million, with 67% of medical students receiving scholarship assistance thanks to thousands of donors who have made outright and estate gifts. The medical school hopes to someday provide full tuition support to all of its medical students, which will require quadrupling the current endowment.
During the event, two current scholarship recipients, first-year medical students Daniel Camp and Fabiola Moreno Echevarria, shared their stories and gratitude to the donors supporting their educations. Each followed a unique path—around the world—to Northwestern and the field medicine. Mr. Camp spent time in the Peace Corps teaching in Mozambique, then traveled to Mexico City to conduct HIV research. Ms. Moreno Echevarria grew up in Puerto Rico, where she saw family members with health conditions struggle without the specialized care they needed.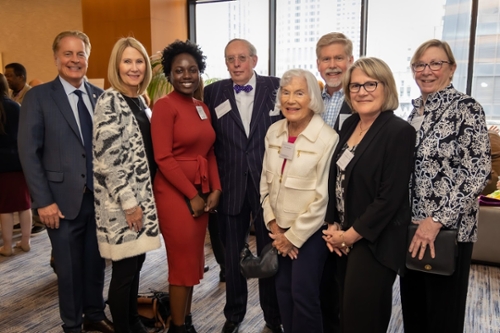 "You may not know all our stories, but each person here is a culmination of years of hard work, passion, self-reckoning, and an unwillingness to give up," shared Mr. Camp, the Dr. Howard S. and Regina G. Traisman Scholar.
"This scholarship gift has allowed me to enter medical school confident in both my ability and my financial situation," said Ms. Moreno Echevarria, the Lenke Family Scholar. "Thanks to your contribution I can explore the field and feel the freedom to pursue any specialty of interest no matter its potential for financial compensation. I hope to someday return to Puerto Rico and provide the care my island needs."
Marianne Green, MD, vice dean for Education and the Raymond H. Curry, MD, Professor and chair of Medical Education, presented Crystal Apple Awards to five donors who have earnestly supported—and inspired others to support—scholarships at Feinberg.
These awardees included Noel DeBacker, MD, '80 '82 GME, a long-time Northwestern internist and faculty member who helped establish the Noel A. DeBacker, MD, Scholarship for students pursuing residencies in primary care fields; Javier Suarez, '19 MD, and Berkley Davis, '20 MD, founders of the Feinberg Promise Scholarship for students from groups traditionally underrepresented in medicine; and Jack Snarr, '67 PhD, former associate dean of Student Programs at the medical school, whose legacy has motivated alumni, faculty, family, and friends to establish the Jack Snarr Scholarship.
"On behalf of all of us at the medical school, I want to thank you all again for joining us at this very special celebration and, especially, for your inspiring and high-impact support of scholarships for our students," said Dr. Green. "We are so proud of our student scholars and the great promise they hold for the future of medicine."
Learn more about supporting scholarships at Feinberg.
For more information, please contact Larry Kuhn at larry-kuhn@northwestern.edu or 312-503-1717.