Instructions for Ordering Business Cards & Stationery
Individuals, departments and units associated with Northwestern University Feinberg School of Medicine may purchase customized products, including business cards and printed and electronic letterhead, through the iBuyNU marketplace. iBuyNU is a web-based ordering tool and the most streamlined, cost-effective way for departments and schools to order from preferred vendors.
Please direct all questions about the ordering process to Megan Carroll at 708-329-1424 or northwestern@active-us.com. For technical support, email Active Graphics at help@active-us.com.
Instructions
Follow these steps to order business cards and stationery through our vendor, Active Graphics, Inc. The same process applies to ordering Northwestern Medicine-branded products.
Log in as a shopper or log in as a requester to iBuyNU.
Find the Active line on the Suppliers list.

Select the Punchout button.

From the welcome screen, select whether you are a school (e.g., Feinberg) or non-school department (e.g., NU Human Resources). To get to the Feinberg and NM-branded products, choose "school."
From the drop-down menu, choose the appropriate school (e.g., Feinberg).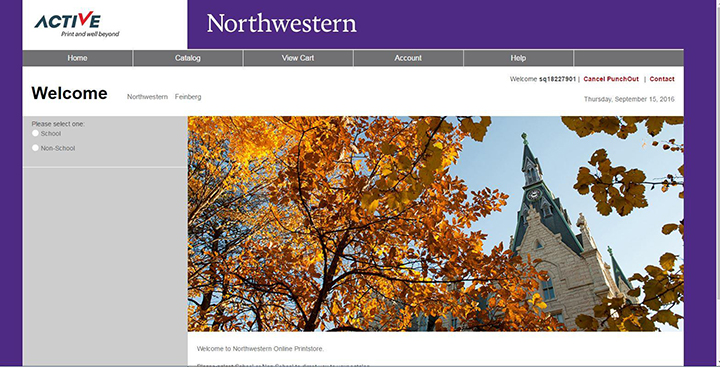 You will next be taken to the catalog page. Use this list to choose branding and product categories. There are two layouts for Feinberg business cards, but only one layout for Northwestern Medicine business cards.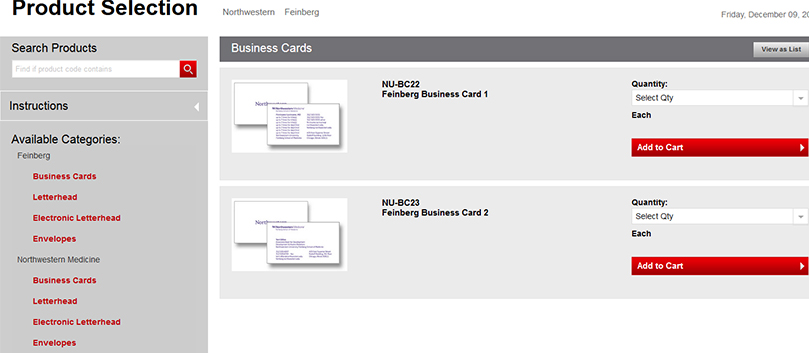 Select a product category, then choose the product you want to purchase. Provides the quantity, if necessary.
All letterhead is available in both non-personalized and personalized versions. The non-personalized will contain your department's contact information. The personalized version allows for an individual's name and contact information to be included.
Electronic letterhead is its own category. You'll receive a Microsoft Word document with the letterhead elements included.
Add the product to your cart.
Once you've selected a product, customize it using the form.
Depending on your department, your business card will have four to six lines available for your title and seven to nine lines available for contact information.
If you have a long building name or email address, it may break into two lines, eliminating one of the other available lines. You will have the opportunity to review and alter your card at the next screen.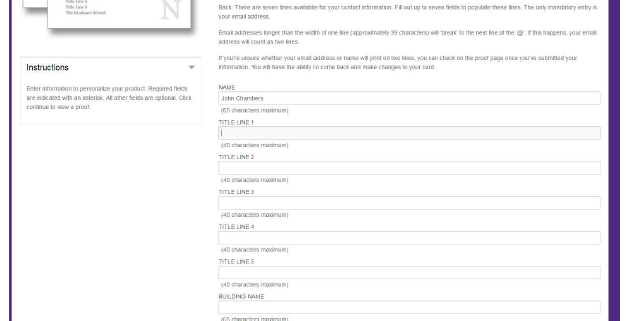 Submit the form to view your proof.
Click the 'View PDF" button under the picture to see a larger version or download a PDF to send to a colleague for their approval.
Click the "Make Changes" button to make changes to the form.
Click "Approve" to proceed as-is. 
View your cart.
Clicking the pencil enables you to make changes to the product.
Clicking the pushpin icon allows you to 'pin' the product to your cart. This allows you to leave an unapproved item in your cart while you order other items. The product will be in your cart when you return to the site.
Clicking the red X deletes the item.
Select rush order status of the order, if needed. Additional fees will apply.
Select "Begin Checkout."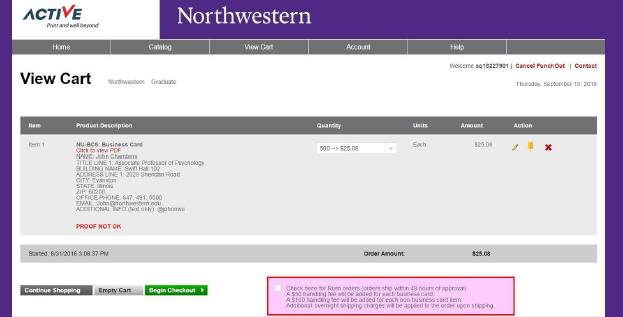 Review your order a final time on the Order Summary page. Click "Submit Order" to complete your order.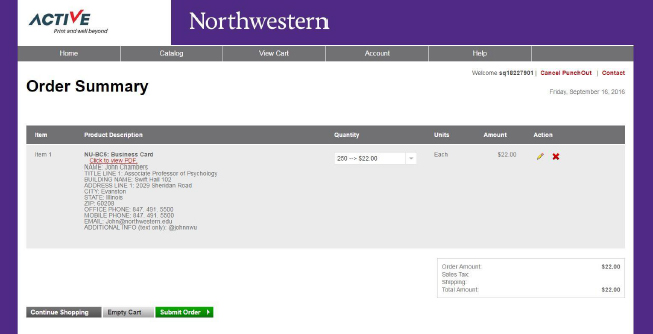 Back to top