Information for Clinical Preceptors
A large part of the success of the Northwestern Physician Assistant Program is its strong clinical experiences. We could not provide this excellent education without the expertise, time and compassion of our clinical preceptors. This page provides information for our preceptors, from those new to this process to our seasoned educators.
The Northwestern PA Program is comprised of 24 months of learning. The first 12 are dedicated to didactic learning, and the second 12 months are focused on clinical experiences. We have 11 four-week rotations that include seven core rotations (Emergency Medicine, Family Medicine, Internal Medicine, Pediatrics, Surgery and Women's Health) and four elective rotations.
We have a cohort of 36 students each year. Our students have a diverse amount of healthcare experiences and traditionally excel in their clinical rotations. See our Courses page for detailed information about our classes.
We accept preceptors from all specialties and locations. Preceptors may be physicians(MD/DO) or physician assistants and must be licensed and board certified in their area of expertise. Clinical experiences must provide enough hours, patient contact hours and experiences as deemed in line with the program expectations.
Professional Development & Recognition
The Northwestern PA Program has been granted permission to offer Category I CME credit to our PA Preceptors. See below for a summary of the process:
The PA Program may award 2.0 AAPA Category I CME credits for each week of clinical teaching. Example: four-week rotation = 8 credits. One week = 40 hours.
If a preceptor has more than one student at a time, that preceptor may be awarded an additional CME I credit for each additional student.
Preceptors are encouraged to keep track of their weeks during the year and these will be reconciled with program records to ensure accuracy.
Preceptors will be contacted by the Director of Clinical Education in April each year and asked to complete a survey in order to ensure that they receive earned credits.
The time our preceptors spend educating our students can also be reported by the preceptor to NCCPA as Category II credits on an hour-by-hour basis and does not require documentation from the PA Program (four-week rotation = 160 hours; eight-week rotation = 320 hours).
The Physician Assistant Education Association and American Academy of Physician Assistants (AAPA) offer formal recognition of your efforts through the Clinical Preceptor Recognition Program. Join this program and add the designation Clinical Preceptor AAPA after your name (CPAAPA). Eligibility requirements are summarized below and the online application may be found here.
Requirements:
Be a current AAPA fellow or sustaining member
Have served as a preceptor for at least eight weeks on average for the last two years
Be endorsed by a PA program(s) that you have supported as a preceptor.
If you meet the above requirements and are interested in applying, please email the Northwestern PA Program at paclinicalyear@northwestern.edu to request the completed endorsement.
As a Northwestern PA Program clinical preceptor you may be eligible for faculty appointment. Factors for consideration for eligibility include: dedication and commitment as a clinical educator, evaluations and consistent service to the program. If you are interested in receiving more information about these opportunities, please contact paclinicalyear@northwestern.edu
Preceptor Orientation Handbook
The Northwestern PA Program has a Preceptor Handbook specific to our program's need. If you are interested in becoming a preceptor or are already a preceptor and would like a copy, please contact paclinicalyear@northwestern.edu.
Other Program Opportunities
If you are interested in helping out the Northwestern PA Program in any other capacity such as teaching, labs, professional days, interviewing or serving as a PBL tutor, we would love to have you. Please contact paclinicalyear@northwestern.edu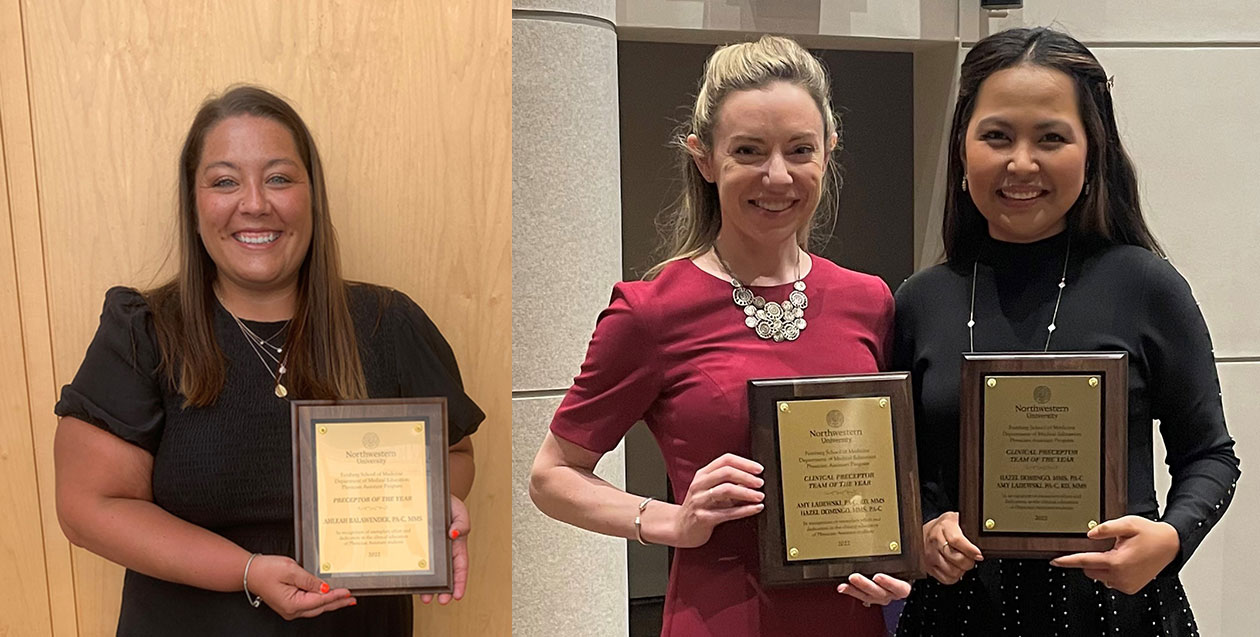 Preceptor & Clinical Team of the Year
Each year, the clinical year students recognize a preceptor and a clinical team for their outstanding work. 

2022 Preceptor of the Year
Ahleah Balawender, PA-C, MMS, Cermak Health Services at Cook County Jail (Left)

2022 Clinical Team of the Year
Amy Kassebaum-Ladewski, PA-C, RD, MMS Northwestern Memorial Hospital Digestive Health (Center)
Hazel Domingo, MMSc, PA-C, Northwestern Memorial Hospital Hepatology (Right)
Congratulations to our awardees!