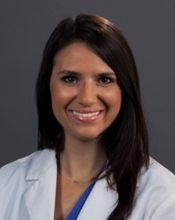 Kelsey Arnold
Kelsey Arnold
First-Year Student, Class of 2018
BS, Kinesiology
University of Michigan
Home Health Aide
Physical Therapy Aide
Home State: Michigan
Why did you select the Northwestern University PA Program?
What attracted me most to the PA Program was the opportunity to incorporate Problem-Based Learning (PBL) into my methods of learning. I had some experience with prior PBL courses and realized that although it is a lot of work, it helps to integrate the information with a deeper understanding. Now I could not imagine learning medicine any other way. My decision to attend Northwestern was further confirmed when I went to the interview and felt comfortable with the program, the faculty and the students that I met that day. The environment at Northwestern makes coming to class each day enjoyable and productive, which I don't think can be found at many other programs.
Compared to your impressions before starting PA school, what has surprised you since enrolling in the Northwestern University PA Program?
Prior to starting PA school, I thought that I would have to put my life on hold and say goodbye to my family and friends for two years. I am pleased to say that this is very much not the case. Although there is a lot of work to be done and a lot to learn in a short amount of time, it is very possible in this program to balance life and school. I not only have time to see my family, but also to spend time with my classmates outside of academia.
What are your impressions of the PA Program curriculum?
My impression about the PA Program curriculum is that the program is designed for success. We are constantly reminded with Northwestern program statistics that we will become professional, competent clinicians just like all that have come before us. The system-based approach is one part of the curriculum that enhances the integration of our learning across our courses and helps us reach that success. Overall, it is important to trust the process of this program because it works. Additionally, since the students here at Northwestern hold themselves to such a high standard, there is no question that we will come to reach our own goals and those set by the curriculum.
What advice or other thoughts would you share with an applicant considering the Northwestern University PA Program?
Advice that I would give to those considering the PA Program is that you will not regret it. Any PA program you may choose will be challenging, there is no doubt, but at Northwestern I can say that you will have an enjoyable experience. The faculty and staff here are amazing: each with their own distinct personalities and quirks that make classes interesting and engaging. They also care about your learning and are willing to help in every possible way that they can. Your classmates are also one of the best parts about choosing Northwestern. They are some of the greatest people I know and will keep you smiling even when school becomes challenging. The program itself will give you the tools for success, but what makes Northwestern special is the positivity and team-based mentality that is incorporated on your journey to becoming a professional.