Director's Message
Welcome to the Center for Health Services & Outcomes Research at the Institute for Public Health and Medicine (IPHAM), where health system leaders and other stakeholders collaborate proactively with academic experts to transform and guide the future of healthcare. Our center aims to identify the forms of healthcare delivery, organization and financing that work best to improve health and to accelerate implementation of those approaches in real-world practice. The ultimate goal of our research is to improve the health of all individuals and populations by eliminating waste and making healthcare more accessible, safe and effective.
We value the goals of individual health, health equity and population health, and we believe the healthcare sector will be an essential part of any solution to achieve those goals. Our work embraces the principles of the learning health system, in which science is aligned with informatics, incentives and culture to foster continuous improvement and innovation in healthcare. We envision a healthcare system where best practices are seamlessly embedded in the care process, new knowledge is captured as an integral byproduct of the care experience and stakeholders such as health system leaders, clinicians, patients and families are active participants in all phases of the research.
Our center provides a stimulating environment and physical home for more than 100 faculty, trainees and staff members who benefit from daily interactions and the active sharing of ideas, expertise, data assets, evaluation approaches and other resources needed to accelerate innovation and maximize the efficiency and impact of research. Our members located within the center maintain several large and impactful programs of research in theme areas such as Surgical Outcomes & Quality Improvement, Transplant Outcomes Research, Improving Acute Care Delivery Systems, Healthcare Financing, Payment & Cost-Effectiveness, Maternal & Child Healthcare and Pediatric Health Services & Outcomes.
On a broader scale, our center also serves as a hub for much of Northwestern's deep expertise in health services and outcomes research. We provide mentorship, consultation, technical assistance and other forms of collaborative support for several dozen other research programs housed in other centers and departments across Northwestern University. Our center faculty members are also heavily engaged as educators and mentors in IPHAM's Center for Education in Health Sciences. Individuals who are interested in a career in health services and outcomes research may learn more about IPHAM's graduate and postdoctoral training programs at the Center for Education in Health Sciences website.
We sincerely appreciate your interest in our work and we invite you to explore our website to learn more about the many opportunities for engaging in our research, training and other forms of collaboration.
Please do not hesitate to contact us if you have any questions and comments.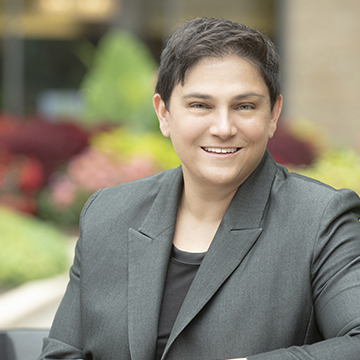 Warm Regards,
Tara Lagu, MD, MPH
Director, Center for Health Services and Outcomes
Northwestern University Feinberg School of Medicine
Back to top